Wednesdays Market Prepper
Reads:
News:
Premium:
Morning Futures:
Charts:
Earnings: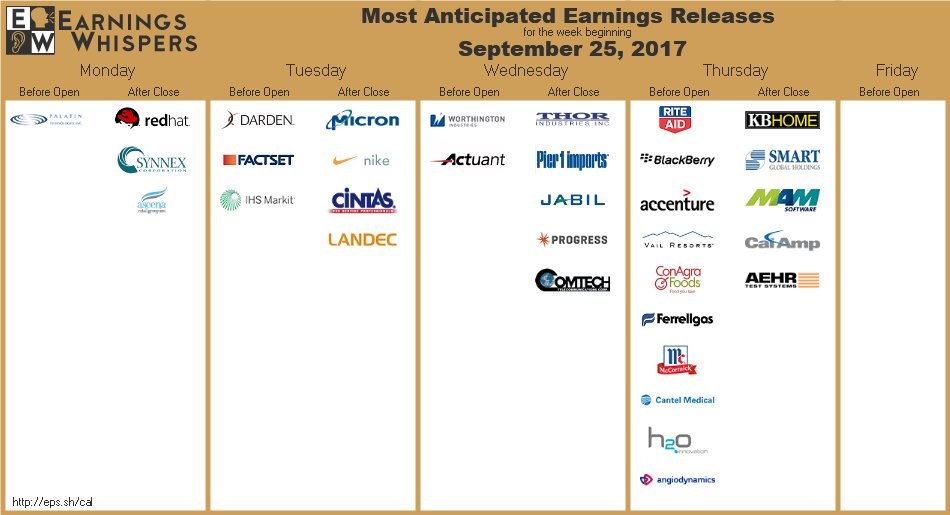 Yesterdays  Unusual Option Action:'
Seekingalpha:
President Trump is set to unveil a much-anticipated tax reform plan this afternoon at the Indiana State Fairgrounds in Indianapolis. It is said to have four "very crucial principles," including making the tax code fairer and simpler, cutting taxes for the middle class, lowering the tax rate for businesses and luring offshore investments back into the country, which will create "millions of new jobs for Americans."
Economy
Fed Chair Janet Yellen feels the central bank may have been wrong on employment and inflation. In a speech in Cleveland, she explained that the misreading could lead to easier policy than expected in the unwinding of its balance sheet. However, she maintained that the Fed should stick to its rate path, pushing the dollar index to an almost one-month high.
In no surprise to anyone after John McCain failed to back the effort, Senate Republicans have admitted defeat in their drive to repeal and replace the Affordable Care Act. Majority Leader Mitch McConnell will not bring the Cassidy-Graham bill to a vote because his party failed to garner the minimum 50 supporters needed for passage.
The U.S. has unveiled draft text on labor standards during negotiations on modernizing NAFTA as American officials met with their Canadian and Mexican counterparts in Ottawa. The countries are rushing to reach an agreement before Mexico's presidential campaign begins at the start of 2018, a deadline that former trade negotiators have said is unrealistic.
President Trump has urged people in Catalonia to remain "united" with the rest of Spain during his meeting with the country's Prime Minister Mariano Rajoy at the White House. While the referendum is set to take place on Oct. 1, Madrid has dubbed the measure unconstitutional and declared it illegal.
French President Emmanuel Macron has laid out his plan for a stronger EU, urging leaders to "be bold" against the threat of populism. "At the beginning of the next decade, Europe must have a joint intervention force, a common defense budget and a joint doctrine for action," he declared at Sorbonne University. Macron also said a common finance minister would make the eurozone stronger.
Due to concerns about agricultural research spending and government policy trends, the U.S. for the first time has dropped from the top spot in a global ranking of how well countries can feed their own people. Ireland is now the most "food-secure" nation, improving its affordability, availability and quality, according to the sixth annual Global Food Security Index.
Moody's and S&P Global have downgraded Hartford, CT, further into junk status, citing an increased likelihood of default as early as November. It comes a day after the city's bond insurers said they were open to debt restructuring. Hartford has roughly $530M of outstanding debt, much of which is insured by Assured Guaranty (NYSE:AGO) and Build America Mutual Assurance Company.
Who will bear the costs? Bondholders in Puerto Rico's wrecked power utility have begun pitching a debt restructuring deal that could pump $1B of private money into the struggling organization. Meanwhile, prices for already beleaguered Puerto Rican debt fell to record lows on Tuesday as investors realized the devastation from Hurricane Maria.
The internal combustion engine's days may be numbered in California, where officials are mulling a ban on polluting vehicles. Governor Jerry Brown has expressed interest in barring the sales, according to Mary Nichols, chairman of the California Air Resources Board. The step by the state would follow similar goals made by China, France and the U.K.
Stocks
Before announcing its transformation strategy next week, Ford (NYSE:F) revealed that it will collaborate with Lyft (Private:LYFT) to deploy its self-driving vehicles on the latter's network in large numbers by 2021. It's an interesting partnership. The tie-up creates the unique situation where the automaker is working with a company that is partially owned by rival General Motors (NYSE:GM).
The U.S. Commerce Department will impose tariffs of as much as 219% on Bombardier's (OTCQX:BDRAF, OTCQX:BDRBF) CSeries jetliners, ruling in favor of Boeing's (NYSE:BA) complaint that claimed its Canadian rival has been receiving unfair government subsidies. As the exact amount of any new duties may not be finalized until early next year, Canada could meanwhile pursue a case against the U.S. at the World Trade Organization.
Sean Hannity threw down the gauntlet on Monday night with his 9 p.m. move on Fox News (FOX, FOXA), beating out MSNBC's (NASDAQ:CMCSA) Rachel Maddow in the first head-to-head matchup between the two cable news heavyweights. According to Nielsen Media Research, Hannity delivered 3.3M total viewers and 666,000 in the 25-54 category vs. Maddow's 2.7M total viewers and 591,000 in the coveted demographic.
Fighting a tough battle with Facebook (NASDAQ:FB) for the hearts and minds of social-media users, Twitter (NYSE:TWTR) is tweaking another part of its interface that some considered a handicap. The company is expanding tweets to 280 characters, double the original size, starting with a subset of users. TWTR +2% premarket.
Business or blackmail? Amazon's (NASDAQ:AMZN) Echo Show can no longer play videos from YouTube because the site's parent, Google (GOOG, GOOGL), has stopped supporting the service. According to Wearable, Google didn't like the fact Amazon wasn't giving users the full YouTube experience, with things like autoplay and recommendations not features on the Echo Show.
Samsung Electronics Vice Chairman Jay Y. Lee has replaced his lawyer, with a more "senior representative attorney," ahead of an appeal against the five-year jail term he was given for bribery and other charges. The Samsung (OTC:SSNLF) showdown will begin tomorrow in a case highlighting South Korea's issues with the family-run conglomerates that dominate the economy.
Delineating the group's investment plans, SK Hynix's (OTC:HXSCF) board has approved its participation in a Bain Capital-led consortium that expects to purchase Toshiba's (OTCPK:TOSYY) memory chip unit for a total of ¥2T ($17.7B). Toshiba's board agreed to the deal last week, but the signing has been delayed because consortium member Apple (NASDAQ:AAPL) demanded new terms on chip supply in return for funding.
Following a two-year corruption probe, U.S. authorities unveiled fraud charges on Tuesday against 10 people associated with some of the country's premier college basketball programs, including four coaches and an Adidas (OTCQX:ADDYY) executive. The apparel maker's stock fell in response, while shares in Nike (NYSE:NKE) and Under Armour (NYSE:UAA) breathed a sigh of relief.
Siemens chose France's Alstom over Canada's Bombardier (OTCQX:BDRAF, OTCQX:BDRBF) for a major rail joint venture because of its sound finances and its management team. "I must say I'm really glad to have won him over," Siemens (OTCPK:SIEGY) CEO Joe Kaeser said of Alstom (OTCPK:ALSMY) CEO Henri Poupart-Lafarge, who will lead the new business, helping to counter criticism that France is giving up control of another national industrial icon.
Besides lifting the world's only ban on women driving, Saudi Arabia is making more headlines. Finance Minister Mohammed al-Jadaan has told bond investors that Saudi Aramco's (Private:ARMCO) IPO will go ahead in 2018 after reports suggested it may be delayed by a year. Both moves are being seen as an attempt to modernize the country's oil dependent economy.
Invesco is expected to buy the ETF business of Guggenheim Partners in a deal likely to be announced tomorrow, FT reports. Final terms are still being negotiated but the expected purchase price is to be between $1.1B-$1.3B in cash. Invesco (NYSE:IVZ) already expanded its ETF unit this year with the acquisition of Source, a London-based manager that has $20B in AUM.
The abrupt departure of Equifax (NYSE:EFX) CEO Richard Smith has not dampened criticism of the firm since it disclosed a massive data breach earlier this month. The credit reporting company said he was retiring effective immediately and he wouldn't get a bonus for this year, though he is eligible to walk away with at least $18.4M in retirement benefits.