Good evening.  Another 2015 type trading session is in the books for Wednesday July 15th.  Stocks rallied at the start of the day, pulled back in the late afternoon, and managed to get almost back to even at the end of the trading day to close "Just "Right" .  Just like Greece and China, the story is getting old. I'm sure at some point down the road we'll be begging to have these round trip type days, where the market ends where it started and individual names moves where ever they pleased.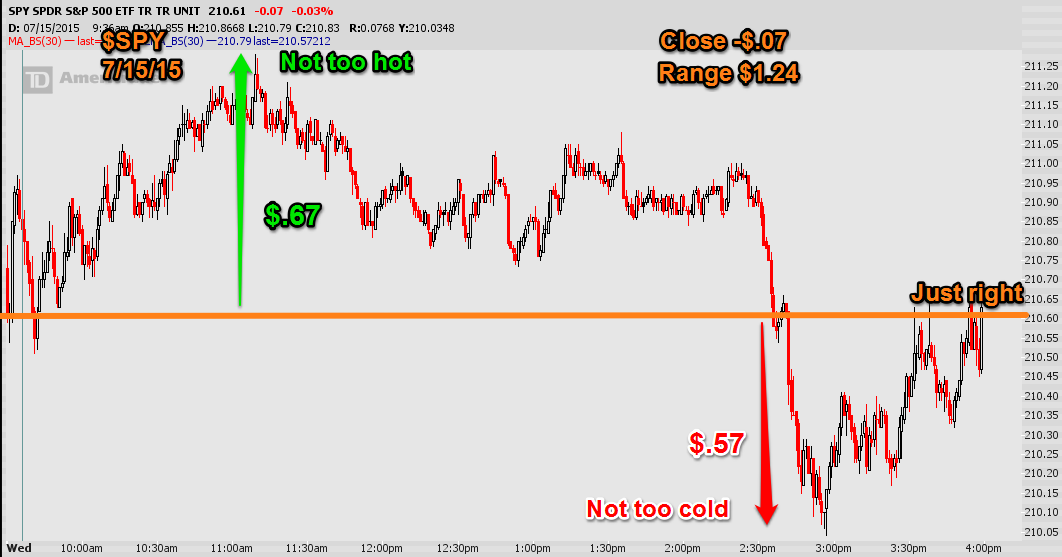 The -.07 close ended a four session winning streak.
No five day win streak for you!
Bonds caught a bid with $TLT up 1%.  I still view this as a period of digestion before the eventual move to $100 later this year.  Prices will bounce and slide but the top, from my perspective was put in earlier this year.
How about that VIX.  The beat down continues.  A Greek and Chinese crisis could not get any of the gains to stick.  It's back in the wedge, and looks well supported at recent lows.  What does it do when it gets there is the real question.  Will we see another spike?  Or will it drip into single digits.... gasp......yes single digits....
But how its that possible?  The IMF says Greek bailout negotiations are a colossal  task, almost like trying to eat a Gyro without getting sauce on your shirt.  Yet the stock market continues to ignore the Greebola.
Riots in Greece?  Bailout, Haircuts.. it doesn't seem to bother the market much.  The VIX continues to shrug its shoulders.
Right now that bounce near 20 for the VIX looks like a data error.  Or are we going to see a December to February like pattern before things settle down?  Stay tuned.  Like any good market commentator  I'll be sure to let you know after it happens.
As for where the market heads over the short to medium term.  I think we head to the topside of the channel.  Recent oversold conditions still have yet to resolve as they have in prior periods and I think we will see more gains before any strong pull back occurs.
and the chart I have provided recently as to where I see the market from a technical perspective-
$NFLX is out to new all time highs after the bell on its earnings report.  $INTC is well off its highs after the bell on its earnings report.
Greece and China aren't in the rear view mirror yet, and there is a change they never will be.  At least not in 2015.  Will the market continue to trade as if these issues will get resolved?
Have a good night