Wednesday Morning Top Market News, Reads, and Charts
Reads:
News:
Earnings: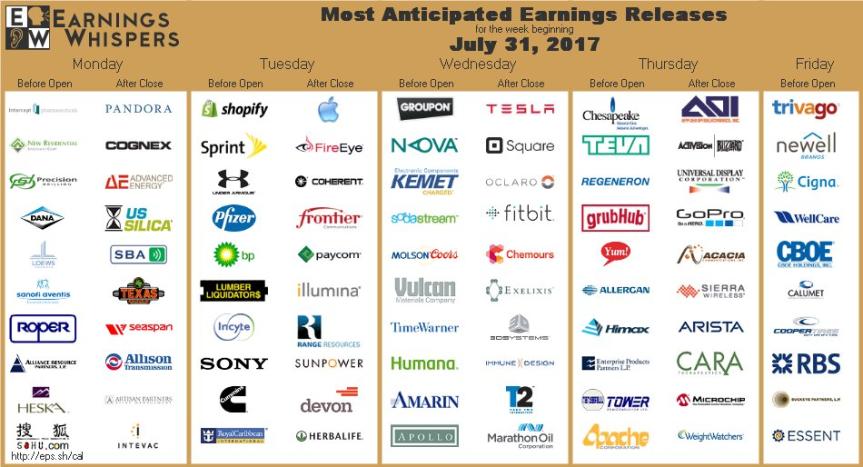 Charts:
Seekingalpha:
Shares of Apple surged more than 6% after the bell on Tuesday, putting the Dow Jones industrial average on track to hit 22,000 for the first time. A close above that level would represent the sixth fastest move to a 1,000-point milestone for the Dow at 108 trading sessions. "This has been mostly earnings driven and the earnings have been terrific," said Crit Thomas, global market strategist at Touchstone Investments.
Economy
The Trump administration is considering its first major trade action against Beijing, with officials engaged in "serious discussions" over alleged Chinese violations of American intellectual property. The move would bypass the WTO by invoking a little-used provision of U.S. trade law - known as a Section 301 - which allows U.S. presidents to impose duties on foreign products in retaliation to "unfair trade practices."
The U.S. Office of the Comptroller of the Currency will initiate the process of amending the Volcker rule today, targeting a post-crisis prohibition that's reviled on Wall Street. The regulator will formally seek public comment from lenders and others on how it is working, taking the first step on loosening the bank ban on proprietary trading.
Secretary of State Rex Tillerson said neither he nor President Donald Trump is "very happy" about new sanctions on Russia that Congress has voted to put in place, but "all indications are he will sign that bill." The remarks seemed to contrast with those of Vice President Mike Pence, who said the bill showed Trump and Congress are speaking "with a unified voice."
Two of Venezuela's most prominent opposition leaders have been seized from their homes in what many called another alarming step toward President Maduro's autocratic rule. Problems also hitting oil? New details show that Venezuela's supply of heavy crude to Phillips 66 (NYSE:PSX) dropped by more than two-thirds this year in part due to quality issues.
President Trump is "wrong" when he says China can resolve the ongoing North Korea nuclear crisis on its own, Chinese state media said overnight, emphasizing that it "doesn't have the kind of 'control' over Pyongyang that the U.S. president believes it does." "From Beijing's perspective, it has significantly increased the pressure on Pyongyang by doing everything the strengthened UN sanctions regime requires of it."
Stocks
Shares in Apple topped record highs after hours following a robust earnings report. iPhone sales rose 1.6% to just over 41M units, defying expectations of a lame duck quarter for smartphones, while Apple's (NASDAQ:AAPL) cash pile hit a new record of $261.5B. CEO Tim Cook also described a "large project on autonomous systems," but declined to comment on upcoming iPhone news.
Bitcoin's underlying software code was split on Tuesday, generating a new clone called "Bitcoin Cash," but the new cryptocurrency got off to a slow start due to lackluster support for its network. Bitcoin Cash traded on certain exchanges at a median price of $146.37, according to bitinfocharts.com, while Bitcoin changed hands at around $2,729 on the BitStamp platform.
Wisconsin may get triple the amount of investment pledged by Foxconn (OTC:FXCOF) for an LCD manufacturing facility in the state. "He [Foxconn's chairman] told me off the record he may go [to] $30B - $30B - think of this," President Trump said during a small business event at the White House. "But he told me that off the record, so I promised I wouldn't tell anybody."
Costco co-founder Jeff Brotman has died at 74-years-old. He previously served as chairman of the company's board from Costco's (NASDAQ:COST) founding until 1993, when he became vice chairman of the company. Since December 1994, he served as chairman. Costco operates 736 warehouses around the world, including 511 in the U.S. and Puerto Rico.
Activist investor news... Procter & Gamble (NYSE:PG) has fired a fresh shot in its campaign to fend off activist investor Trian Fund Management. The firm told shareholders that Nelson Peltz, who is seeking a seat on P&G's board, has a "fundamental misunderstanding" of the company and is basing opinions on "outdated information" and unreliable sources.
A whole new student loan servicing and processing system will be up and running in 2019, as the U.S. Education Department formally unveiled its plan to overhaul the current $1.3T program. "By starting afresh and pursuing a truly modern loan servicing environment, we have a chance to turn what was a good plan into a great one," Secretary Betsy DeVos said in a statement. Related stocks: CECO, STRA, COCO, ESI, ITT, BPI, LINC, LOPE, APEI, APOL
The public may soon be able to delve into how a U.S. District Court judge came to rule that MetLife (NYSE:MET) is not "too big to fail," after three appeals judges decided many records in the case should be unsealed. The largest U.S. life insurer's SIFI designation, a label triggering heightened oversight and requirements to hold additional capital, was rescinded last year.
Deutsche Bank envisions shifting almost half of it U.K. positions to the European continent over coming years as the lender's Brexit plans take shape, Bloomberg reports. Deutsche (NYSE:DB) will start relocating jobs once it has dealt with regulatory approvals, with most of the 4,000 employees moving to Frankfurt and Berlin.
Theranos has settled a lawsuit brought against it by former partner Walgreens (NASDAQ:WBA), taking another step through a thicket of litigation arising from the collapse of its laboratory business. The two forged a partnership in 2013 to make Theranos' (Private:THERA) fingerprick tests available at Walgreens stores, but questions mounted about the tests' accuracy in late 2015.
Jurors have ended their second day of deliberations in the Martin Shkreli trial without reaching a verdict, but asked Judge Kiyo Matsumoto to clarify the definition of "fraudulent intent," as well as "assets under management." The "Pharma Bro" is charged with defrauding investors in two hedge funds he ran, as well as a drug company he founded, Retrophin (NASDAQ:RTRX).
Underlying uncertainty about the healthcare fight in Washington will lead monthly premiums for plans sold on California's Obamacare exchange to rise by an average of 12.5% next year, according to the state. Anthem (NYSE:ANTM) is also pulling back from 16 of 19 pricing regions in California where it offered Obamacare choices this year, leaving some 153K consumers without options.
Almost eight months after President Trump first criticized the multibillion dollar plan for next Air Force One fleet, the Commander in Chief is close to getting a new deal. It is "focused on the best price for the taxpayer," said Caroline Hutcheson, a Boeing (NYSE:BA) spokeswoman. An ironic twist: The two 747's that will be modified were once scheduled to be part of bankrupt Russian airline Transaero.
Automakers selling electric cars and putting vehicles in ride-sharing fleets could receive significant credits toward meeting stringent U.S. emissions standards, proposals that would revise current regulations that were locked in under the Obama administration. "We need to think differently," said Christopher Grundler, head of the EPA's transportation and air-quality office, describing "a golden opportunity."
Tuesday's Key Earnings
Apple (
AAPL
) 
+6.2%
 AH surpassing expectations.
Devon Energy (NYSE:
DVN
) 
-0.6%
 AH with no activity changes.
EOG Resources (NYSE:
EOG
) 
-2.9%
 AH missing forecasts.
FireEye (NASDAQ:
FEYE
) 
+6.4%
 AH raising guidance for 2017.
Phillips 66 (
PSX
) 
+1%
 after beating estimates.
Pfizer (NYSE:
PFE
) 
-0.7%
 with lower Prevnar, Enbrel sales.
Sprint (NYSE:
S
) 
+11.2%
 on first profit in three years.
Under Armour (NYSE:
UAA
) 
-8.6%
 lowering revenue guidance.