Wednesday Morning Reads, Options, News
Reads:
Boeing (BA) 737 Max Southwest (LUV) flight was forced to make emergency landing due to engine issue. CNBC Report
Tesla (TSLA) and SEC will have a court hearing on April 4. Reuters Report
Beijing Kunlun Tech might be forced to sell dating app over concerns of national security. Reuters Report
Some Asian buyers are concerned about complex infrastructure for US oil exports (USO, XLE). Bloomberg Report
Demand for pickup trucks in China are growing (F, GM, CARZ). Reuters Report
Casper considering IPO (IPOXX). Reuters Report
News:
Premium:
Todays Top Open Interest Changes: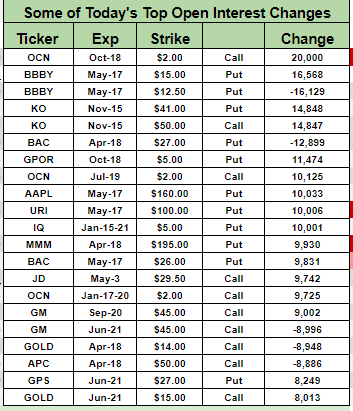 Morning Charts:
 Futures:
Seekingalpha
Its a big day for Boeing and federal aviation safety regulators as they try to rebuild trust following two deadly crashes of 737 MAX airliners. Boeing (NYSE:BA) has scheduled a briefing for about 200 pilots and airline representatives in Renton, Washington - home of the 737 assembly complex - where it's expected to outline software changes that controls a system designed to automatically prevent a mid-flight stall. A Senate panel in Washington, D.C. will also question the acting head of the FAA, the DOT's inspector general and the head of the NTSB about how thoroughly the MCAS system was tested and what will be done to assure that any fixes work.