Wednesday Morning Reads
Reads:
Netflix (NFLX) poached Spencer Neumann from Activision Blizzard (ATVI) for CFO position. Reuters Report
House Democrats plan to introduce legislation to change credit reporting standards (EFX, TRU). WSJ Report
House Democrats plan to move forward with infrastructure plan this year (SUM, VMC, GVA, USCR, CX). FT Report
Google (GOOG) has secured approval for radar-based motion sensing device. Reuters Report
Banks plan to lessen credit card reward programs (AXP, COF, DFS, V, MA, XLF). WSJ Report
Drug companies have raised prices on hundreds of drugs to start 2019, including Allergan (AGN) which raised prices 10% (IBB, XLV). WSJ Report
News:
Today's Open Interest Changes:
Futures:
Premium:
Visual: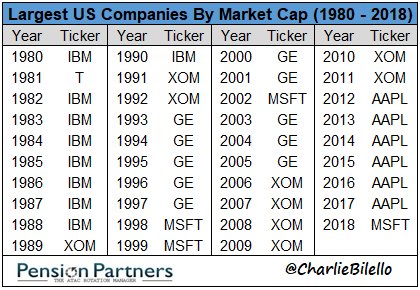 Charts:
SeekingAlpha:
Chinese manufacturing had an even worse December than expected, darkening the mood for global equities and upending U.S. stock futures as they start 2019. The Caixin/Markit Manufacturing PMI fell to 49.7 last month from 50.2 in November, dropping below the critical 50 level that separates growth from contraction. Besides the first shrinking factory activity figure in 19 months, two separate measures for new orders and new export orders showed contraction amid a trade dispute with the U.S.
Economy
With the first trading session of the year on deck, investors are sketching their market predictions for 2019. Will the trade war continue? How about volatility on Wall Street? Oil prices and OPEC? Dollar downturn? Next steps for monetary policy? Effects of waning QE? Brexit tensions? How will the third year of Trump's presidency and a new Congress shape the markets? Any other stock-related tea leaves?
Taking control of the House this week, Democrats intend to vote tomorrow on a funding package to end the partial U.S. government shutdown, without providing $5B for a border wall with Mexico. At an impasse? President Trump has said "we have no choice" but to let the shutdown continue unless there was funding, but invited top congressional leaders yesterday to a White House briefing on border security.
China reserves the right to use force to bring Taiwan under its control, President Xi Jinping told a gathering in Beijing, but will strive to achieve peaceful "reunification" with the self-ruled island. Meanwhile, North Korea's Kim Jong-un said he's ready to meet President Trump anytime to denuclearize the Korean Peninsula, but warned he may have to take an alternative path if U.S. sanctions and pressure continue.
Jair Bolsonaro has been sworn in as Brazil's president, taking the reins of Latin America's largest and most populous nation. The former army captain told Congress he wanted a "national pact" to free Brazil of corruption, crime and economic mismanagement. He also promised to "create a new virtuous cycle to open markets" and "carry out important structural reforms" to shore up a growing public deficit.
Looking to curb illegal activities, "17 of the 19 national central banks in the euro area will no longer issue €500 banknotes from Jan. 27, 2019," the ECB said on its website. However, Austria and Germany will both continue printing the notes until April 26 "in order to ensure a smooth transition and for logistical reasons." According to ECB statistics, €500 bills account for just 2.4% of the total number of banknotes in circulation, but a little over 20% of the total value.
China has pledged to lend at least $2B to Pakistan to shore up its forex reserves and prevent further devaluations of the rupee against the dollar, two senior government officials told the FT. The promised financial support comes as Islamabad negotiates a potential $7B-$8B loan with the IMF. The rupee has lost more than a fifth of its value against the greenback since late 2017 and Fitch last month cut Pakistan's debt rating deeper into junk territory.
Crude futures retreated to start the new year, falling as much as 2.2% to $44.41/bbl, amid concerns about a downturn in China that could squeeze demand for oil at a time when supply is in a big surplus. Russian production also hit a post-Soviet record in 2018, according to new figures, while there are fears about a resurgent glut fueled by booming U.S. production and America's waivers for buyers of Iranian crude.
Stocks
More than three dozen drugmakers began 2019 by raising the cost of hundreds of medicines, according to an analysis from Rx Savings Solutions. The average increase was 6.3%, including rises on different doses for the same drug, as pressure grows on the industry over prices. Other companies like Allergan (NYSE:AGN) set the pace with increases of nearly 10% on more than two dozen products.
China National Tobacco, a state monopoly that accounts for 40% of global cigarette production, is planning to list its international unit in Hong Kong. China Tobacco International is primarily responsible for procuring overseas tobacco leaf for the cigarette giant, which has a bigger market share than the next five global tobacco companies combined. Other IPOs to look forward to in 2019 include UBER and LYFT.
Another year of tepid car sales growth? Hyundai (OTCPK:HYMLF) and Kia Motors (OTCPK:KIMTF) announced plans to complete a restructuring after the world's fifth-biggest automaker missed its annual sales goals for four straight years. The conglomerate also set a "conservative target" of 7.6M vehicle sales in 2019, saying trade protectionism adds uncertainty and major markets such as the U.S. and China remain sluggish.
It's the first heavy-haul, long distance autonomous rail operation in the world. Rio Tinto (NYSE:RIO) has completed the rollout of AutoHaul, its $940M driverless rail network in the Pilbara, Western Australia. The project uses about 200 locomotives on over 1,700 kilometers of track to transport iron ore from mines to port terminals across the region. Rio also aims to have over 150 autonomous trucks in its fleet by the end of 2019.
Months after asking shipbuilder Huntington Ingalls (NYSE:HII) for details on pricing, the U.S. Navy has informed lawmakers of its intent to pursue a block purchase of two Ford-class aircraft carriers. The move is expected to save billions of dollars as the Trump administration tries to expand the size of its fleet. The first Ford-class aircraft carrier, the USS Gerald R. Ford, was commissioned in July 2017, three years behind schedule and billions of dollars over budget. It cost about $13B.
Move to diversify? Following a year of safety scandals and new regulations that threaten to cut the number of its drivers, Chinese ride-hailing app Didi Chuxing (DIDI) is branching out into financial services. The new line includes car insurance, personal loans and a crowdfunded medical insurance product, putting it in direct competition with established fintech players like Ant Financial, Alibaba's (NYSE:BABA) sister company, and Tencent's (OTCPK:TCEHY) WeSure and WeBank platforms.
The FCC has granted approval to Google's (GOOG, GOOGL) Project Soli, whose miniature radar could herald a new era of touchless tech control. The Alphabet unit will now be able to operate Soli sensors at higher power levels than currently allowed, as well as aboard aircraft. Through their thumb and forefingers, users can press an invisible button, turn a virtual dial, pan around, and amplify or decrease a volume slider.
Raising new questions about the limits of free online expression, Netflix (NASDAQ:NFLX) has pulled an episode from the comedy show Patriot Act with Hasan Minhaj that criticized Saudi Arabia and Crown Prince Mohammed bin Salman over the killing of Jamal Khashoggi. "We strongly support artistic freedom worldwide and removed this episode only in Saudi Arabia after we had received a valid legal request - and to comply with local law," a Netflix spokeswoman said in a statement.
The streaming giant is also expected to announce shortly that it has poached media finance veteran Spencer Neumann from Activision Blizzard (NASDAQ:ATVI) to be its CFO, Reuters reports. Neumann will start at Netflix (NFLX) in early 2019. Activision Blizzard said in a regulatory filing that it intended to terminate Neumann "for cause unrelated to the company's financial reporting or disclosure controls and procedures."
Gambling revenue in Macau rose 14% to $37.6B in 2018, the second consecutive year of gains as demand to wager in Chinese territory continued to rebound from a prolonged slump. Casino executives are bullish on the potential benefits from the opening last year of the world's longest sea-crossing bridge and tunnel, linking Macau to Hong Kong and mainland China's Pearl River Delta, although analysts have cautioned that the Sino-U.S. trade war and slowing Chinese economy could weigh on sentiment.
Today's Markets 
In Asia
, Japan closed. Hong Kong 
-2.8%
. China 
-1.2%
. India 
-1%
.
In Europe
, at midday, London 
-1.8%
. Paris 
-2.4%
. Frankfurt 
-1.3%
.
Futures at 6:20
, Dow 
-2%
. S&P 
-2%
. Nasdaq 
-2.6%
. Crude 
-1.8%
 to $44.61. Gold 
+0.7%
 to $1290.50. Bitcoin 
+2.7%
 to $3807.
Ten-year Treasury Yield
 -3 bps to 2.66%
Today's Economic Calendar
8:55
Redbook Chain Store Sales
9:45
PMI Manufacturing Index