Wednesday Morning Reads
Reads:
Apple (AAPL) in talks to provide Veterans with access to medical records. WSJ Report
Facebook (FB) CEO Mark Zuckerberg does not plan to step down as Chairman. CNN Interview Report
JD.com (JD) was accused of using illegal student labor on Single's Day. FT Report
Amazon (AMZN) wants merchants to accept Amazon Pay digital wallet (PYPL, AAPL). WSJ Report
Tencent Music (TCEHY) might move IPO to next year. Reuters Report
Rants:
News:
Futures:
Some of the Top  Open Interest Changes for Today:
Nasdaq Futures:
Stat of the Day: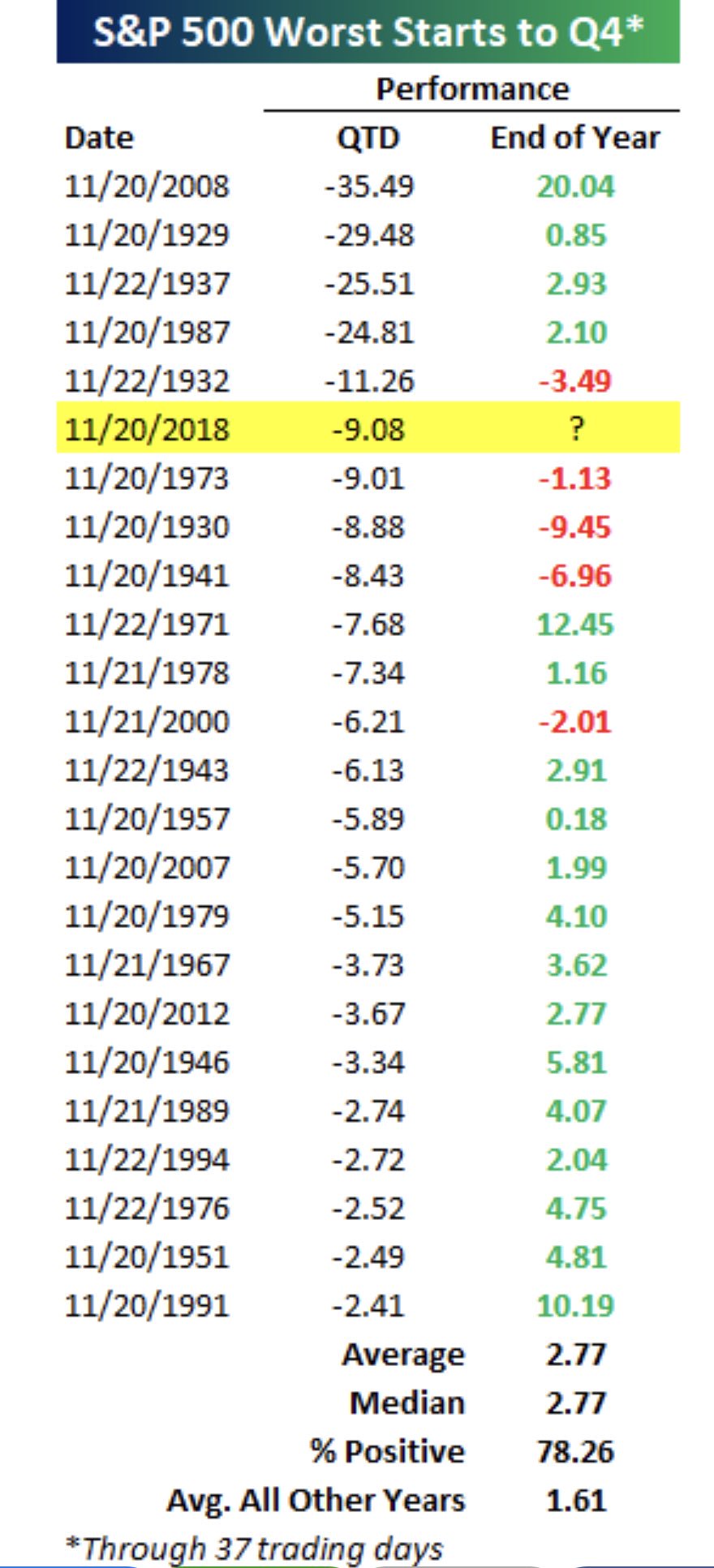 Premium:
Charts:
Seekingalpha:
The EU Commission has opened disciplinary procedures against Italy after the country refused to submit a budget proposal that squares with its rules. The Excessive Deficit Procedure will require Rome to provide a plan of corrective action and policies, though the nation risks a significant fine if it doesn't follow through. Following the news, Deputy Prime Minister Matteo Salvini told reporters he was open to small tweaks in the budget, but said he wouldn't compromise on the main principles.
Economy
Theresa May is meeting up with European Commission President Jean-Claude Juncker later today in a bid to finalize a Brexit deal in time for Sunday's EU summit. Any signs that progress has been made could give the pound a lift, but if the headlines flowing out of Brussels indicate the EU is unwilling to budge, it could be a difficult day for U.K. stocks. FTSE 100 +0.8%. Sterling flat at $1.2791.
Some respite? U.S. stock index futures are rebounding ahead of the open, taking a break from the latest wave of global selling. Major indexes shed gains for 2018 on Tuesday, as a selloff in high-flying technology shares bled into all corners of the financial markets. The selloff renewed concerns that the nearly 10-year bull market could be running out of steam, even as ongoing growth in the U.S. economy signals to many a recession isn't imminent.
Though there are no signs of a sharp downturn, trade tensions and higher interest rates are slowing the world economy, according to the OECD, which lowered its outlook for next year. The organization forecast that global growth would slow from 3.7% this year to 3.5% in 2019 and 2020. It previously projected 3.7% for 2019.
In an update to its "Section 301" investigation into China's intellectual property and technology transfer policies, the U.S. Trade Representative said Beijing has failed to take any substantive actions against its "unfair" trade practices. It's not a good sign after last weekend's tensious APEC summit. President Trump is also due to meet Xi Jinping in ten days at the G20 summit in Buenos Aires.
"Saudi Arabia, if we broke with them, I think your oil prices would go through the roof," President Trump told reporters. He also said the United States stands by the kingdom despite the murder of journalist Jamal Khashoggi. On the alleged involvement of Crown Prince Mohammed bin Salman, Trump declared "Maybe he did and maybe he didn't," arguing that the CIA had not made a definitive determination.
Stocks
Prosecutors are weighing bringing a case against Nissan (OTCPK:NSANY) over the arrest of Chairman Carlos Ghosn. While the automaker has portrayed itself as a victim of his actions, sources say his financial misconduct could mean Nissan also bore responsibility. Meanwhile, Renault (OTCPK:RNLSY) has named an interim chairman and handed new powers to its COO to replace Ghosn following his arrest in Japan.
Carlos Ghosn was also reportedly planning to merge Nissan (OTCPK:NSANY) and Renault (OTCPK:RNLSY) before his downfall. According to the FT, Nissan's board opposed the plan, which was set to materialize within months and would have rendered the Renault-Nissan alliance "irreversible." Adding to the report, French Finance Minister Bruno Le Maire said that France and Japan were still keen on pursuing the consolidation of the alliance.
NASA is conducting a review of Boeing (NYSE:BA) and SpaceX (SPACE) to assess "anything" and "everything" that could impact the safety of astronaut space missions, according to The Washington Post. Sources indicate that the review of the corporate culture was prompted in part by a video of Elon Musk smoking marijuana (legally) and taking a shot of whiskey during a podcast. NASA awarded contracts in 2014 to Boeing ($4.2B) and SpaceX ($2.6B) to fly astronauts.
EV revolution... FedEx (NYSE:FDX) is adding 1,000 electric delivery vans to its fleet, which will come from Chanje Energy and Ryder System (NYSE:R). The vans can travel more than 150 miles and haul 6,000 pounds when fully charged, while having the potential to help FedEx save 2K gallons of fuel and avoid 20 tons of annual emissions per vehicle. All of the EVs will be operated in California.
Following months of turmoil over corruption investigations and output delays, Airbus (OTCPK:EADSY) has named Infineon Technologies' (OTCQX:IFNNY) Dominik Asam to replace CFO Harald Wilhelm when he steps down in April. The French planemaker also appointed Michael Schoellhorn as COO for its commercial aircraft business, replacing Tom Williams who is due to retire, cementing its executive lineup following a major reshuffle.
Stepping down as Facebook (NASDAQ:FB) chairman in the near term is "not the plan," Mark Zuckerberg told CNN, after some big shareholders proposed to push him out of the role following a string of management missteps. Zuckerberg also praised Facebook COO Sheryl Sandberg when asked if she would keep her job following a series of scandals, adding that he hopes to work together for "decades more to come."
Megyn Kelly is nearing a deal with NBC News (NASDAQ:CMCSA) that will let her walk away from the network with all the value left on her three-year, $69M contract, WSJ reports. With more than half her contract remaining, that likely means exiting with upwards of $30M, following her "blackface" Halloween remarks. Discussions are now centered on "nonfinancial" matters including noncompete and nondisclosure clauses.
Amazon has joined the bidding for the 22 regional sports networks that Disney (NYSE:DIS) is divesting as part of its $71B purchase of media assets from Fox (NASDAQ:FOXA), CNBC reports. That includes the YES Network, where Amazon (NASDAQ:AMZN) is joining Blackstone (NYSE:BX), a sovereign wealth fund and the New York Yankees in the bidding. Apollo Global (NYSE:APO), KKR, Sinclair (NASDAQ:SBGI) and Tegna (NYSE:TGNA) also made first-round bids for the full slate of networks.
A U.S. judge overseeing the federal litigation against Bayer's (OTCPK:BAYRY) Monsanto unit over glyphosate-based weed-killers has selected the first case to be tried in federal court in February 2019. Previously, a California state court awarded $78M to a school groundskeeper for his cancer, though Bayer said it would appeal the decision. Its share price has dropped more than 30% since the Aug. 10 jury verdict as the company faces another 9,300 U.S. glyphosate lawsuits.
Making a salad for the Thanksgiving table? Don't use romaine lettuce. The CDC has advised not to eat the leafy green as they investigate a major E. coli outbreak, the second such episode this year. It has so far sickened 32 people in 11 U.S. states, as well as 18 in the Canadian provinces of Ontario and Quebec, sending 13 people to the hospital. Related: MOO, PBJ
Tuesday's Key Earnings
Best Buy (NYSE:
BBY
) 
+2.1%
 beating expectations.
Gap (NYSE:
GPS
) 
-1.4%
 AH on weak namesake brand performance.
Kohl's (NYSE:
KSS
) 
-9.2%
 amid negative retail sentiment.
Lowe's (NYSE:
LOW
) 
-5.7%
 outlining further restructuring.
Medtronic (NYSE:
MDT
) 
+2%
 on a strong Q2, rosy outlook.
Target (NYSE:
TGT
) 
-10.5%
 following an earnings miss.
TJX Co. (NYSE:
TJX
) 
-4.4%
 hit by higher freight costs.