Wednesday Morning Reads
Reads:
News:
Futures:
Premium:
Open Interest Changes:
 Earnings: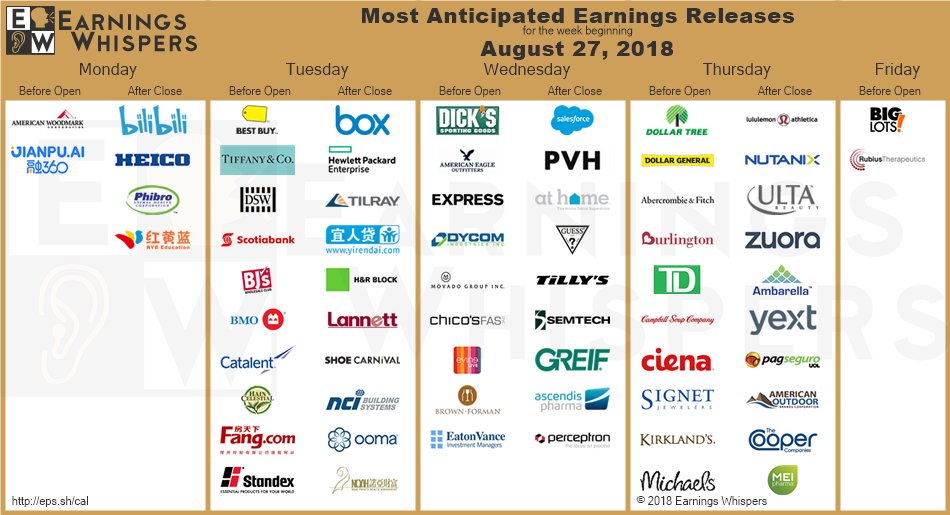 Charts:
SeekingAlpha:
There was reportedly little substance to talks yesterday between Canadian Foreign Minister Chrystia Freeland and U.S. Trade Representative Robert Lighthizer, who are scheduled to meet again this morning. The U.S. side apparently made it clear that the deadline for an agreement in principle is Friday, with no wiggle room, and noted that they've already compromised on the issue of the sunset clause, a major sticking point for Canada.
Economy
The Senate has confirmed Pimco managing director and Columbia University economist Richard Clarida to become Federal Reserve vice chairman, filling one of the most powerful positions at the central bank ahead of its September policy meeting. The confirmation also tips the filled positions at the Fed's seven-seat board of governors, with three of the four current members Trump appointees and three vacancies open.
A vital piece of information that investors will be looking at this morning is the second estimate of U.S. gross domestic product for Q2. In the original estimate, the Commerce Department reported that the value of all goods and services produced across the economy rose at a seasonally and inflation-adjusted annual rate of 4.1%. The figure is now expected to be revised to 4.0%.
Primary results for Florida governor present voters with one of the starkest contrasts of any race in the country. A win by Tallahassee Mayor Andrew Gillum, a progressive backed by Bernie Sanders, shocked the Democratic political establishment, while one of President Trump's most outspoken defenders, Rep. Ron DeSantis, scored support from the GOP. The two will go head-to-head this fall.
The Turkish lira took a fresh fall overnight as Moody's downgraded 20 of the country's financial institutions amid a continuing row with Washington over the fate of a U.S. pastor detained in the country. Foreign Minister Mevlut Cavusoglu meanwhile announced that Turkey's relations with Russia are not an alternative to the U.S. and the EU, and the nation "can perfectly balance" its foreign policy.
While a deadline had been earmarked for Oct. 18, the U.K. and the EU are now aiming to finalize Brexit divorce terms by the middle of November at the latest, Bloomberg reports. The longer time frame is another sign negotiators are struggling to make headway, and the risk is that the closer talks run to Britain's exit on March 29, the greater the chance that there won't be a deal.
China's state planner has warned the economy faces increased risks in the second half of this year and that greater determination would be needed for policymakers to hit development goals as external and long-term structural challenges intensify. "Targets in economic growth, employment, inflation and exports and imports can be achieved through effort," He Lifeng told the standing committee of the National People's Congress.
India is set to overtake China as the biggest source of growth for oil demand by 2024, according to a forecast by Wood Mackenzie. The country's expanding middle class will be a key factor, as well as its growing need for mobility. On the other hand, China - which overtook the U.S. as the biggest importer of crude oil in 2017 - is set to see a decline due to two trends: Alternative energy sources and a more efficient freight system.
South Korea's liberal government has proposed the biggest budget increase in a decade as the country's export-driven growth model is no longer creating as many jobs as before for Asia's fourth-largest economy. The proposal would expand social welfare, provide financing for private companies to hire young people and create more public-sector jobs.
Stocks
Aston Martin plans to float on the London Stock Exchange, completing a turnaround for the once perennially loss-making company that could now be valued at more than $6B. The 105-year-old firm, famed for making the car driven by fictional secret agent James Bond, would become the first IPO of a popular sports-car brand since Fiat Chrysler (NYSE:FCAU) sold roughly 9% of Ferrari (NYSE:RACE) for a NYSE listing in October 2015.
Moving to tap the public markets before generating any substantial revenue, Chinese electric vehicle maker NIO has launched a U.S. stock sale that could raise up to $1.32B and value the company at up to $8.5B. The Shanghai-headquartered company, which has billed itself as an emerging rival to Tesla (NASDAQ:TSLA), plans to list on the NYSE in about two weeks, with ADRs priced at a range of $6.25 to $8.25.
A Texas-based group that was barred by a U.S. federal judge from issuing blueprints for 3-D printed plastic guns on the internet has made the firearm designs available for sale by shipping them to buyers on a flash drive. Josh Blackman, a lawyer for Cody Wilson, founder of Defense Distributed, said the court expressly allowed mailable files. Blueprints for the AR-15 semi-automatic assault rifle were going for around $10.
Standard Chartered has already paid a painful penalty for secretly moving billions of dollars in violation of Iranian sanctions, but a sweeping investigation by the DOJ and others has found evidence suggesting that the business was more extensive than it admitted, Bloomberg reports. A bigger fine than the $667M StanChart (OTCPK:SCBFF) paid in 2012 may be imposed, though specific numbers have not yet been discussed by U.S. authorities.
The Information reports that Waymo's (GOOG, GOOGL) ambitions are slowing due to tech troubles with its self-driving cars. Prototype minivans are said to have problems crossing intersections, as well as other complaints of sudden movements or stops. The anecdotes highlight how challenging it can be for autonomous vehicles to master situations that human drivers can handle with relative ease.
Sundar Pichai is facing bipartisan criticism for refusing to testify at a Senate Intelligence Committee hearing next week, but the panel's chairman signaled he's unlikely to issue a subpoena to force Google's (GOOG, GOOGL) chief executive to appear. The hearing, which will also feature Twitter (NYSE:TWTR) CEO Jack Dorsey and Facebook (NASDAQ:FB) COO Sheryl Sandberg, will investigate Russian interference in U.S. elections and its manipulation of social media.
Comments out of the Oval Office yesterday saw President Trump hit out at Facebook (FB), Google (GOOG, GOOGL) and Twitter (TWTR), saying the social platforms are "treading on very, very troubled territory and they have to be careful." It follows an early morning tweetstorm that accused Google of altering search results to prioritize left-leaning outlets and warning that the issue "will be addressed."
Media and telcom news... Roku (NASDAQ:ROKU) shares slipped 3.2% AH following a report from The Information that Amazon (NASDAQ:AMZN) was planning a free, ad-supported streaming service for its Fire TV devices. Separately, Altice (NYSE:ATUS) and Dish Network (NASDAQ:DISH) are urging U.S. regulators not to approve the planned merger between T-Mobile (NASDAQ:TMUS) and Sprint (NYSE:S), saying it's better for consumers and competition that the two companies stay separated.
Former Barnes & Noble CEO Demos Parneros has filed a lawsuit against the company alleging breach of contract and defamation in connection with his sudden termination last month. Responding to the suit, the board called the litigation "nothing but an attempt to extort money from the company by a CEO who was terminated for sexual harassment, bullying behavior and other violations." BKS shares still fell 3.6% yesterday, but are up 2.8% premarket.
A big commitment to renewable energy... Facebook (FB) will cut its greenhouse emissions by 75% and power global operations with 100% renewable energy by the end of 2020. The new pledge builds upon Facebook's (FB) 2015 aim of supporting 50% of its facilities with renewable energy by 2018. That goal was reached last year.
India's health ministry is calling for stopping the sale or import of electronic cigarettes and heat-not-burn tobacco devices that companies like Philip Morris (NYSE:PM) were planning to launch in the country. The country has 106M adult smokers, second only to China. In recent years, the government has intensified its tobacco-control efforts, raising cigarette taxes and ordering companies to print bigger health warnings.
Tuesday's Key Earnings
Bank of Montreal (NYSE:
BMO
) 
+0.2%
 beating estimates.
Bank of Nova Scotia (NYSE:
BNS
) 
-1.7%
 posting a Q3 revenue miss.
Best Buy (NYSE:
BBY
) 
-5%
 expecting a comp growth slowdown.
Box (NYSE:
BOX
) 
-7.1%
 AH amid weak earnings guidance.
Hewlett Packard Enterprise (NYSE:
HPE
) 
+1.7%
 AH on revenue growth.