Wednesday Morning Reads
News:
Reads:
Futures:
 Earnings: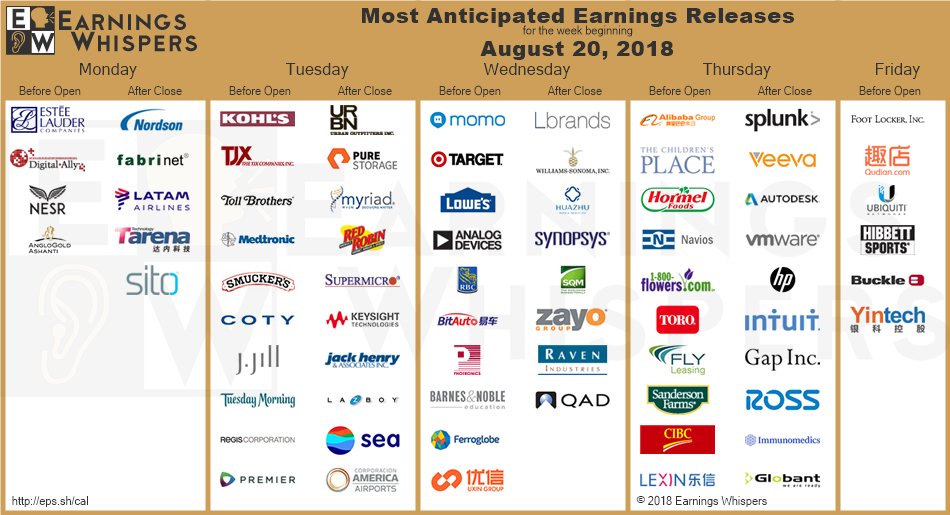 Charts:
SeekingAlpha:
Futures markets are pointing to slight opening losses as fresh political developments signaled new uncertainty over President Trump's leadership. His former 2016 campaign chair, Paul Manafort, was found guilty on eight counts of financial wrongdoing, while prior personal lawyer, Michael Cohen, said a candidate for federal office directed him to pay off a porn star "for the principal purpose of influencing" the election. The S&P 500 index today is still poised to break the longest-running bull market in history, fueled by strong earnings, tax cuts and economic growth.
Economy
The Fed is scheduled to release the minutes from its Aug. 1. gathering this afternoon, but with no interest rate hike at the meeting, some economists think the FOMC had time to discuss "big ticket" issues. Watch for continued discussion of what is a neutral rate - the level that is not stimulating the economy but also not constraining it - as well as talk on the yield curve and trade policy.
Planned ministerial talks yesterday between U.S. and Mexican officials have been postponed until today as the two sides aim for a breakthrough in the revamp of the NAFTA. Meanwhile, the incoming government of President-elect Andrés Manuel López Obrador reportedly wants to prevent a new chapter on energy investment from being included in the pact, something the current Mexican team and its U.S. and Canadian counterparts had already agreed upon.
U.S. and Chinese mid-level officials are also set to resume contentious trade talks today, hoping to set a framework for further negotiations as each country prepares to hit the other with a new round of tariffs on Thursday. The two days of meetings are the first formal U.S.-China trade discussions since U.S. Commerce Secretary Wilbur Ross met Chinese economic adviser Liu He in Beijing in June.
North Korea is continuing to develop its nuclear program, according to the International Atomic Energy Agency, despite an agreement reached in June between Washington and Pyongyang to denuclearize the Korean Peninsula. Asked about the report, a White House National Security Council spokesman referred to national security adviser John Bolton's assertion earlier this month that President Trump was holding diplomatic doors open for Kim Jong-un.
Germany is calling for the formation of a new payments system independent of the U.S., as well as creating a European Monetary Fund and building up an independent SWIFT system, as a means of rescuing the Iranian nuclear deal. "It's essential that we strengthen European autonomy," wrote Foreign Minister Heiko Maas in Handelsblatt, stating Europe should not allow the U.S. to act "over our heads and at our expense."
EU financial services chief Valdis Dombrovskis has warned that the bloc will be strict in policing Britain's rights of access to the region's market after Brexit, but welcomed U.K. proposals to build access for the City of London around EU rules, known as "equivalence." Market access should never be taken for granted, he cautioned, with Brussels determined to toughen its assessments of whether countries meet the conditions.
Stocks
Tech giants including Facebook (NASDAQ:FB), Twitter (NYSE:TWTR) and Alphabet (GOOG, GOOGL) have collectively removed hundreds of accounts tied to Iranian and Russian actors for "coordinated inauthentic behavior" ahead of U.S. midterm elections. The campaign was aimed at users in the U.S., Britain, Latin America and Middle East, according to an analysis by FireEye (NASDAQ:FEYE), which first spotted the behavior.
Shares of Hong Kong-listed Xiaomi (XI) were going higher into its first earnings report as a publicly traded company following its initial public offering in July. Analysts are still concerned that the Chinese electronics giant could struggle to diversify its product away from hardware, which is a low margin business, amid pressure on its share price and questions over its long-term model.
While constructive talks are continuing to salvage the $83B merger, Linde (OTCPK:LNAGF) warned that divestments needed to secure approval for its planned tie-up with Praxair (NYSE:PX) have reached a size that would allow either party to abandon the deal. The agreement inked in December 2016 would create a global leader in gas distribution ahead of France's Air Liquide (OTCPK:AIQUY), which had also bulked up with the takeover of rival Airgas.
Together with its institutional partners and Macquarie Capital, Brookfield Business Partners (NYSE:BBU) has announced an agreement to sell Quadrant Energy to Santos Limited for $2.15B. The deal includes a contingent payment in relation to the recent significant Dorado-1 oil discovery and a royalty over all other future hydrocarbons produced in the Bedout Basin tenements, ensuring exposure to the upside in exploration interests.
Democratic Republic of Congo has approved four more experimental treatments against the deadly Ebola virus as the country races to contain a new outbreak. They include Remdesivir, made by Gilead Sciences (NASDAQ:GILD); ZMapp, an intravenous treatment made by San Diego's Mapp Pharmaceutical; Japanese drug Favipiravir; and one referred to as Regn3450 - 3471 - 3479. In addition, a vaccine manufactured by Merck (NYSE:MRK) has been administered to 1,693 health workers and contacts of Ebola patients.
U.S. hospitals have been closing at a rate of about 30 a year, according to the American Hospital Association, and patients living far from major cities may be left with even fewer hospital choices as insurers push them toward online providers like Teladoc (NYSE:TDOC) and clinics such as CVS's MinuteClinic (NYSE:CVS). The next year to 18 months could see a further increase in shutdowns, with the risks coming following years of mergers and acquisitions. Related tickers: CYH, THC, LPNT, UHS, QHC, SEM, HUM, HCA, EVHC, LPNT, KND, SSY
Today's Markets 
In Asia
, Japan 
+0.6%
. Hong Kong 
+0.6%
. China 
-0.7%
. India flat.
In Europe
, at midday, London 
+0.3%
. Paris 
+0.3%
. Frankfurt flat.
Futures at 6:20
, Dow 
-0.2%
. S&P 
-0.2%
. Nasdaq 
-0.2%
. Crude 
+1.3%
 to $66.67. Gold 
+0.3%
 to $1203.50. Bitcoin 
+2.9%
 to $6668.
Ten-year Treasury Yield
 -2 bps to 2.82%
Today's Economic Calendar
7:00
MBA Mortgage Applications
10:00
Existing Home Sales
10:30
EIA Petroleum Inventories
2:00 PM
FOMC minutes