Wednesday Morning Reads
Reads:
News:
 Futures:
Charts: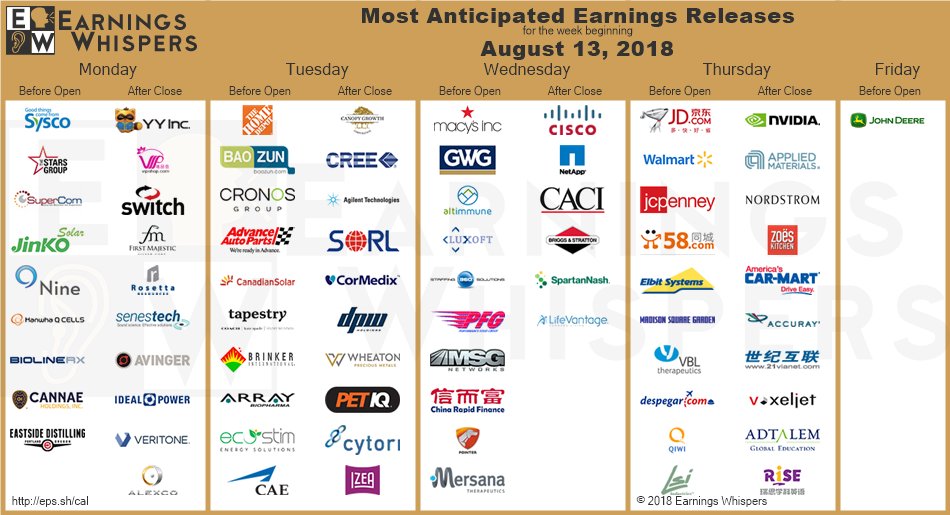 SeekingAlpha:
A reeling Turkey has responded to U.S. tariffs with retaliatory duties on U.S. passenger cars, alcohol, tobacco, cosmetics and other products. Tariffs on cars are set to rise by 120% and those on made-in-the-U.S. alcoholic drinks by 140%, alongside a 60% increase on tobacco products. The move comes amid increasing fears of contagion from Turkey's collapse. The lira - which managed an 8% bounce yesterday - is up modestly in today's action, and the Borsa Istanbul 100 Index is down 0.9%.
Economy
China has filed a complaint with the World Trade Organization, saying that U.S. tariffs on solar products are distorting the global photovoltaic market and hurting its trade interests. The country claims its makers are benefiting not from subsidies but healthy competition. But its major manufacturers (including GCL, JinkoSolar (NYSE:JKS), JA Solar (NASDAQ:JASO), Yingli Green Energy (NYSE:YGE) and Canadian Solar (NASDAQ:CSIQ)) already face a smaller U.S. market from earlier trade action, suggesting the real impact of the action is further trade theater.
Crude oil prices continue their slide after the API reported an inventory build of 3.6M barrels for the week ended August 10 vs. a draw of 6M barrels the previous week. There was a draw in gasoline stocks of 1.5M barrels, and distillates showed a build of 1.9M barrels. WTI crude oil is currently lower by0.85% to $66.47.
Stocks
Some board members at Tesla appeared to be getting a bit fed up with CEO Elon Musk, according to reporting from the NYT. Sources told the paper that board members have asked Musk to stop tweeting and outside directors have already retained law firms to represent them in the ongoing matters. Also, several were said to be irritated that Tesla had to rush out a statement to play catch-up to the Musk tweetstorm last week. It's not likely that the Tesla (NASDAQ:TSLA) tension will ease up soon. Due to Musk's personal ties to several board members, the company established a special committee of just three board members to evaluate the go-private proposal.
After serving as a lone social-media holdout against removing content from far-right firebrand Alex Jones, Twitter (NYSE:TWTR) suspended Jones for seven days for an unspecified policy violation. The Jones/InfoWars tweet in question reportedly linked to video violating policies against targeted harassment or incitement of harassment. Twitter joins Apple (NASDAQ:AAPL), YouTube (GOOG, GOOGL), Facebook (NASDAQ:FB) and Spotify (NYSE:SPOT) in pulling content that violated community guidelines.
Japanese videogame makers tumbled in Tokyo Wednesday after reports that China had frozen licensing approvals. Top maker Tencent (OTCPK:TCEHY) took a heavy hit when it was forced to pull Monster Hunter: World from its platform just five days after release, and now a reported shakeup in China has dinged Japanese trading in Capcom (OTCPK:CCOEY), Nexon (OTC:NEXOY), Konami (OTCPK:KNMCY), Nintendo (OTCPK:NTDOY), Bandai Namco (OTC:NCBDY) and Dena (OTCPK:DNACF).
Last night's 13F from Berkshire Hathaway (BRK.A, BRK.B) showed its stake in Apple (AAPL) as boosted to about 252M shares as of June 30 - up roughly 5% from three months earlier. The Oracle and company also added to holdings in U.S. Bancorp (NYSE:USB), Teva Pharmaceuticals (NYSE:TEVA), Bank of New York Mellon (NYSE:BK), General Motors (NYSE:GM), and Goldman Sachs (NYSE:GS). Among those showing trimmed stakes were American Airlines (NASDAQ:AAL), Phillips 66 (NYSE:PSX), Charter Communications (NASDAQ:CHTR), and Wells Fargo (NYSE:WFC).
In a $9.2B all-stock deal, Diamondback Energy (NASDAQ:FANG) has agreed to buy Energen (NYSE:EGN). The implied value for each share of Energen is $84.95, or about a 19% premium to its recent level. Diamondback said the combined company will own more than 266K net tier one acres in the Permian Basin, an increase of 57% from its current tier one acreage of 170K net acres. Combined pro forma Q2 2018 production of 222K boe/day (67% oil) - third largest production for a pure play company in the Permian Basin - represents an increase of 79% from FANG's Q2 production of 124.7K boe/day.
Tuesday's Key Earnings
Agilent Technologies (NYSE:
A
) 
-2.3%
 AH on Q3 earnings.
Cree (NASDAQ:
CREE
) 
-2.2%
 AH on margin concerns.
Cytori Therapeutics (NASDAQ:
CYTX
) 
-7%
 AH on Q2 earnings miss.
Ecopetrol (NYSE:
EC
) 
+4.8%
 AH on Q2 earnings.
Neptune Technologies & Bioresources (NASDAQ:
NEPT
) 
-6.8%
 AH on revenue decline.