Wednesday Morning Reads
Reads:
News:
Futures:
 Open Interest Changes:
Charts:
Earnings This Week: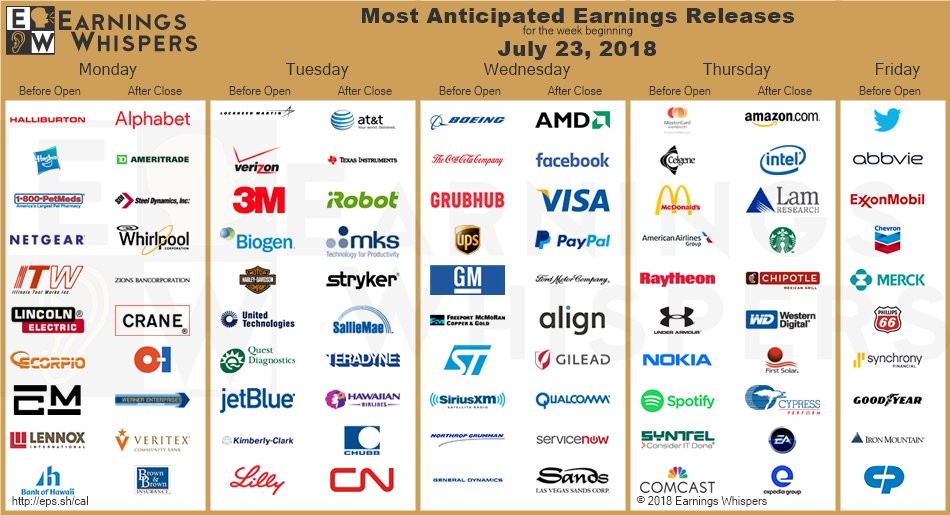 SeekingAlpha:
President Trump will sit down with European Commission President Jean-Claude Juncker today to discuss trade, including tariffs on autos, the sector that could have the most economic impact if it becomes a bigger part of the trade wars. Ahead of the meeting, Trump suggested the two sides should drop all tariffs, barriers and subsidies for "free market and fair trade," but was skeptical the European contingent would agree to the offer.
Economy
Speaking before the delegation lands in Washington, the EU's budget commissioner Guenther Oettinger said the bloc wanted the U.S. to first drop its new tariffs on aluminum and steel imports. According to EU trade commissioner Cecilia Malmstrom, the Commission is also preparing to introduce tariffs on $20B of U.S. goods if Washington imposes trade levies on imported cars.
Looking to help U.S. farmers weather growing trade war fallout, the Trump administration has confirmed it will pay them up to $12B with authority that dates back to the Great Depression. While the plan doesn't require congressional approval, some have cautioned that such aid programs could distort markets and ultimately have negative consequences for the agriculture industry.
European countries are sending firefighting planes to Greece amid desperate attempts to stop the deadly blazes spreading in the Attica region around Athens. The country's worst fire disaster in more than a decade has seen the death toll rise to 74, with 187 injured. Prime Minister Alexis Tsipras has cut short a visit to Bosnia to deal with the situation and announced three days of national mourning.
Pakistan is on edge as voters go to the polls today amid fears of a creeping coup. Two of the main players are the Pakistan Muslim League party and former cricket star Imran Khan's Pakistan Movement for Justice. The 2018 national elections are considered a vital step for the nation's struggling economy, representing only the second democratic transition in a country ruled by the military for roughly half its history.
Stocks
After being replaced last weekend as CEO of Fiat Chrysler (NYSE:FCAU) as his condition worsened, Sergio Marchionne has died following complications from surgery. "I believe that the best way to honor his memory is to build on the legacy he left us, continuing to develop the human values of responsibility and openness of which he was the most ardent champion," said FCA Chairman John Elkann.
Dieselgate 2.0? The European Commission has found evidence that carmakers are already manipulating emissions for new standards that come into force in 2020, this time using "tricks" to make test results look worse than they are, FT reports. By achieving higher emissions under the new protocol - the Worldwide Harmonised Light Vehicle Test Procedure, or WLTP - all subsequent targets will be less ambitious and easier to reach.
Deepening their automated driving alliance, Daimler (OTCPK:DDAIF) is integrating Baidu's (NASDAQ:BIDU) connectivity services into the Mercedes-Benz's MBUX infotainment system. The two joined forces in April 2017 to develop Apollo, a self-driving platform that has the goal of accelerating autonomous vehicle research and promoting the drafting of related laws and regulations.
The three biggest U.S. airlines have changed the way they refer to Taiwan on their websites in an effort to avoid Chinese penalties by a Wednesday deadline. American Airlines (NASDAQ:AAL), Delta (NYSE:DAL) and United (NYSE:UAL) now only list Taipei's airport code and city, but not the name Taiwan. Beijing considers the island a wayward province of "one China."
Bitcoin has topped $8,000 for the first time in two months, with the bounce now hitting nearly 50% since bottoming in late June. The move higher comes as San Francisco-based asset manager Bitwise joined the race to launch a regulated ETF for cryptocurrency. Rumor has it that the SEC could also say yes to another application filed by money manager VanEck and SolidX as soon as August.
Deutsche Bank has pledged to maintain its position in fixed-income trading after recording its weakest second quarter in that business since the global financial crisis. The lender reported a total net profit of €401M, down 14% Y/Y - but in line with what it had signaled last week - as CEO Christian Sewing steps up the bank's turnaround effort. DB +0.6% premarket.
Posting another quarterly loss on sagging panel prices, South Korea's LG Display (NYSE:LPL), a key Apple (NASDAQ:AAPL) supplier, has slashed its investment plans by $2.7B to 2020 citing concern for the global smartphone market. The cut underscores the bleak outlook for electronics makers and comes a week after Taiwan Semiconductor Manufacturing (NYSE:TSM) scaled back its revenue and investment estimates.
The executive in charge of Amazon's (NASDAQ:AMZN) film studio, Jason Ropell, is leaving, but he'll stay on for a few more months as the company looks for a permanent replacement. During his time at the helm, Ropell scaled the division's content production to become a serious player in Hollywood. Last year, Amazon Studios' Manchester by the Sea became the first film released by a streaming service to net a best picture Oscar nomination.
Calling it "sad" and "unfair," President Trump has criticized the FCC for not approving Sinclair's (NASDAQ:SBGI) $3.9B acquisition of Tribune Media (NYSE:TRCO). "This would have been a great and much needed Conservative voice for and of the People," he wrote on Twitter. "Liberal Fake News NBC and Comcast (NASDAQ:CMCSA) gets approved, much bigger, but not Sinclair. Disgraceful!"
Calvin McDonald has been named CEO of Lululemon (NASDAQ:LULU), replacing Laurent Potdevin, who was ousted earlier this year amid allegations of conduct violations. McDonald comes to Lululemon from Sephora, where he served as president and CEO of the makeup retailer's Americas division. He also served as president and CEO of Sears Canada (OTCPK:SRSCQ) for two years.
The Democratic Republic of Congo has declared an end to its ninth Ebola outbreak, marking a victory for the new tools used to prevent a repeat of the epidemic that swept West Africa four years ago. Merck (NYSE:MRK) had provided experimental vaccines that were used to protect over 3,300 people, but despite efforts to speed up the process, the injection hasn't yet received marketing approval in the U.S. and Europe.
Looking to "streamline" the case, federal prosecutors are narrowing a suit against several former Insys Therapeutics (NASDAQ:INSY) executives after a judge questioned the scope of the indictment. Accused of bribing doctors to prescribe a potent opioid-based medicine called Subsys, the defendants currently face charges of racketeering conspiracy, mail fraud conspiracy and wire fraud conspiracy.
In a show of bipartisan support, the U.S. House has voted to repeal a 2.3% excise tax on medical devices, which applies to products such as pacemakers and artificial joints, not items directly sold to consumers. The tax - created in the 2010 Affordable Care Act to help pay for expanding health insurance - took effect in 2013, but Congress suspended it starting in 2016 and recently extended that moratorium until January 2020. Related tickers: JNJ, MDT, BAX, CAH, SYK, BDX, BSX, AGN, MMM, ABT, VAR, EW
Tuesday's Key Earnings
3M (NYSE:
MMM
) 
+0.9%
 despite a cut to guidance.
AT&T (NYSE:
T
) 
-1.2%
 AH as Q2 revenue came up short.
Biogen (NASDAQ:
BIIB
) 
+4.1%
 with strong Spinraza sales.
Eli Lilly (NYSE:
LLY
) 
+5%
 spinning out Elanco.
Harley-Davidson (NYSE:
HOG
) 
+7.7%
 updating on tariff pain.
JetBlue (NASDAQ:
JBLU
) 
-10.2%
 amid surging fuel costs.
Kimberly-Clark (NYSE:
KMB
) 
+0.7%
 despite slashing guidance.
Lockheed Martin (NYSE:
LMT
) 
+1.3%
 raising forecast for 2018.
Stryker (NYSE:
SYK
) 
-2.3%
 AH on soft earnings outlook.
Texas Instruments (NYSE:
TXN
) AH 
-0.6%
 despite Analog growth.
United Technologies (NYSE:
UTX
) 
+3.8%
 upping its FY forecast.
Verizon (NYSE:
VZ
) 
+1.5%
 with strong operating results.