Wednesday Morning Reads
Reads:
News:
Futures:
 Open Interest Changes:
Charts:
Unusual Option Action 
Earnings This Week: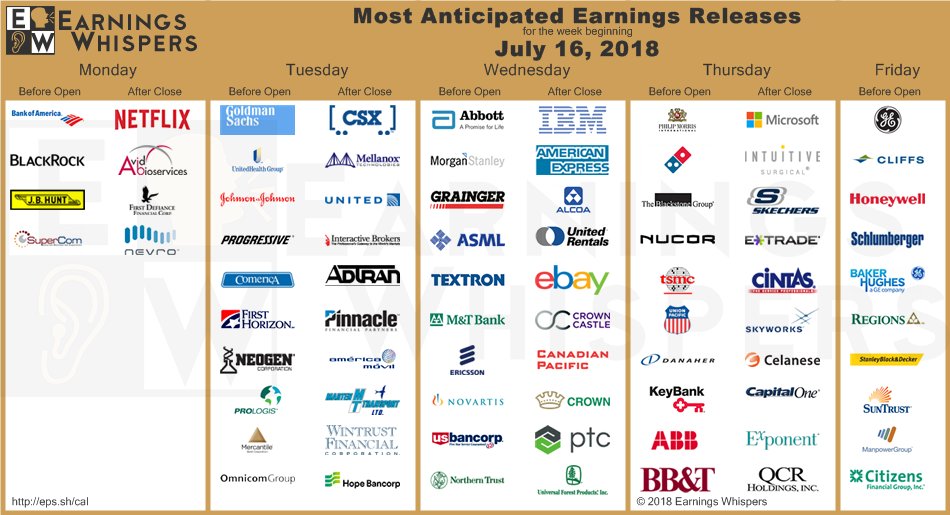 SeekingAlpha:
Setting a record for antitrust penalties, Google (GOOG, GOOGL) is set to be fined about €4.3B ($5B) by the European Commission over using restrictive licensing practices to benefit its own services on Android devices. The EU's decision would bring the running total of Google fines to €6.7B after last year's penalty over shopping-search services. It could soon be followed by more fines from a probe into online advertising contracts.
Economy
Less than 24 hours after accepting four hostile amendments to her customs bill, Theresa May has maintained her fragile grip over the Brexit process. She narrowly survived an attempt by pro-European Conservative MPs to keep Britain in the EU customs union, meaning the U.K. will develop its own trade policy after Brexit. The pound plunged 1.2% vs. the dollar ahead of the vote, but has now rebounded to $1.3114.
Declaring themselves the "flag bearers of free trade," Japan and the EU have signed the world's largest bilateral trade pact covering about a third of global GDP. The deal, which involved significant concessions on both sides, will eventually reduce heavy Japanese tariffs on European wine, cheese and other foods and lift EU tariffs on Japanese cars and vehicle parts.
There is "no time limit" to denuclearize North Korea, according to President Trump, marking a shift in tone from when he said the process would start "very quickly." "The sanctions are remaining. The hostages are back. There have been no tests. There have been no rockets going up for a period of nine months, and I think the relationships are very good, so we'll see how that goes."
Trade war fears? According to the Treasury Department, Russia is no longer listed among the major foreign holders of U.S. government securities after falling below the $30B threshold for inclusion on its monthly report. Once among the top 10 foreign owners, Russia's holdings of U.S. bills, notes and bonds fell to $14.9B in May, after plunging to $48.7B from $96.1B in April.
Fed Chair Jerome Powell heads back to Capitol Hill today to give his semi-annual monetary policy testimony before the House Financial Services Committee. Yesterday, he stuck to an upbeat assessment on the U.S. economy while downplaying the impact of global trade risks on upcoming rate rises. The bullish outlook buoyed the dollar and put a squeeze on gold, which fell to $1,222/ounce - its lowest level in a year.
New York, Connecticut, Maryland and New Jersey have sued the federal government to void the new $10K cap on federal deductions for state and local taxes included in the Trump administration's 2017 tax overhaul. Taxpayers have long typically enjoyed the benefits, known as SALT deductions, while critics have said the cap would disproportionately harm "blue" states that tilt Democratic.
Chicago may become one of the first U.S. cities to implement a universal basic income program. The proposal, introduced by Chicago Alderman Ameya Pawar, would provide 1,000 families with a $500 monthly stipend - no strings attached. The bill already has the backing of the majority of city lawmakers, and Pawar hopes to soon work with Mayor Rahm Emanuel to implement the pilot program.
Stocks
Swiss drug maker Novartis is voluntarily joining Pfizer (NYSE:PFE) in shelving "any further U.S. price increases this year," after criticism from President Trump over rising costs. Bolstered by strong Q2 results, which saw core operating profit rise 7% to $3.54B, CEO Vas Narasimhan said he still expects Novartis (NYSE:NVS) to hit the top of its 2018 sales guidance. NVS +1.1% premarket.
Cryptocurrencies extended their rebound overnight as Bitcoin (BTC-USD) traded above $7,500 for the first time in a month, while rivals including Ripple (XRP-USD), Ether (ETH-USD) and Litecoin (LTC-USD) also advanced. Despite shrugging off some security and regulatory concerns that have plagued cryptos for much of this year, Bitcoin still remains more than 60% below its all-time high from last December.
Newly appointed Goldman Sachs CEO David Solomon will be getting an 8% increase in base pay (to $2M) after stepping into the role. His total compensation totaled $21M in 2017 vs. the $24M Lloyd Blankfein received in pay, bonus and incentives last year. After reporting earnings yesterday, Goldman (NYSE:GS) pledged $5B more in annual revenue by growing its fledgling consumer bank and changing how it approaches trading.
Texas Instruments CEO Brian Crutcher has resigned after spending less than two months in the role. "The code-of-conduct violations are related to personal behavior that is not consistent with our ethics and core values, but not related to company strategy, operations or financial reporting," according to a statement. He will be replaced by Chairman Rich Templeton. TXN -1.2%premarket.
Nest, the "smart home" company that was once seen as the model for how Alphabet (GOOG, GOOGL) would build significant free-standing businesses, has finally been fully submerged inside Google, FT reports. The latest shakeup will also see the replacement of Marwan Fawaz, who served as Nest's CEO – a title that had already become moot after Nest lost its status as a separate Alphabet subsidiary earlier this year.
MGM Resorts is suing the victims from the Las Vegas music festival mass shooting in an effort to block any potential compensation demands against it. MGM claims a 2002 federal statute wipes out liability for any company that adopts "anti-terrorism technology," which it did through the hiring of a certified DHS firm to provide security at the Route 91 Harvest Festival.
U.S. tourism in Cuba bounced back in June from a months-long slump, with about 68K Americans, not including Americans of Cuban origin on family trips, traveling to the island. That's an increase of 5% from a year ago. The figure was bolstered by increased visits from cruise ships, with operators such as Norwegian (NASDAQ:NCLH), Carnival (NYSE:CCL) and Royal Caribbean (NYSE:RCL) adding more Cuba stops to their itineraries.
Tesla CEO Elon Musk has apologized after calling a British diver involved in the Thai cave rescue a pedophile. "My words were spoken in anger after Mr. Unsworth said several untruths & suggested I engage in a sexual act with the mini-sub... Nonetheless, his actions against me do not justify my actions against him." The comments triggered a rout in Tesla's (NASDAQ:TSLA) share price on Monday, as traders digested the negative publicity.
Boeing has been awarded a $3.9B contract to build two 747-8 aircraft for use as Air Force One, due to be delivered by December 2024 and painted red, white and blue. The contract appears to follow the outlines of the informal agreement reached between Boeing (NYSE:BA) and the White House in February, which came after President Trump objected to the $4B price tag of a previous deal.
Tuesday's Key Earnings
Charles Schwab (NYSE:
SCHW
) 
+3.6%
 amid new assets and accounts.
CSX (NYSE:
CSX
) 
+3.2%
 AH powering past Q2 estimates.
Goldman Sachs (
GS
) 
-0.2%
 on legal costs, underwhelming trading.
Johnson & Johnson (NYSE:
JNJ
) 
+3.5%
 beating expectations.
UnitedHealth (NYSE:
UNH
) 
-2.6%
 despite raising guidance.
United Continental (NYSE:
UAL
) 
+4%
 AH upping its full-year outlook.