Wednesday Morning Reads
Reads:
News:
Futures:
 Open Interest Changes:
Charts:
Unusual Option Action 
Earnings This Week: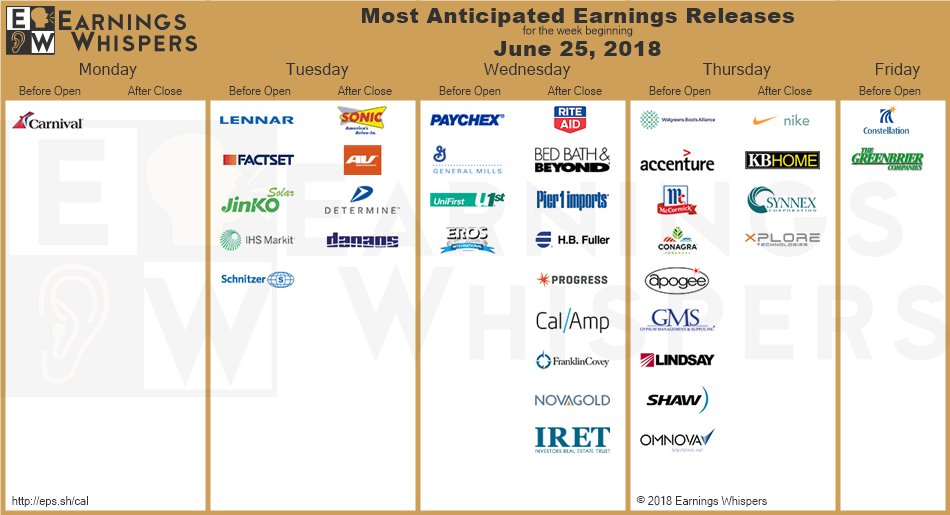 Seekingalpha:
New developments are taking place in the oil market as the U.S. pushes countries to halt all oil imports from Iran, OPEC's third largest producer, under the threat of sanctions. The boycott, which will begin in November, has pushed WTI crude back above $70/bbl for the first time since May. With pressure building from major consumers, Saudi Arabia may cool down prices by filling in the gap. The kingdom plans to pump up to 11M bpd in July, the highest in its history.
Economy
The U.S. Supreme Court today will rule in a major case that threatens a key source of revenue for organized labor. At issue is the legality of fees that non-union workers in certain states are required to pay to unions representing public employees. Yesterday, the top court upheld President Trump's travel ban, rejecting a challenge that it discriminated against Muslims or exceeded his authority.
German coalition parties failed to resolve a row over migrant policy during late night talks on Tuesday in a tense dispute that threatens Angela Merkel's three-month-old government. The Bavarian uprising, led by the Christian Social Union's Horst Seehofer, follows fears of demographic change and soaring costs since the arrival of 1.4M asylum seekers beginning in 2015.
EU accession negotiations will begin next year with Macedonia and Albania as the European Council adopted conclusions on an enlargement policy and the Western Balkans stabilization process. What about Turkey? "Accession negotiations have effectively come to a standstill" amid "deeply worrying backsliding on the rule of law and on fundamental rights."
China should take "self-defense measures" against U.S. tariffs by offering subsidies to companies and industries that may suffer losses from trade friction, according to the state-run tabloid Global Times. "If China's ZTE (OTCPK:ZTCOY) and some other enterprises become the first to bear the brunt of Trump's trade war, they will be also the first to receive support from the Chinese government."
Meanwhile, Canada is preparing tariffs and quotas on steel from China and other countries to prevent a potential flood of imports from global producers seeking to avoid U.S. tariffs. The Bloomberg report follows warnings from the Canadian steel industry and the EU's decision to ward off the dumping of steel that would have been sent to the U.S.
Stocks
Facebook is abandoning plans for delivering internet via drone to remote places after failing to achieve the long flight times managed by rivals. Google parent Alphabet (GOOG, GOOGL) has rolled back its similar Titan internet drone program, although it still has Project Loon, which relies on large balloons. Facebook (NASDAQ:FB) began Project Aquila in 2014, as part of its internet.org initiative.
Intel interim CEO Bob Swan, who replaced the ousted Brian Krzanich, has told employees he doesn't want the job permanently, Bloomberg reports. The comments came during an all-hands meeting after the announcement that Krzanich left the chipmaker. Intel (NASDAQ:INTC) is launching a search for a replacement internally, as well as looking for candidates from outside the company.
Voters in Oklahoma have elected to legalize medical marijuana, making it the 30th state to allow the use of cannabis for medicinal purposes. The measure is also relatively unique in that it doesn't tie prescription approval to any specific qualifying conditions - likely making it easier to obtain pot. Votes are also scheduled for later this year in Michigan and Utah.
AstraZeneca's oncology business got a boost overnight as results of a clinical trial showed its drug Lynparza helped women with ovarian cancer live longer without their disease worsening when given as a first-line treatment. The result should pave the way for expanded use of the medicine, which is being developed and marketed with Merck (NYSE:MRK) under a deal struck in 2017. AZN +1.3% premarket.
There's a carbon dioxide crisis bubbling in Europe as several major producers of the gas go offline to resolve maintenance issues. Coca-Cola (NYSE:KO) and Heineken (OTCQX:HEINY) have "temporarily paused" some production due to the shortage, while the meat industry has issued warnings. Factories use industrially made CO2 to stun animals before slaughter, and also use it as dry ice to refrigerate foods during delivery.
Sealing a cash-and-stock deal valued at $10.9B, ConAgra Brands (NYSE:CAG) has reached a definitive agreement to buy Pinnacle Foods (NYSE:PF). Combined the two U.S. companies will become among the largest makers of frozen foods in terms of revenue - just behind the Swiss giant Nestle (OTCPK:NSRGY) - giving an edge as they lose market share to fresh food and healthier alternatives. PF -2.7% premarket.
"It's coming, it's a matter of time," U.S. Missile Defense Agency Director Samuel Greaves told the Capitol Hill Club, stating the "hypersonic threat is real." The Pentagon has kept its hypersonic weapons program under wraps, but the U.S. Air Force recently secured a $928M contract with Lockheed Martin (NYSE:LMT). Others competing for contracts include Northrop Grumman (NYSE:NOC), Boeing (NYSE:BA), Raytheon (NYSE:RTN) and Orbital ATK (NYSE:OA).
A Tesla Model S involved in a fatal crash in Florida last month reignited twice after firefighters extinguished a fire in the vehicle, according to a preliminary report from the NTSB. The incidents occured after removal from the accident scene and upon arrival at the storage yard. Despite the news and a new Sell rating from Goldman Sachs, Tesla (NASDAQ:TSLA) shares finshed the day up 2.7% on Tuesday.
Royal Dutch Shell has fully exited the Majnoon oilfield, handing over all its operations to the Iraqi government. State-run Basra Oil plans to increase Majnoon's output in the "coming years" from 235K barrels per day to 400K, while Shell (RDS.A, RDS.B) will focus its efforts on developing and expanding the energy company.
In January, Facebook (FB) helped send the crypto market reeling after banning cryptocurrency-related advertising (bitcoin recently fell below $6,000, down from a high of nearly $20,000 in December 2017). But after a long review, the tech giant will again allow ads from pre-approved advertisers, though those related to ICOs or binary options will still be prohibited.
Semiconductor stocks clawed back some losses yesterday thanks to increasing clarity regarding U.S.-China tech relations. The U.S. House of Representatives overwhelmingly passed a bill to tighten foreign investment rules by strengthening the authority of CFIUS, while President Trump endorsed a measured approach to restricting Chinese investment in U.S. technology companies. Related: AMD, MU, MPWR, TXN, LRCX, QRVO, CY, MXIM