Wednesday Morning Reads:
Reads:
News:
Charts:
Premium:
Futures:
Earnings: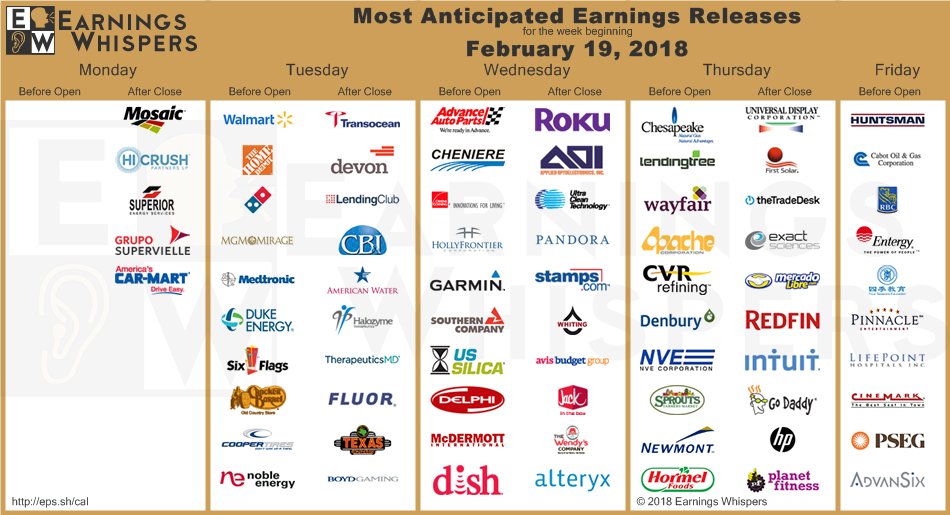 Unusual Option Action:
Seekingalpha:
The Fed is set to release the minutes from its last gathering in January, which could have more impact than usual if they provide new insight on inflation or interest rates. Fears of rising inflation are at the heart of what's recently been ailing the stock market. The minutes could also be a window into what new Fed Chair Jerome Powell might say when he appears before Congress next week for his semi-annual testimony on the economy.
Economy
Britain could withhold payment of its £39B Brexit divorce bill if the EU doesn't give it a trade deal, according to Brexit Secretary David Davis. "We have been very plain... Article 50 says the withdrawal agreement has to take into account the future relationship. They're bound up in one, they're not a separate issue."
Emerging as one of the best-performing major economies last year, eurozone business growth remained robust this month despite indications that higher prices and a stronger currency were taking a toll. IHS Markit's composite flash PMI fell to 57.5, from January's final reading of 58.8, but the reading was still one of the most expansionary - or farthest above 50 - in more than 11 years.
Sanctions bite? Mike Pence had been scheduled to meet with North Korean officials, including leader Kim Jong Un's sister, while in South Korea for the Winter Olympics earlier this month. But after the Vice President announced plans for new economic penalties, "they walked away from a meeting or perhaps they were never sincere about sitting down," said Nick Ayers, Pence's chief of staff.
The Trump administration is considering clarifying the stringent standard of "undue hardship," allowing more Americans to erase student debt in bankruptcy. While the Education Department can't change the law without Congressional approval, it can decide how aggressively to fight a borrower's request to cancel loans in court. Student debt more than doubled over the past decade to nearly $1.4T. Related tickers: SLM, NAVI, NNI, DFS
Stocks
Apple is in talks to buy long-term supplies of cobalt directly from miners for the first time, seeking to procure "several thousand" metric tons of cobalt per year for a period of at least five years, Bloomberg reports. The strategy is designed to buffer Apple's (NASDAQ:AAPL) reserves of the key lithium ion battery ingredient amid industry fears of a shortage driven by the electric vehicle boom.
In a similar vein, Toyota (NYSE:TM) is trying to make electrified vehicles less dependent on rare-earth elements, a market essentially controlled by China. The carmaker intends to use more lanthanum and cerium in the magnets for its EV batteries as a replacement for neodymium, and will include the magnets in electric power-steering motors by the end of 2025.
Restructuring options? General Motors (NYSE:GM) has proposed investing $2.8B into its struggling South Korean operations over the next 10 years and has asked Seoul to provide funds for the investment. The proposal is on top of a more than $2.2B debt-for-equity swap the automaker offered yesterday. GM Korea is one of the company's largest offshore operations.
SpaceX is planning a rocket launch early this morning. The recycled Falcon 9 is expected to carry Microsat 2a and 2b satellites into orbit as part of initial testing of a satellite internet system. Twist? One of the twelve ground stations being set up by SpaceX (Private:SPACE) to receive the communication signals from Starlink is at Tesla's (NASDAQ:TSLA) plant in Fremont, California.
It's the latest act of "cryptojacking." Hackers infiltrated Tesla's (TSLA) cloud environment and stole computer resources to mine cryptocurrency, while some proprietary data related to mapping, telemetry, and vehicle servicing was also reportedly exposed. The breach was swiftly rectified, according to a Tesla spokesperson, who added that there was "no indication" the breach impacted customer privacy or compromised the security of its vehicles.
President Trump has signed a memorandum directing the DOJ to come up with rules prohibiting "bump stocks" and "all devices that turn legal weapons into machine guns." White House press secretary Sarah Huckabee Sanders also told reporters that Trump hasn't "closed the door" on a potential ban of assault-style weapons and "hasn't yet determined" whether there should be a federal age limit for purchasing semiautomatic rifles. Related tickers: AOBC, RGR, OLN, SPWH, VSTO
Settling a case over chemical disposal and groundwater contamination, 3M (NYSE:MMM) is paying $850M to the state of Minnesota and will record a related Q1 charge of $1.10 to $1.15 a share, inclusive of related legal fees. It wasn't immediately clear whether the perfluorochemicals settlement included an admission of wrongdoing by the company. 3M faces at least 11 other class-action lawsuits in state and federal courts related to PFCs.
Already one of the leaders in the hot area of cancer immunotherapy, Merck & Co (NYSE:MRK) has agreed to buy Viralytics (OTCQX:VRACY) for A$502M ($394M) to expand its drug pipeline. The deal comes at a time of booming merger and acquisition activity in the biotechnology sector, with $27.5B of transactions agreed in January alone.
In a blow to AT&T and its $85B bid for Time Warner (NYSE:TWX), a judge has ruled that the DOJ doesn't need to identify whether there was contact about the deal between the White House and Attorney General Jeff Sessions. AT&T (NYSE:T) had hoped to use the information to show that the DOJ's opposition to the deal was spurred by President Trump's disapproval of Time Warner's CNN. The case goes to trial next month.
The FCC will publish its reversal of net neutrality regulations tomorrow after releasing it to the public later today, Reuters reports. Putting the December order into the Federal Register will permit opponents to file suit against it, in an effort to block the new order from taking effect. It also starts a deadline of 60 legislative days for Congress to vote on overturning the decision. Related stocks: ATUS, CMCSA, CTL, CHTR, FTR, T, VZ, NFLX, DISH, CCOI, S, TMUS