Wednesday morning reads
News:
Charts:
Premium:
Earnings: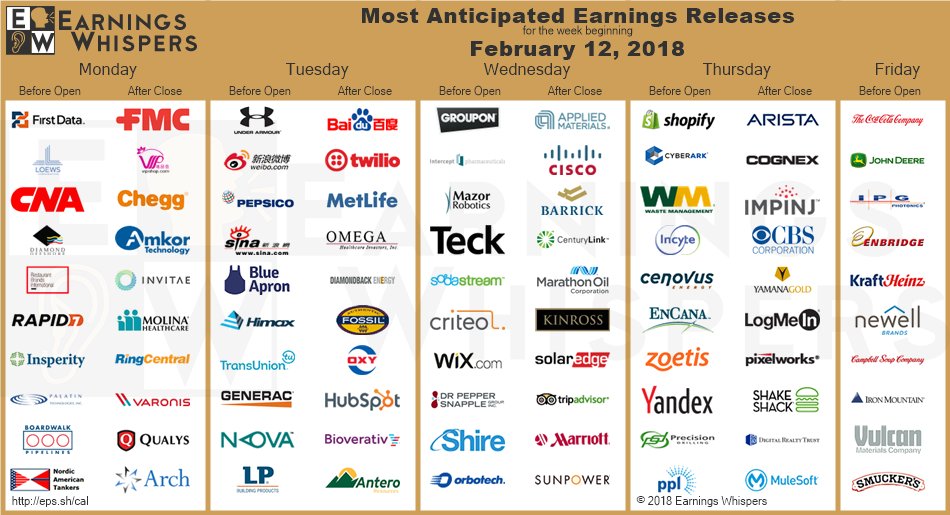 Yesterdays Unusual Option Action:
Seekingalpha:
The inflation boogeyman may be in town today as investors focus on CPI data that could upset the market's fragile recovery, or clear the way for additional gains. U.S. consumer prices rose 2.1% Y/Y in December and are forecast to stay around the same pace this month. "If we get a hot CPI print it will insert additional uncertainty, but if we get a quiet, below-consensus print, you may see yields down and equities rally," said Jason Ware, Chief Investment Officer at Albion Financial Group.
Economy
The American consumer is loading up. Total household debt rose by $193B to an all-time high of $13.15T at year-end 2017 from the previous quarter, according to the Federal Reserve Bank of New York's Center for Microeconomic Data. It was the fifth consecutive year of annual household debt growth with increases in the mortgage, student, auto and credit card categories.
More than 55% of the U.S. population will be celebrating Valentine's Day today and are expected to spend about $19.6B on gifts, according to the National Retail Federation. That's the second-highest level in the survey's 15-year history, topped only by the record $19.7B seen in 2016. "With the holidays behind them and the winter months dragging along, consumers are looking for something to celebrate this time of year."
Japan's economy grew at an annualized rate of 0.5% in the final three months of 2017, capping an eighth straight quarterly expansion and the longest growth streak in nearly 30 years. But it was a decline from more than 2% in each of the previous two quarters, and with the yen's surge set to lower import prices, the BOJ may have a tougher time hitting its 2% inflation target.
The eurozone economy maintained its robust growth pace at the end of last year, setting the stage for another solid performance in 2018 that may influence ECB policymakers into winding down unprecedented stimulus. Gross domestic product increased at an annualized 2.7% rate in Q4, resulting in a GDP expansion of 2.5% over the whole 2017.
More gains for the rand? South Africa's ruling African National Congress will vote on a parliamentary motion of no confidence against President Jacob Zuma tomorrow, in a move that is set to end the leader's nine years in office. It follows Zuma's refusal to heed an order from his own party to step down. The ANC has around two-thirds of the seats in parliament, easily enough to pass the measure.
Cleveland Fed President Loretta Mester is in the running to become the central bank's vice chair, WSJ reports. Having spent most of her career as an economist at the Philadelphia Fed, Mester landed her current position in 2014, and is known as one of the more hawkish members in the Fed.
Stocks
Following the recent wild market swings, FINRA is scrutinizing whether traders placed bets on S&P 500 options to influence prices for VIX futures, WSJ reports. If evidence of manipulation is found, it would be a black mark for the VIX, which has soared in popularity over the last decade as a hedging tool for investors. The CBOE, which derives an estimated 25% of its revenue from VIX-related products, has maintained that its markets are orderly and functioning.
Despite its third consecutive annual loss in 2017, Credit Suisse (NYSE:CS) +3.3% premarket after the bank said better times are ahead as its restructuring pays off and global market revenues rebound. CEO Tidjane Thiam also commented on last week's collapse of Credit Suisse's VelocityShares Daily Inverse VIX Short-Term ETN (NASDAQ:XIV): "It worked well for a long time until it didn't."
Jack Dorsey sees value in Twitter (NYSE:TWTR) remaining an independent company, downplaying recent speculation by analysts that the social media network could be an acquisition target. "I've always thought that there's a lot of strength to our independence. We can work on every device. We can work through any medium," he said in a response to a question at the Goldman Sachs Technology and Internet Conference.
Taking further steps against the merger, Xerox (NYSE:XRX) shareholder Darwin Deason has asked a court to block the firm's combination with Fujifilm (OTCPK:FUJIY), claiming it "undervalues the company." Xerox has countered the claims saying that the merger seemed to be the best path for the company after a year of exhaustive examination of a number of alternatives.
Toshiba is bringing in an outsider to lead the Japanese electronics maker battered by accounting scandals, record losses and divestment of businesses. Nobuaki Kurumatani, a former executive of key creditor bank Sumitomo Mitsui Financial (NYSE:SMFG), will become CEO from April 1, and will be responsible for Toshiba's (OTCPK:TOSYY) longer-term strategic decisions as well as dealing with outside parties.
Thomson Reuters CEO Jim Smith was hospitalized in Toronto this past Monday after the company said he was "feeling unwell." In his absence, CFO Stephane Bello will oversee Jim's responsibilities. The health problems come two weeks after Thomson Reuters (NYSE:TRI) agreed to sell a majority stake in its financial-information and terminal business for $17B to a group led by Blackstone (NYSE:BX).
Shares of Chipotle soared as much as 12% after the bell on Tuesday after the company tapped Taco Bell (NYSE:YUM) CEO Brian Niccol as its new chief executive. "Brian will bring fresh energy and leadership," said current CEO Steve Ells. Chipotle (NYSE:CMG) has struggled of late to win customers back after facing foodborne illness outbreaks and a slew of downgrades from stock analysts.
In hopes of giving its nearly 50-year-old Uno brand a second life, Mattel (NASDAQ:MAT) is launching a new card game next month called Dos. It comes as the company aims to turn its business around, mainly by updating classic brands. Mattel's revenue fell 11% last year, hurt by the bankruptcy of Toys R Us and by kids who are increasingly reaching for a tablet instead of a toy.
Uber driving toward profitability? The ride-hailing firm's loss narrowed to $1.1B in the fourth quarter, which was CEO Dara Khosrowshahi's first full period at the helm. UBER still lost $4.5B in 2017, but continued to boost ridership and revenue, despite a sexual harassment scandal, the resignation of its longtime CEO and a blockbuster lawsuit from rival Waymo (GOOG, GOOGL).
A group of 13 automakers will contribute as much as $130M to compensate those injured by faulty Takata (OTCPK:TKTDQ) air bag inflators. They include Honda (NYSE:HMC), Toyota (NYSE:TM), Ford (NYSE:F), General Motors (NYSE:GM) and Volkswagen (OTCPK:VLKAY). The agreement will clear the way for the sale of Takata's non-inflator business to Key Safety Systems for $1.6B.
Passengers aboard a United Airlines (NYSE:UAL) flight from San Francisco to Honolulu got quite a scare Tuesday when an engine covering, also known as the cowling, came off 40 minutes before landing. "There was a loud bang... and then the plane really started shaking," said passenger Allison Sudiacal. While the plane was able to land safely, the FAA has opened an investigation.
Delta wants to be one of the first customers for Boeing's (NYSE:BA) potential new mid-size jetliner, Bloomberg reports, apparently harboring no hard feelings after the recent trade spat with the company. "I hope that we're going to be a launch customer on that program as well," Delta (NYSE:DAL) CEO Ed Bastian reportedly told employees. The new "797" jet program would seat 200-270 passengers and have a range of 5,000 nautical miles.
The first oil supertanker, capable of carrying 2M barrels of crude, is being loaded in Louisiana this week by Royal Dutch Shell (RDS.A, RDS.B), signaling the next phase in the U.S. transition to becoming a major energy exporter. Congress reversed a 40-year-old law prohibiting most exports two years ago. According to Platts, the Saudi Arabian-flagged VLCC is due to leave the Louisiana Offshore Oil Port with a cargo of medium sour crude.
---