Wednesday Morning Reads
Reads:
News:
Charts:
Premium:
Futures:
Earnings: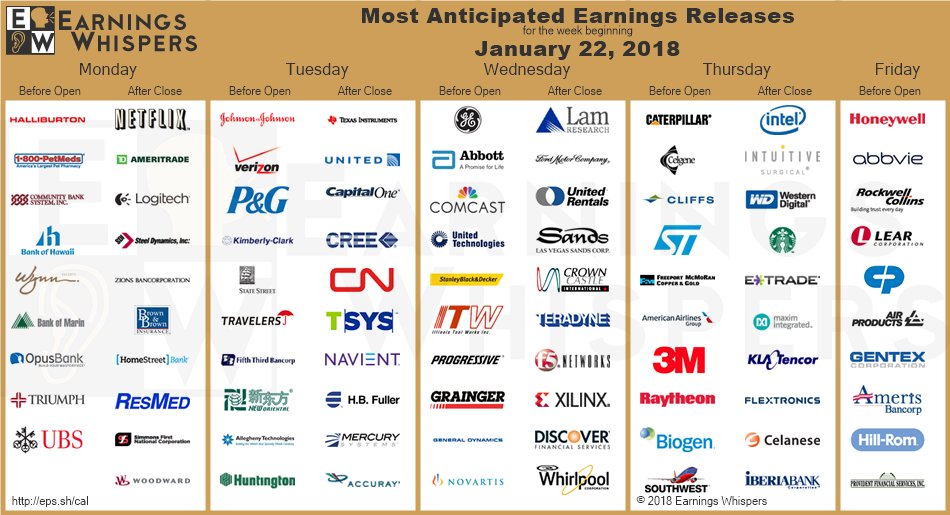 Unusual Option Action:
Seekingalpha:
EU antitrust regulators have slapped a €997M ($1.2B) fine on Qualcomm (NASDAQ:QCOM) for paying Apple (NASDAQ:AAPL) "billions of U.S. dollars" to shun rival chips in its iPhones. "This meant that no rival could effectively challenge Qualcomm in this market," said EU Competition Commissioner Margrethe Vestager. The fine is massive, thought it's well below the more than $2B the commission could have sought under Europe's antitrust laws. QCOM -1.6% premarket.
Economy
"I'm going to Davos. We're going to be talking about investing in the United States again, for people to come and spend their money in the good ol' USA," President Trump told reporters. Building on the statement, Treasury Secretary Steve Mnuchin said the U.S. is open for business, with a commitment to growth of 3% or higher, and welcomed a weaker dollar, saying it would benefit the country.
Jerome Powell will take the helm as the 16th chairman of the Federal Reserve after the Senate confirmed him for the position on Tuesday. The change comes amid a critical time for the Fed, which is normalizing policy after years of extraordinary accommodation. Powell will take over for Janet Yellen, who becomes the first Fed chair since the late 1970s not to serve at least two terms.
Investors are again on the lookout after Senate Democratic leader Chuck Schumer withdrew an offer to fund President Trump's border wall, citing a failure to follow through on the outlines of an agreement the two men discussed on Friday. "Cryin' Chuck Schumer fully understands, especially after his humiliating defeat, that if there is no Wall, there is no DACA," President Trump tweeted in response.
Venezuela will hold presidential elections before the end of April as President Nicolas Maduro looks to consolidate power amid a major economic crisis. It comes after the EU slapped sanctions on seven Venezuelan officials for a host of alleged human-rights abuses. The measures include a travel ban and asset seizures and follow similar moves from Washington.
Negotiators from 11 Pacific Rim nations have agreed on a new Trans-Pacific Partnership amid an arrangement on autos with Japan and the suspension of intellectual property provisions that had been a concern for Canada. The deal will likely be signed in Chile on March 8. Without the U.S., the combined gross domestic product of the agreement amounts to $12.6T, or 15.8% of world GDP.
Stocks
Trade case heats up... Bombardier (OTCQX:BDRAF, OTCQX:BDRBF) is trying to drag Brazilian rival Embraer (NYSE:ERJ) into a hotly contested dispute with Boeing (NYSE:BA), days before the ITC will rule on whether duties should be slapped on its CSeries jets. A recent FlightGlobal article cites an Embraer executive saying the plane's range has improved 2,900 nautical miles, meaning it would compete with Boeing's 737.
Tesla has unveiled a bold pay package for CEO Elon Musk that again ties his compensation entirely to key performance benchmarks. They include an ultimate aim of hitting $650B in market value vs. a current valuation of around $59B. The deal is a "heads you win, tails you don't lose" for shareholders, according to Tesla (NASDAQ:TSLA) compensation committee chairman Ira Ehrenpreis.
Without giving a potential timeline, Nasdaq (NASDAQ:NDAQ) said it was "investigating the idea of cryptocurrency futures," following similar launches by rivals CBOE and CME Group (NASDAQ:CME). Meanwhile, four years after becoming the first major online payments platform to accept bitcoin, Stripe (Private:STRIP) is ditching the idea. By the time the "transaction is confirmed," the price of bitcoin could have changed.
Following similar moves at major U.S. companies, Disney (NYSE:DIS) is giving its employees $1,000 bonuses following the federal cut in corporate taxes. It will give the bonuses to nearly all of its non-executive staff in the U.S., totaling more than 125,000 people. The company also will invest $50M in a new education program to address tuition costs for hourly employees.
Small-scale romantic fantasy The Shape of Water (NASDAQ:FOXA) led all films with 13 Oscar nominations in a year where box-office clout and awards cred are overlapping less and less. It was followed up by Three Billboards Outside Ebbing, Missouri (FOXA) and Christopher Nolan's war film Dunkirk(NYSE:TWX). The 90th Academy Awards will air on March 4 on ABC (DIS).
The bodies of five people killed in an Oklahoma oil well explosion were recovered on Tuesday afternoon in a building adjacent to the drilling site outside of Quinton, Oklahoma. The accident at the Red Mountain Energy well, which was being drilled by contractor Patterson-UTI Energy (NASDAQ:PTEN). Three of the company's employees were among the victims.
Blaming them for fueling a deadly epidemic, New York City has sued eight companies that make or distribute prescription opioids, in a lawsuit that seeks $500M in damages to help fight the crisis. The defendants include Allergan (NYSE:AGN), AmerisourceBergen (NYSE:ABC), Cardinal Health (NYSE:CAH), Endo (NASDAQ:ENDP), Johnson & Johnson (NYSE:JNJ), McKesson (NYSE:MCK), Purdue Pharma and Teva Pharmaceutical (NYSE:TEVA).
Aetna will pay a $1.15M civil fine after leaking the HIV-positive status of 2,460 New York members in a mailing where it used envelopes with large transparent windows. While about 1M Americans live with HIV or AIDS, the associated stigma can lead to a denial of proper healthcare and other negative consequences, according to settlement papers signed by Aetna (NYSE:AET) and New York AG Eric Schneiderman.
Speaking to CNBC in Davos, JD.com (NASDAQ:JD) CEO Richard Liu said he was considering a dual listing for the company's logistics business, which could reportedly be valued at more than $2B. Because JD's main company is listed on the Nasdaq, he indicated that a dual listing could potentially occur in either Hong Kong or mainland China.
Amazon's cloud business has acquired Sqrrl, a cybersecurity startup that spun out of the NSA. The deal comes as Amazon Web Services (NASDAQ:AMZN) aims to pick up more business from U.S. intelligence agencies. In November, AWS announced the formation of a "secret" region of data centers meant to handle computing and data storage jobs from those clients.
The $93B Vision Fund may not be enough. SoftBank (OTCPK:SFTBY) wants to raise as much as $5B in new debt by using its U.K. chip subsidiary ARM (NASDAQ:ARMH) as collateral, according to The Information. The Japanese conglomerate is also looking at how to use its newly acquired 15% stake in UBER to raise more capital, though it's not clear if the ride-hailing firm would allow it.
Baidu has hinted at "a lot more exciting deals" to come in the video content space this year after the company inked an agreement with Netflix (NASDAQ:NFLX) to bring some of its shows to China. "Original content is becoming a critical differentiator," said Baidu (NASDAQ:BIDU) President Ya-Qin Zhang. The search giant has a video subscription streaming service called iQiyi, which has around 400M users.
Toys "R" Us is shutting down 180 stores, or about one-fifth of its locations in the U.S., as part of its bankruptcy reorganization plans. The news may put pressure on Hasbro (NASDAQ:HAS) and Mattel (NASDAQ:MAT), whose shares both spiked yesterday afternoon amid trader chatter of buyout activity. Toys "R" Us comprised 11% and 9% of 2016 global sales for Mattel and Hasbro, according to Jefferies.
Tuesday's Key Earnings
Johnson & Johnson (
JNJ
) 
-4.3%
 on sweeping U.S. tax changes.
Kimberly-Clark (NYSE:
KMB
) 
+0.8%
 topping profit expectations.
Procter & Gamble (NYSE:
PG
) 
-3.1%
 with pricing still an issue.
Texas Instruments (NYSE:
TXN
) 
-6.9%
 AH amid a revenue growth slowdown.
United Continental (NYSE:
UAL
) 
-6.4%
 AH on plans to hike capacity.
Verizon 
-0.4%
 (NYSE:
VZ
) missing earnings estimates.