Wednesday Morning Reads
Reads:
News:
Charts:
Premium:
Futures:
Earnings: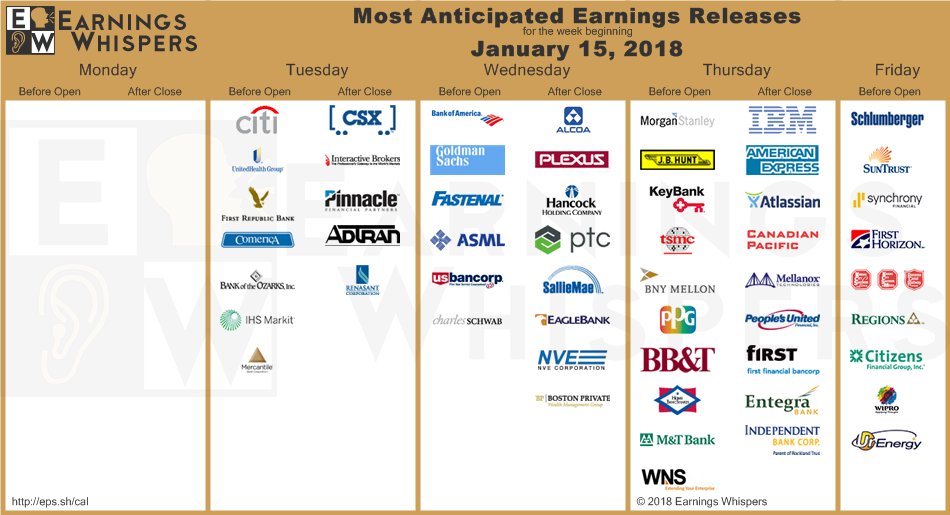 Unusual Option Action:
Seekingalpha:
The U.S. Senate Banking Committee will hold a vote today on the nominations of Jerome Powell as Fed Chair and the reappointment of Randal Quarles to a 14-year term as a governor of the Federal Reserve Board. Following the U.S. tax overhaul, Cleveland Fed President Loretta Mester will discuss the central bank's best path forward during a lecture at Rutgers University, while Chicago and Dallas Fed Presidents Charles Evans and Robert Kaplan will participate in a moderated discussion in Palm Beach, Florida.
Economy
Partisan finger-pointing over immigration policy yesterday left Congress and the White House stumbling closer to a possible federal government shutdown by the end of the week. Republicans who control Congress are expected to attempt another stopgap funding bill today - that would not include protections for "Dreamers" - and get it to President Trump's desk before Friday's midnight deadline.
Lira traders are still on edge as they brace for the prospect of a further deterioration in U.S.-Turkey relations. Ankara has warned Washington that the deployment of an American-backed, Kurdish-led force in northern Syria could cause irreparable harm to the countries' ties and that its planned offensive against the Kurds would be expanded beyond its initial scope.
Eurozone inflation fell further from the ECB's target in December, rising at an annual pace of 1.4%, from 1.5% the previous month. The report from Eurostat confirmed an earlier "flash estimate" and saw the euro drop 0.4% to $1.2215. Meanwhile, Germany's central bank chief said today it would be "appropriate" for the ECB to stop its bond buying this year in an interview with Frankfurter Allgemeine Zeitung.
Stocks
A month after announcing plans to open its first AI lab in China, Google (GOOG, GOOGL) is expanding again through a move into Shenzhen, TechCrunch reports. The workplace will be the U.S. tech giant's third office in the country despite its signature search engine remaining blocked there. Like its other locations, the new office will employ sales staff, as well as engineers working on global products.
Star Wars: The Last Jedi has suffered one of the worst second-weekend declines the Chinese box office has ever seen. The film's debut of $28.7M was already viewed as disappointing, but its 92% plummet to just $2.4M in week two caused the majority of cinema chains to drop the movie. The Disney (NYSE:DIS) film still boasts a massive worldwide total of $1.27B, but may now finish in China with less than $50M.
As bitcoin ETF proposals languish amid a major crypto selloff, funds coming to market today will offer investors access to blockchain ETFs that may benefit from the digital asset's underlying technology. The Amplify Transformational Data Sharing ETF (NYSEARCA:BLOK) and Reality Shares Nasdaq NexGen Economy ETF (NASDAQ:BLCN) will invest in companies betting on blockchain, such as Hitachi (OTCPK:HTHIF), Accenture (NYSE:ACN) and Overstock.com (NASDAQ:OSTK).
Helping maintain its No. 1 position in national stock trading volumes, Intercontinental Exchange (NYSE:ICE) plans to launch its fourth U.S. equity market during the second quarter. NYSE National will also become the 13th domestic stock exchange and will differ from the NYSE, NYSE Arca, and NYSE American in that it will only be a trading venue and not a listing market.
General Electric has appointed Peter Stracar chief executive and president of its European region, the conglomerate's largest market outside the U.S. The area currently employs over 92,000 employees, generating revenues of more than $20B. It comes after GE indicated it was looking at breaking itself up as it announced more than $11B in charges from its insurance portfolio and new U.S. tax laws.
Volkswagen has reported a 4.3% rise in 2017 sales to 10.7M vehicles, likely staying ahead of Toyota (NYSE:TM) in the annual car contest despite its diesel-emissions crisis. "We are grateful to our customers for their trust," VW (OTCPK:VLKAY) CEO Matthias Mueller said in the statement. The Japanese automaker has forecast about 10.4M vehicle sales for 2017 and is scheduled to release final numbers later this month.
Dunkin' Donuts' newest location in Quincy, Massachusetts, is what the company is calling its next generation concept store. It features a modern design, drinks that come out of "beer-like" taps, drops "Donuts" from the chain's well-known name, and has a mobile order drive-thru lane that customers can use with its status board app. Dunkin' (NASDAQ:DNKN) hopes to open 50 such stores across the nation in 2018.
Looking to help curb the opioid crisis, Walmart (NYSE:WMT) is now providing customers with a packet of powder that will help them dispose of leftover opioid prescriptions. Opioids were involved in over 42,000 deaths in 2016, according to the CDC, with more than 50% of people who abuse the drugs obtaining them through friends and family.
Chinese bidders are circling the diabetes care business owned by Johnson & Johnson (NYSE:JNJ) in a deal that could fetch up to $4B, sources told Reuters. A year ago, J&J said it was evaluating options for the division, including companies LifeScan, Animas and Calibra Medical. Almost one in three of the world's diabetes sufferers lives in China, according to the World Health Organization.
Celgene is in talks to buy Juno Therapeutics (NASDAQ:JUNO) just days after announcing another major deal with Impact Biomedicines. The talks could produce a deal in the coming weeks, according to the WSJ. Juno would further boost Celgene (NASDAQ:CELG) in the market for drugs treating multiple myeloma and other blood cancers. JUNO +51% premarket.
California Representative Jerry McNerney has written to the chief executives of Intel (NASDAQ:INTC), ARM Holdings (NASDAQ:ARMH) and AMDasking them to explain the scope of Spectre and Meltdown, two major security flaws disclosed earlier this month. The request is one of the first responses from the U.S. Congress to outline the timeframe for understanding the vulnerabilities, how consumers are affected and whether the flaws have been exploited.
A group of 21 U.S. state attorneys general have filed suit to challenge the FCC's decision to do away with net neutrality, while Democrats said they needed just one more vote in the Senate to repeal the ruling. The battle could go on for years... A repeal would also require winning a vote in the House, where Republicans hold a majority, and would still be subject to a likely veto by President Trump. Related tickers: T, VZ, TMUS, S, CMCSA, CHTR, ATUS, CTL, FTR, CCOI, DISH, NFLX, ELNK