Wednesday Morning Reads
Reads:
News:
Charts:
Premium:
Unusual Option Action
Earnings This Week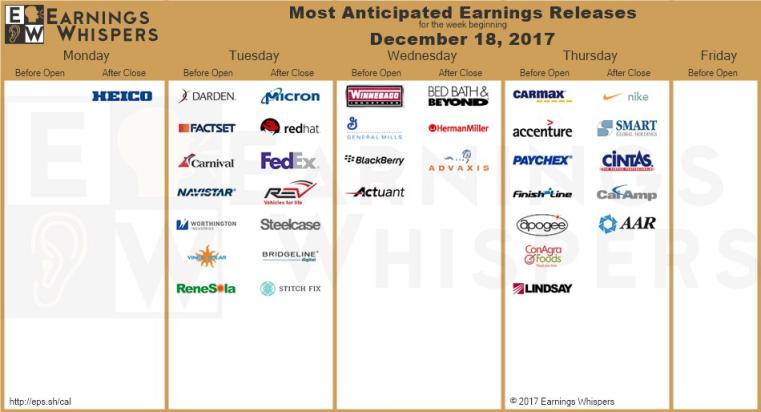 Seekingalpha
U.S. stock index futures are heading higher, all up by 0.3%, after the Senate approved the tax reform bill on a 51-48 vote in the wee hours of Wednesday morning. The measure will now head back to the House, which had cleared it on Tuesday, following news that lawmakers violated a Senate procedural measure called the Byrd Rule. The green light will send the bill to President Trump to sign into law, sealing his first major legislative victory in office.
Economy
What's in the final bill? It will slash taxes for corporations, revamp how the U.S. taxes multinational companies - as well as repatriation, and create a tax deduction for the owners of "pass-through" businesses. The measure will also offer temporary tax rate cuts for some individuals and families, while sharply reducing the number of Americans who itemize deductions on their tax returns.
The Bank of England will allow European banks to continue selling their services in the U.K. after Brexit without having to create expensive subsidiaries, the BBC reports. The decision, if confirmed, would mean European banks offering wholesale services would not face new hurdles to operating in London, which competes with New York as the world's financial capital.
The European Commission wants a transition period after Brexit to end no later than Dec. 31, 2020, which coincides with the end of the EU's current seven-year budget period. 21 months after Brexit - at the end of March 2019 - had long been expected as the target end date of the transition, but today's announcement was the first official confirmation from EU negotiators.
South Korean equities sensitive to China relations slid overnight after JoongAng Ilbo reported that Beijing restored a ban on mainland tour groups traveling to South Korea. Those so-called THAAD-related stocks - named after the anti-missile system - include a range of retail, airline and hospitality shares. The ban comes just over a month before the 2018 Pyeongchang Winter Olympics being hosted by Seoul.
China is planning to start a giant market to trade credits for the right to emit greenhouse gases. The program would initially cover the nation's state-dominated power generation sector, which produced almost half of the country's emissions from burning fossil fuels last year. If it works as intended, Chinese power companies would have a financial incentive to operate more cleanly.
Looking to drag the economy out of recession, Saudi Arabia has unveiled its largest budget ever, forecasting expenditure to hit more than 978B riyals ($261B) in 2018. The news comes as Saudi air defenses intercepted another rocket fired toward Riyadh by Houthi fighters in Yemen, which declared a "new chapter" in their confrontation with the Kingdom.
Stocks
Bitcoin Cash has been on a big run for the past few days on rumors it was soon to be available for trade on popular exchange Coinbase (Private:COINB). However, four minutes after going live on GDAX, Coinbase said it would halt trading of the cryptocurrency today until 12 p.m. ET. Bitcoin Cash was recently up 47% at $3,246.07, while other cryptos like Bitcoin, Ether and Litecoin sold off.
"Living wills" submitted by eight of the largest U.S. banks are satisfactory, but half of those plans have "shortcomings" that should be addressed in the future. The Federal Reserve and FDIC found shortcomings in plans from Bank of America (NYSE:BAC), Goldman Sachs (NYSE:GS), Morgan Stanley (NYSE:MS) and Wells Fargo (NYSE:WFC), detailing how they could be safely taken apart should they face bankruptcy.
"The new normal for Intel (NASDAQ:INTC) is that we are going to take more risks," CEO Brian Krzanich wrote in a memo to employees. "If there's one thing about the future I am 100% sure of, it is the role of data: memory, FPGAs, IOT, AI, autonomous driving... We're just inches away from being a 50/50 company, meaning that half our revenue comes from the PC and half from new growth markets."
The percentage of Americans who subscribe to cable TV, about 73%, is now on par with the number who subscribe to Netflix (NASDAQ:NFLX), according to a new survey from PwC, which was based on 2,000 consumers. The amount of people who stream TV content from the internet is also growing across age groups, but especially with people 50-59 years old, where 63% said they did vs. just 48% in 2016.
Toys "R" Us is reportedly considering closing 100 more stores across the U.S. as it restructures its business, and Target (NYSE:TGT) may be a top candidate to win those customers' dollars. According to UBS analyst Michael Lasser, "93% of Toys "R" Us stores are within a 15 minute drive of a TGT, while TRU and Target are exposed to a similar consumer demographic."
Korean Air Lines will receive its first Bombardier (OTCQX:BDRAF, OTCQX:BDRBF) CSeries jet on Friday following months of delays related to Pratt & Whitney's (NYSE:UTX) troubled turbofan jet engine. It comes as the U.S. Commerce Department announces a final determination this week in the dispute between Boeing (NYSE:BA) and Bombardier, which is facing a proposed 300% duty on CSeries jets.
Uber is a transportation firm and not a digital company, according to a long-awaited verdict from the European Court of Justice. The decision is expected to have major implications for UBER, which now faces national regulation across Europe, but the ride-hailing service downplayed the consequences. "Any ruling will not change things in most EU countries," Uber said in a statement.
"Term sheets" or proposed settlement documents have been exchanged between Fiat Chrysler (NYSE:FCAU) and owners of the automaker's diesel-powered vehicles, according to court settlement master Ken Feinberg. In May, the DOJ sued Fiat Chrysler, accusing the company of illegally using software that led to excess emissions in nearly 104,000 vehicles sold since 2014.
Following Subaru's recent revelation that uncertified staff had been carrying out final checks for decades on new cars sold in Japan, the automaker has opened an investigation in possible mileage cheating. Subaru (OTCPK:FUJHY) shares fell as much as 8.5% in Tokyo on the news. A slew of scandals have rocked Japan's manufacturing industry in recent months, including cheating at Nissan (OTCPK:NSANF), Kobe Steel (OTCPK:KBSTF), Mitsubishi Materials (OTC:MIMTF) and Toray Industries (OTCPK:TRYIF).
ABB is reshaping its engineering, procurement and construction business - including its biggest but least profitable power grids division - by spinning off and winding down some operations. CEO Ulrich Spiesshofer called the move, which will trigger Q4 charges totaling $225M, the company's final step in a year of transition that will lead into 2018. ABB -0.8% premarket.
The case will start on March 5 in Milan. Eni (NYSE:E) and Royal Dutch Shell (RDS.A, RDS.B) will face trial over a $1.1B bribery scandal in Nigeria, Italian judge Giusy Barbara ruled today. The long-awaited decision, initially expected several months ago, will not only affect the two companies but 11 senior executives including Eni CEO Claudio Descalzi.
The Keystone XL pipeline could face more delays after Nebraska regulators denied a request by TransCanada (NYSE:TRP) to refile its application for the project. After the Nebraska Public Service Commission approved a path last month that was not TransCanada's preferred route, the firm asked the commission if it could retroactively amend its application, stating it hoped to prevent lawsuits.
Today's Markets 
In Asia
, Japan 
+0.1%
. Hong Kong 
-0.1%
. China 
-0.3%
. India 
-0.2%
.
In Europe
, at midday, London flat. Paris 
-0.3%
. Frankfurt 
-0.3%
.
Futures at 6:20
, Dow 
+0.3%
. S&P 
+0.3%
. Nasdaq 
+0.3%
. Crude 
+0.3%
 to $57.74. Gold 
+0.4%
 to $1269. Bitcoin 
-1%
 to $17425.
Ten-year Treasury Yield
 flat at 2.46%
Today's Economic Calendar
7:00 MBA Mortgage Applications
10:00 Existing Home Sales
10:30 EIA Petroleum Inventories