Wednesday Morning Reads
Reads:
News:
Charts:
Premium:
Yesterdays Unusual Option Action
Earnings This Week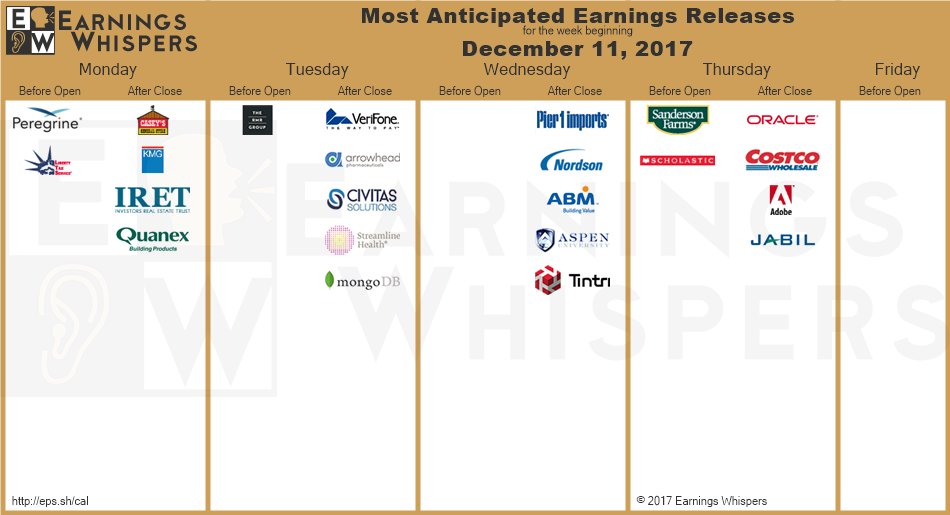 Seekingalpha:
U.S. stock index futures are pausing for breath ahead of what is expected to be the Fed's third interest rate increase of the year, as well as forecasts on the U.S. economy, tax reform and next year's rate hike cycle. Higher interest rates are expected to lift banks stocks, while the pace at which the Fed intends to tighten and normalize monetary policy is seen as a key factor in maintaining the current bull market in 2018.
Economy
GOP negotiators have reached a tentative agreement to raise the corporate rate in their joint House-Senate tax bill from 20% to 21%, according to The Hill. The higher rate could pay for a reduction in the top individual rate, which Republicans are talking about lowering from 39.6% to 37%. It could also pay for keeping more deductions for taxpayers, particularly in high-tax states.
The dollar recovered most of its losses overnight after falling 0.3% against the yen on news that Democrat Doug Jones beat Republican Roy Moore in a bitter U.S. Senate race in Alabama. The upset will trim the GOP's already narrow Senate majority to 51-49, potentially making it harder for President Trump to pass his priorities next year through Congress.
China's economy will grow a bit faster than expected this year on resilient consumption, according to the Asian Development Bank, which sees GDP expanding 6.8%. But growth will stutter in 2018, increasing by 6.4%, due to "controlled moderation" in the economy. That would mark the slowest pace of expansion since 1990, according to the World Bank.
"We're ready to talk whenever they're ready to talk," Secretary of State Rex Tillerson told a Washington think tank, but added that North Korea must first be ready to change course on its weapons programs. "Many people have asked the question, 'Well, why can't you live with a containment strategy?'... The difference is that with the past behavior of North this would become a commercial activity for them."
The Trump administration is encouraging Saudi Arabia to consider bids by Westinghouse Electric (OTCPK:TOSYY) and other U.S. companies to build nuclear reactors in the kingdom and may allow the enrichment of uranium as part of that deal, Bloomberg reports. A meeting to hammer out details of the nuclear cooperation agreement will be held today at the White House.
Stocks
As global regulators worry about a bubble, South Korea will restrictively allow cryptocurrency trading on only qualified exchanges and review a possible capital gains tax on crypto trading. The government will also ban minors from opening accounts on virtual coin exchanges and form a task force to seek "balanced" policies that won't hurt blockchain technology.
Chief Executive Patrick Byrne is exploring options to sell Overstock.com (NASDAQ:OSTK) to fund a global property registry on blockchain. If everything works out, we would "have all the capital we need" to fund the new project, Byrne told the FT. The venture, called De Soto, would include a dozen of Overstock's top talent. OSTK +4.8% premarket.
Despite its products being blocked in the country, Google (GOOG, GOOGL) is opening an artificial intelligence research center in China to target the country's local talent. Chinese policy makers have voiced strong support for AI research and development, but have imposed increasingly strict rules on foreign firms in the past year, including new censorship restrictions.
Removing a key obstacle to the deal, Western Digital (NYSE:WDC) and Toshiba (OTCPK:TOSYY) have agreed to settle a long-running dispute over the latter's plans to sell its prized chip unit. The settlement calls for Western Digital to drop arbitration claims seeking to stop the sale in exchange for Toshiba allowing its U.S. partner to invest in a new production line for advanced memory chips.
Tesla shares rose more almost 4% on Tuesday after PepsiCo (NYSE:PEP) said it had pre-ordered a fleet of 100 Tesla (NASDAQ:TSLA) Semis. It's the largest known pre-order for the trucks, which were unveiled in late November and are scheduled for production in 2019. Several other companies, such as Walmart (NYSE:WMT) and Anheuser-Busch (NYSE:BUD), have also said they are reserving the trucks.
Panasonic is considering jointly developing batteries for electric vehicles with Toyota (NYSE:TM), a move that would cement its position as the world's leading producer of automotive batteries. Panasonic (OTCPK:PCRFF) already supplies lithium-ion assemblies for Toyota's hybrid vehicles, but has also carved out a name for itself as the major battery supplier to Tesla (TSLA).
S&P Global is the latest company to start laying the groundwork for its post-Brexit future, creating a "streamlined legal structure centered on a new EU-based entity" in Dublin, FT reports. CEO Doug Peterson said he believed S&P Global (NYSE:SPGI) had to establish its credit ratings business within the bloc for its ratings to be used for official regulatory purposes there.
Addressing concerns over the alternative route approved last month, TransCanada (NYSE:TRP) is seeking consent from Nebraska regulators to amend its Keystone XL pipeline application. However, a representative of environmental group Sierra Club and a lawyer for landowners argued at a hearing on Tuesday that if the application was never denied, it cannot be amended.
A UAE state-owned oil giant made a positive stock market debut today, a listing likely to resonate through the Middle East as several other companies prepare to go public. The Abu Dhabi National Oil Company listed a stake in its fuel distribution unit, which soared 16% at the open, trading at 2.90 dirhams ($0.79) shortly after the bell vs. an IPO price of 2.50 dirhams per share.
Sears has entered into an agreement with "new and existing lenders" to delay the maturity of its term loan by six months to January 2019. "We have taken further action to provide the cmpany with additional financial flexibility," Sears (NASDAQ:SHLD) CFO Rob Riecker declared. "Looking ahead, we continue to explore alternatives with respect to our debt maturities."
Marking its latest push to offer faster broadband service, AT&T (NYSE:T) has started trials in Georgia and a non-U.S. location to deliver high-speed internet - faster than the 1 gigabit per second - over power lines. "Potentially, it can be a really big deal," said Roger Entner, an analyst at Recon Analytics. "You need the power company to play ball with you. That's the downside."
Teva Pharmaceutical will unveil a restructuring plan tomorrow following the departure of Yitzhak Peterburg, who previously served as interim CEO, from the company's board. According to the Calcalist, the plan includes closing its R&D center in the coastal city of Netanya, selling its logistics center in Shoham and laying off a third of its 6,800 workers in Israel. TEVA +1.1%premarket.