Wednesday  Morning Reads
Morning Reads:
Options: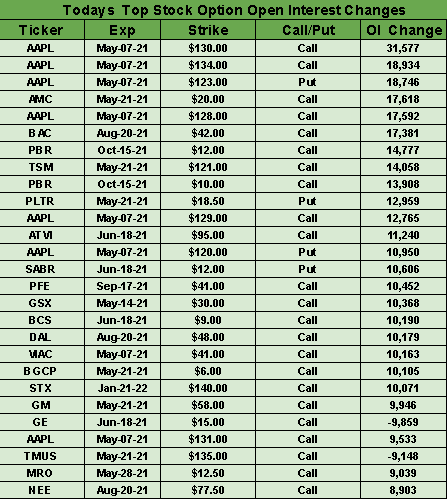 Futures:
Premium:
Prepper:
Another crypto craze is taking the market by the storm as a parabolic rally for altcoins (cryptos other than bitcoin) took the value of all digital tokens past $2.3T. Dogecoin (DOGE-USD), a crypto that started as a joke, is now changing hands at 68 cents, up about 63% in the past 24 hours, 131% over the past week, and over 11,000% so far in 2021. Dash (DASH-USD) also spiked 35% over the last 24 hours and Ethereum Classic (ETC-USD) rose almost 50%, helping crash crypto trading on Robinhood's popular trading app, while Force DAO and Tierion (TNT-USD) surged more than 1,000%.
What's happening? Some are pointing to Elon Musk's upcoming SNL appearance as the "Dogefather," as well as the future of DeFi and other crypto trends, but one of the more immediate catalysts appears to be a change in trading sentiment. Once upon a time, investors had talked about the time value of money and the advantages of compounding, but who's looking for 10% a year, when one could make 50% or more per day? That kind of attitude, while risky, has been increasingly adopted by a new generation of traders, while institutions can take advantage of the price moves by easily entering and exiting positions.
The fact that "HODLing" is even a term in the cryptosphere, where investors buy and hold their positions regardless of price, has put a certain support under the industry that possibly cannot be rivaled in any other asset class. Throngs of new traders are also piling into the crypto arena, even with small positions, due to FOMO or "just in case" digital assets do eventually go mainstream. Enthusiasm is meanwhile building across social media, where the Winklevoss twins said the Gemini crypto exchange would now support Doge. "Yes, it's a meme coin, but all money is a meme!" Cameron wrote on Twitter.
Outlook: While some see this as a mere opportunity to get in on the action, bigger believers say the current rally is a breakthrough moment that will provide cover against a future dollar devaluation. Others see the entire system as a kind of pyramid scheme, but even among the biggest backers of crypto, some see the current altcoin rally as unsustainable. Famed investor Mike Novogratz said recently he'd be "very, very worried" were one of his friends to invest in Doge, but thinks crypto returns "will beat the crap out of stocks, but not forever." "They will hit an equilibrium, there's no free lunch in the world," he added. "Right now, it feels like there's a free lunch because the government's losing everything."