Wednesday Morning Reads
Morning Reads:
Options: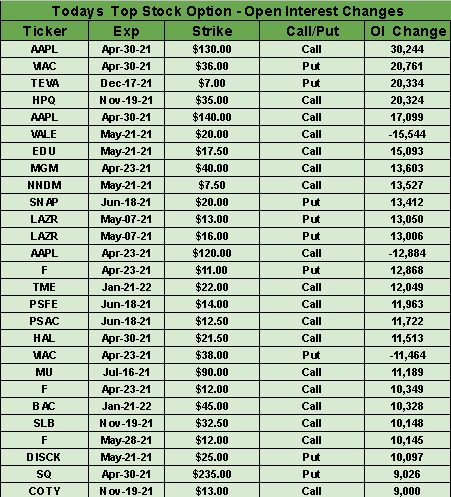 Futures:
Premium:
Prepper
Growth worries surrounded Netflix (NFLX) following its earnings report after Tuesday's close, sending the stock down nearly 9% in AH trading. The streamer only added 3.98M paid net subscribers during Q1, short of its guidance for 6M and consensus forecasts of 6.29M. Despite the headlines, Netflix is turning into a cash cow (reporting net income of $1.71B, or $3.75 a share) and is even returning some of that cash to investors via its first stock buyback plan in nearly a decade.
Bigger picture: Netflix has missed its own subscriber forecasts before and the company has repeatedly warned of a slowdown following a pandemic-fueled expansion, but investors were looking for something else. The company projected net adds of just 1M for the second quarter, meaning it would end the first half of the year nearly 6M subscribers short of where the Street projected it would be by that time. Netflix would also require an addition of nearly 21M subscribers in the second half of 2021 to reach analysts' year-end target of 229.4M.
In its quarterly shareholder letter, Netflix blamed part of this year's lag on a "lighter content slate" caused by last year's pandemic-related production shutdowns. For 2021, the streaming giant is splurging another $17B on content and "we'll continue to deliver an amazing range of titles for our members." That includes new seasons of The Witcher and Cobra Kai, and some even expect a new season of the company's blockbuster series Stranger Things in that period as well.
Outlook: Many rivals are coming after Netflix, including Prime Video (AMZN), Disney+ (DIS), HBO Max (T), Peacock (CMCSA) and Paramount+ (VIAC). But the platform still believes the entertainment market is huge and it has plenty of room to grow. It cautions against comparing services on subscriber figures alone - considering the noise of "bundles, discounts and other promotions" - saying instead the focus should be on engagement and revenue as key performance indicators. However, with millions of Americans getting vaccinated and the economy opening up, the question remains whether people will cut back on their streaming subscriptions for other forms of public entertainment. (193 comments)
Wall Street notched its first back-to-back decline since late March on Tuesday as a number of factors disrupted the bullish mood seen last week. The declines came during what was forecast to be a bumper earnings season, but sky-high valuations and the lack of catalysts to improve upon lofty expectations may prove to be a stumbling block. "With stock markets, it is often better to travel than to arrive," said Trevor Greetham, investment strategist at Royal London.
Other concerns are weighing on the market as well, but in this investing atmosphere, those could go away as soon as they come. Dow and S&P 500 futures inched down 0.1% overnight, while contracts linked to the Nasdaq dipped 0.3%.
COVID-19 - Coronavirus cases are soaring across the globe, with a new variant pummeling India with a devastating second wave. That had reopening plays lead the market lower as the State Department said it would increase "do not travel" advisories to 80% of the world's countries. Some health experts have also suggested that herd immunity may be off the table and are rather talking about control.
Inflation - Pricing pressures were already been seen in the market last week, with the biggest monthly rise in the consumer price index since 2012. Consumer giants have since come out and said they'll have to raise prices because of higher commodity and input costs. The latest to boost price tags are Procter & Gamble (PG) and Coca-Cola (KO), which unveiled the increases this week along with their Q1 results.

Yields - The rate on the 10-year Treasury crept up another 2 bps overnight to 1.58% and even touched 1.6% on Monday. Traders will keep an eye on an auction today for $24B of 20-year bonds, as a gauge of demand for longer-term government debt. Another $35B auction will be held for 119-day bills.
Fresh calls for police defunding are underway after a jury in Minneapolis found former police officer Derek Chauvin guilty on three charges in the killing of George Floyd. His death in May of 2020 set off massive protests across the nation as many local city councils debated shifting parts of the police's budget to social services. President Biden also said the conviction was a "giant step forward in the march toward justice in America, but it's not enough. We can't stop here."
Snapshot: In Minneapolis itself, there are currently some defunding proposals that could be on the ballot this November. One from the city council would replace the police department with a department of public safety, which would have divisions like mental health services. Another one would put the police department under civilian control and allow a commission to deal with police misconduct. Mayor Jacob Frey has already redirected $8M from the Minneapolis Police Department to crime prevention programs and mental health crisis response teams, but he kept police staffing numbers at current levels.
While some activists would like to see the reallocation of police resources from enforcement to other types of services, others are calling for the flat out abolition of contemporary police departments. Critics say the steps could lead to more violence and therefore less investment into the affected communities. In turn, that could escalate crime, especially with municipal budgets already strained from the coronavirus pandemic. Other reforms are also being discussed at the Congressional level, such as social programs and accountability for police, along with better education, training and making officers' jobs better defined.
Investing sphere: "Prison stocks have continued to decline, even as REITs in general are rebounding," writes Seeking Alpha Marketplace author Ian Bezek. "The Biden Administration will be tough on the sector, while prisons became exposed to lawsuits for potential COVID-19 liabilities at their facilities." In fact, the industry's two leaders, CoreCivic (NYSE:CXW) and GEO Group (NYSE:GEO), are off 62% and 50%, respectively, since the "defund the police" slogan became common during the George Floyd protests. Differing trends have been seen in the personal defense and firearm sector, where Smith & Wesson (NASDAQ:SWBI) and Axon (NASDAQ:AXON) have climbed 90% and 100%, respectively, since May 2020. (17 comments)
Amazon (AMZN) is launching a new hair salon in London as a place where "customers can experience some of the leading technology, products, and services in hair care and styling." Located in the Spitalfields shopping district, Amazon Salon will include augmented reality hair consultations and point-and-learn technology for hair care products. Customers can even use Fire tablets while waiting or receiving hair services, while there's a "dedicated creative area" for taking pictures after the service.
Quote: "We have designed this salon for customers to come and experience some of the best technology, hair care products and stylists in the industry," said John Boumphrey, Amazon UK Country Manager. "We want this unique venue to bring us one step closer to customers, and it will be a place where we can collaborate with the industry and test new technologies."
The two-story, 1,500-square-foot store is currently open to Amazon employees and will become available to the general public in the "coming weeks." However, there aren't plans for more locations. The salon is an "experimental venue" for Amazon to showcase products and techs, not a push into a new vertical, though the company did recently introduce a professional beauty section on its U.K. website.
Go deeper: While Amazon has made its name in e-commerce, digital subscriptions and other web services, it has been increasingly focused on physical retail. The company opened its first bookstore in Seattle in 2015 after opening kiosks in shopping malls to sell devices and Amazon-branded accessories. In 2017, it bought popular grocery chain Whole Foods for $13.7B and began to open a number of Amazon Go stores that showcased its cashier-less "Just Walk Out" technology. (24 comments)