Wednesday Morning Prepper
Morning News, Reads, Opinion
PREMIUM 
CHARTS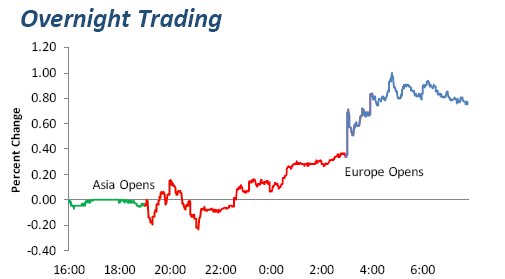 and more....
The top executives of AT&T (NYSE:T) and Time Warner (NYSE:TWX) will defend their proposed $85B merger before members of the Senate Judiciary Committee today, arguing that by combining, they will "disrupt" the long-established cable TV model in ways that will benefit consumers. However, the tie-up has already raised concerns from the right and left and taken flak from President-elect Donald Trump over its potential impacts on the industry as well as its sheer size.
Economy
China's foreign exchange reserves fell for a fifth straight month in November, tumbling $69.06B to $3.052T - the lowest since March 2011, as authorities struggled to shore up the sliding yuan in the face of a relentlessly rising dollar. Adding to pressure on the currency, President-elect Trump has vowed to label China a currency manipulator on his first day in office and threatened to impose huge tariffs on Chinese goods.
Amid steep falls in business investment, housing construction and public spending, Australia's economy shrank for the first time in more than five years in the third quarter. The local dollar slipped 0.5% to $0.7421 against the greenback after the Australian Bureau of Statistics reported that GDP fell 0.5% during the period, leaving the year-on year increase at 1.8%.
The Reserve Bank of India has kept its policy repo rate unchanged at 6.25%, despite calls for action as an intense cash shortage threatens to slam the brakes on the world's fastest growing major economy. Analysts had expected a rate cut of at least 25 bps after India scrapped two high denomination bank notes to thwart counterfeiters and undo the country's underground economy.
The BOJ and the ECB have agreed to launch a joint project to study the possible use of a technology underpinning digital currencies for market infrastructure. The project will look into distributed ledger, a technology best known for supporting bitcoin digital currency, and the two central banks are expected to release their main findings next year.
Ukraine feels "betrayed" by the EU for not keeping to a promise to give its citizens visa-free travel in the bloc, deputy foreign minister Olena Zerka and presidential advisor Anders Fogh Rasmussen told Reuters. The nation was promised visa liberalization if it met a number of conditions, including steps to tackle corruption, but it hasn't yet materialized as the EU wants to put an emergency suspension mechanism in place first.
Cuba and the United States will draw up a roadmap for deepening their detente today in the first meeting since the election of Donald Trump and the death of Fidel Castro. The fifth bilateral commission comes at a time of increased uncertainty about normalizing relations given Trump's promise to end ties if Cuba is "unwilling to make a better deal."
Stocks
Italy is preparing to take a €2B controlling stake in Monte dei Paschi di Siena (OTCPK:BMDPY), which the bank hopes will attract private investors to fill the gap in rescue funding. According to Reuters, the government plans to buy junior bonds to boost its stake to 40%, making it the biggest shareholder by far. Questions whether this amounts to state aid will surely arise in Brussels.
More action from Margrethe Vestager... The European Commission has fined Credit Agricole (OTCPK:CRARY), HSBC (NYSE:HSBC) and JPMorgan (NYSE:JPM) a total of €485M for their part in a cartel to fix the Euribor benchmark interest rate. Deutsche Bank (NYSE:DB), RBS, and Societe Generale (OTCPK:SCGLY) admitted guilt in December 2013, while Barclays (NYSE:BCS) avoided a fine because it alerted the Commission. HSBC +1.5%premarket.
Credit Suisse +4% premarket after the Swiss bank lowered profit targets at its asset management business and ramped up its cost cuts amid challenging conditions in key Asian markets. The move will slash over 6,000 jobs and result in more than 1B Swiss francs in extra cost cuts as Credit Suisse (NYSE:CS) CEO Tidjane Thiam looks to adjust his turnaround plan.
In its first insider trading ruling in two decades, the Supreme Court has unanimously ruled in favor of prosecutors, saying that gifts of confidential information from business executives to relatives violate securities laws even if the former don't receive anything in return. The case, Salman v. United States, concerned trading by Bassam Salman based on information from his future brother-in-law, then a member of Citigroup's (NYSE:C) healthcare investment banking group.
MasterCard is boosting its quarterly dividend by 16% to $0.22 a share and setting aside an additional $4B to buy back stock. Both moves are in line with increases the company made a year ago to its dividend and repurchase plan. The company has about $1.3B left under that authorization and a market capitalization of about $114B. MA +1% premarket.
Belgian chemicals group Solvay has agreed to sell its Acetow unit, which makes material used in cigarette filters, to Blackstone (NYSE:BX) for €1B, including debt. "Acetow is a commodity business that is going through a decreasing market," said Pascal Juery, head of the Solvay (OTCPK:SOLVY) division. "It didn't fit the group's strategy anymore."
Amid troubled Project Wing efforts, Alphabet's (GOOG, GOOGL) X division plans to create an online exchange named "Wing Marketplace" where people can get drone deliveries from retailers and restaurants within minutes, WSJreports. X would charge customers a $6 drone-delivery fee and has already met with Whole Foods (NASDAQ:WFM), Domino's Pizza (NYSE:DPZ) and a series of other companies about the project.
Royal Dutch Shell and Total will sign initial agreements today to develop oil and gas fields in Iran, in the first European petroleum deals in the country since sanctions eased earlier this year. But the plans open both companies to potential risks from the incoming Trump administration. Though Total (NYSE:TOT) is French and Shell (RDS.A, RDS.B) is jointly headquartered in London and The Hague, both companies have substantial American operations.
BP is shipping almost 3M barrels of U.S. crude to customers across Asia, pioneering a lengthy and complex operation likely to become more popular after OPEC last week announced deep production cuts. Using its global shipping and trading network, BP was able to grapple with U.S. port limitations and the need to transfer oil between ships off Malaysia to split up cargoes, according to sources in Thomson Reuters Eikon.
"Boeing is building a brand new 747 Air Force One for future presidents, but costs are out of control, more than $4B. Cancel order!" President-elect Donald Trump tweeted early Tuesday, sending the planemaker's stock down in early trade and igniting a media firestorm. While Boeing doesn't have an actual order to build the plane, it has a $170M contract to begin development work. Shares recovered to end slightly in the green by the market close.
South Korea's Fair Trade Commission will seek criminal charges against five former and current Volkswagen (OTCPK:VLKAY) executives and fine the German carmaker's unit 37.3B won ($32M) for false advertising on vehicle emissions. The penalty, a record for false advertising in the Asian country, reflects a toughening stance after South Korea banned most VW sales in August.
Britain's Competition and Markets Authority has fined Pfizer (NYSE:PFE) a record £84.2M for its role in ramping up the cost of an epilepsy medication by as much as 2,600%. The drugmaker used to market Epanutin itself, but it sold distribution rights to privately-held Flynn in September 2012, after which the product was debranded and its price soared. Pfizer plans to appeal all aspects of the verdict.
Back in September, Square (NYSE:SQ) rolled out virtual payment cards: Digital debit cards that pull directly from a user's Square Cash account. Now those payment cards work with Apple Pay (NASDAQ:AAPL). The move means that users can take money from their Square Cash account to buy things anywhere Apple Pay is accepted.
"While the scope of the potential investment has not been determined," iPhone assembler Foxconn (OTC:FXCOF) is in in preliminary discussions to expand its operations in the United States. On Tuesday, President-elect Donald Trump announced that Softbank's (OTCPK:SFTBY) Masayoshi Son would invest $50B in the U.S. and create an additional 50,000 new jobs, raising new hopes of a Sprint (NYSE:S) deal with T-Mobile (NASDAQ:TMUS).
The upcoming Samsung Galaxy S8 may become the next popular phone to forgo the headphone jack, according to SamMobile. The decision will not only help keep the device thin, but will also allow it to pack in a bigger battery. It's also speculated that the Galaxy S8 (OTC:SSNLF) is ditching the home button for an optical finger recognition system inside of the display - giving Android users an edge-to-edge screen.