Wednesday Morning Market Reads, News, and Charts
Reads:
News:
Earnings: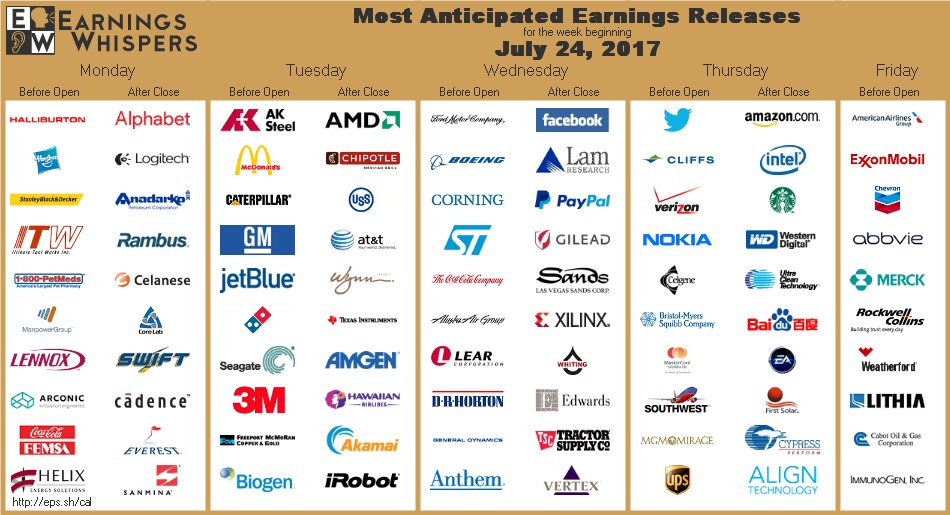 Charts:
Seekingalpha:
While the Fed is expected to keep its benchmark interest rate unchanged today, investors will be keeping a close eye on the central bank's statement. The focus will center around updated language on inflation and the timing of a long-awaited balance sheet reduction (a plan likely to be detailed in September). The latest policy decision will come at 2 p.m. ET.
Economy
Fed Chair Janet Yellen is doing a "good job," President Trump told the WSJ, adding that she is still in the running for a second four-year term. However, he named Gary Cohn as a possible replacement for Yellen, along with two or three other candidates. "He [Cohn] doesn't know this, but yes he is," Trump said of the national economic director, who took the job after three decades at Goldman Sachs.
A plan to repeal and replace Obamacare that Senate Republicans have been working on for months failed to get the 60 votes needed for approval Tuesday night. The tally came out to 43 in favor and 57 against, with nine Republicans voting against the measure. It's the first of many expected votes this week following the return of John McCain, who has been recovering from recent brain surgery.
Britain's economy is continuing its sluggish start to the year, with GDP growth expanding 0.3% in the second quarter, up from 0.2% in Q1. The figure, which the Office for National Statistics called a "notable slowdown," will be interrogated to find evidence of the impact of the Brexit vote. It will also be crucial for Chancellor Philip Hammond's next budget.
The winds of change appear to be blowing through Greece as the country got solid demand for its first bond issuance in three years. It even had to turn away investors: Athens sold €3B in government bonds, while demand for the debt exceeded €6.5B. Will the nation be able to stand on its own two feet again when its current bailout expires in August 2018?
Continuing to open up its capital markets, China's securities regulator said it will regulate and expand access for all types of investors, while encouraging more long-term institutional participation. The China Securities Regulatory Commissions will also maintain "normalization" of initial public offerings and improve delisting mechanisms.
Fresh warnings have been issued from North Korea after CIA chief Mike Pompeo hinted last week that Washington was open to the possibility of regime change. "Should the U.S. dare to show even the slightest sign of attempt to remove our supreme leadership... we will strike a merciless blow at the heart of the U.S. with our powerful nuclear hammer, honed and hardened over time."
At a rally in Youngstown, Ohio, President Trump warned Iran to adhere to terms of a nuclear deal with world powers or "there will be big, big problems" for Tehran. "You would have thought they would have said 'thank you United States. We really love you very much.' Instead, they've become emboldened. That won't take place much longer," he declared.
A sign of the times? Indonesia is open to rejoining OPEC as long as it's not forced to curb its own crude oil production. "We would have to have a concession for not following cuts from time to time," said Ignasius Jonan, the nation's energy and mineral resources minister. The country, which pumps about 800K barrels of crude per day, would become the group's 15th member.
In a rare bipartisan vote, the House has decided to tighten existing economic sanctions imposed on Russia in 2014. The bill would freeze assets and prohibit transactions with specific Russian firms and individuals, and ban certain exports that are used in energy exploration or have possible military uses. It also would require President Trump to obtain congressional approval before relaxing any sanctions against Moscow.
Stocks
It's being dubbed "Amazon Jobs Day." The retailer is aiming to fill 50K new positions in the U.S. by hosting a giant job fair next month, making good on its promise to hire another 130K full- and part-time workers. Once it completes its pledge, with a target date of mid-2018, Amazon's (NASDAQ:AMZN) U.S. workforce would swell to around 300K, compared with 30K in 2011.
Uber hopes to name a new leader by early September, according to Bloomberg, and HP Enterprise (NYSE:HPE) CEO Meg Whitman is on the short list. She was an early investor and has been quietly counseling UBER, especially former CEO Travis Kalanick. "As Meg has said several times before, she is fully committed to HPE and plans to stay with the company until her work is done," said an HP representative.
Targeting millennials isn't an easy task for traditional news networks, and many are turning to partnerships to bridge their divide. ABC News (NYSE:DIS) is the latest to launch a tie-up with ATTN:, a video news site focused on younger audiences, to co-produce videos for social media. Financial terms of the deal, which will produce short-length stories, were not disclosed.
Viacom has informed Scripps Networks Interactive (NYSE:SNI) that it's willing to pay all cash to acquire the $10.6B U.S. TV network operator, Reuters reports. The move by Viacom (VIA, VIAB), which had $12.2B in debt as of March 31, could potentially mean the company would lose its investment-grade status. Scripps owns channels such as HGTV, Food Network and Travel Channel.
"I spoke to [Tim Cook], he's promised me three big plants - big, big, big," President Trump told the WSJ. "I said you know, Tim, unless you start building your plants in this country, I won't consider my administration an economic success." Apple (NASDAQ:AAPL) has already announced it would start a $1B fund to promote advanced manufacturing jobs in the U.S.
U.S. regulators have taken their first shot at deflating the bubble in so-called Initial Coin Offerings, declaring that many of the digital tokens behind the recent mania should fall under securities rules. "The SEC's Report of Investigation found that tokens offered and sold by a 'virtual' organization known as 'The DAO' were securities and therefore subject to federal laws."
Plug it in. Britain is set to ban all new gas and diesel vehicles from 2040 amid fears that rising levels of nitrogen oxide pose a major risk to public health. The commitment, which follows a similar pledge in France, is part of the government's clean air plan, which has been at the heart of a protracted high court legal battle.
Once the biggest offshore rig firm by market cap, Seadrill (NYSE:SDRL) is again delaying restructuring its $14B in debt and liabilities, reiterating that Chapter 11 bankruptcy was likely. The company's business has struggled as energy firms have slashed investment due to a more than 50% fall in the price of crude oil since 2014. SDRL -12.6% premarket.