Wednesday Morning Market Prepper
Reads:
News:
Premium:
Charts:
Tweets:
Japanese investors sold $20 billion of U.S. bonds in December, the most since May 2013. https://t.co/bUdRDAKOIb

— Lisa Abramowicz (@lisaabramowicz1) February 8, 2017
$AAPL 60 minute cup and handle. Look how tight the candles are in the handle pic.twitter.com/4xN1bB0DsP

— BullishChartPatterns (@johnscharts) February 8, 2017
British consumers look set to feel the squeeze https://t.co/zgG9B1vIlK pic.twitter.com/9oMznlGKni

— Bloomberg (@business) February 8, 2017
Earnings: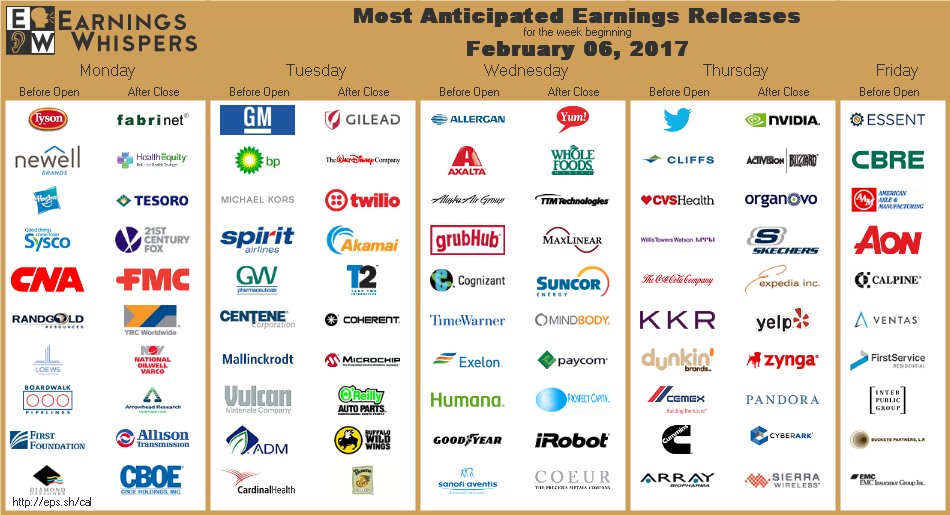 Seeking Alpha:
The Brexit Bill is entering its last day of debate, with the government said to be confident the legislation will pass its third and final reading with a vote scheduled for 3 p.m. ET. While no new conditions have been added, MPs are poised to debate a last round of amendments, including whether to let EU nationals stay in the U.K. Once passed, the bill will head to the House of Lords, putting Theresa May significantly closer to triggering Article 50 by the end of March.
Economy
The Reserve Bank of India surprised markets today by keeping its borrowing costs on hold for a second meeting in a row. The RBI also changed its stance to "neutral" from "accommodative," saying it would monitor inflation, despite calls for the central bank to support an economy that was dealt a major blow. Prime Minister Narendra Modi, in November, abolished high-value notes in a bid to target unaccounted cash, or "black money."
In his first phone call with President Erdogan, President Trump reiterated the "close, long-standing relationship" between the U.S. and Turkey, and agreed to act jointly against Islamic State. Meanwhile, the Trump administration is weighing a proposal to list Iran's Islamic Revolutionary Guard Corps as a terrorist organization. A designation would freeze assets, block visas and ban financial interactions.
The governor of Louisiana has declared a state of emergency, sending out the National Guard after at least seven tornadoes tore through New Orleans and vicinity - leaving a swath of destruction in their wake. "I am heartbroken to once again see Louisiana families suffering in the wake of devastating tornadoes today," John Bel Edwards said in a statement.
A decision on whether the freeze of President Trump's travel ban can remain in place is expected "as soon as possible" from the three-judge panel of the U.S. Court of Appeals for the 9th Circuit in San Francisco. Meanwhile, Betsy DeVos had to rely on VP Mike Pence's tie-breaking vote to become Education Secretary, while Democratic Senators staged an all-night debate over the nomination of Alabama Senator Jeff Sessions for Attorney General.
Stocks
Disney CEO Bob Iger delivered some support to the company's shares in extended trade, after saying he was open to extending his term as chief executive. The comments helped pare initial losses as Disney reported lower-than-expected revenue in the fiscal first quarter - weighed down by continued weakness at ESPN. Rogue One also failed to help Disney (NYSE:DIS) find the Force, but the company saw some strength at its theme parks.
European earnings roundup: Syngenta (NYSE:SYT) +2% premarket on expectations its ChemChina takeover will get EU and U.S. approval by April 12. Sanofi (NYSE:SNY) is 3% higher after its net profit more than doubled in Q4. ABB reported an end to its almost two-year decline in order intake, but the industrial giant's shares still reversed 3%. An upturn in commodity prices boosted Rio Tinto's (NYSE:RIO) earnings, pushing the stock up 3.5%, as the mining powerhouse raised its dividend and launched a share buyback.
Moelis & Co. has beaten out the likes of Goldman Sachs (NYSE:GS), Morgan Stanley (NYSE:MS), Credit Suisse (NYSE:CS) and HSBC to be chosen as the sole independent adviser for the Saudi Aramco (Private:ARMCO) IPO, according to FT. The Saudis are hoping to value Aramco at about $2T, and are reportedly planning to sell a 5% stake (roughly $100B worth) at some point next year. The next prize will be which exchange will be chosen to list on... will Moelis (NYSE:MC) give more hope to the NYSE (NYSE:ICE)?
In what would be another major shakeup at Deutsche Bank (NYSE:DB), investment banking chief Jeffrey Urwin - who joined the lender in 2015 - is in talks to leave the position, and has told friends he plans to retire. Slated to replace him could be bank CFO Marcus Schenck, WSJ reports. The discussions come at a time when Deutsche Bank has been battling a costly series of legal matters and heavy investor uncertainty.
Bank of America opened three completely automated branches over the past month, where customers can use ATMs and have video conferences with employees at other offices. BofA (NYSE:BAC) is set to open 50 to 60 new branches over the next year, but will also be closing some in certain markets, so they will not represent a net increase.
China's central bank is holding a closed-door meeting with several domestic bitcoin exchanges today as concerns grow that regulators will tighten their oversight of trading in digital currencies. Bitcoin prices jumped yesterday to $1,070, their highest level since Jan. 4, after China's forex reserves dropped below 3T yuan for the first time since 2011. Related tickers: COIN, OTCQX:GBTC, OTCQB:BTCS
According to a court filing, Takata (OTCPK:TKTDY) will plead guilty on Feb. 27 to a single felony count of wire fraud to resolve a DOJ investigation into ruptures of its air bag inflators linked to at least 16 deaths worldwide. Last month, the auto parts firm agreed to the guilty plea as part of a $1B settlement in the world's largest-ever recall.
Volkswagen has launched a U.S. subsidiary designed to oversee $2B in investments to promote zero-emission vehicles, a commitment the German auto giant made in the wake of Dieselgate. The Electrify America unit will open more than 500 EV charging stations as it works toward building out a national network. VW (OTCPK:VLKAY) will also launch a "Green City" initiative in a yet-to-be-identified California city to pilot future concepts.
Working with bankers at Lazard, L'Oreal (OTCPK:LRLCY) is exploring a €1B sale of The Body Shop, its struggling retail division. Just over a decade ago, the company acquired the skincare business, which now boasts more than 3,000 stores in 66 countries. L'Oreal will likely announce a strategic review of the asset when it reports Q4 and full-year results tomorrow.
The U.S. Army will grant the final permit for the controversial Dakota Access oil pipeline after an order from President Trump to expedite the project despite opposition from Native American tribes and climate activists. It would allow the final section of the line to tunnel under North Dakota's Lake Oahe, part of the Missouri River system, enabling the $3.8B pipeline to begin operations as soon as June. Related tickers: ETP, ETE, SXL, PSX, MPC, ENB, EEP
More American manufacturing? Sharp (OTCPK:SHCAY) may start building a $7B U.S. plant in the first half of 2017, Reuters reports, taking the lead on a project initially outlined by its Taiwanese parent Foxconn (OTC:FXCOF). The news comes as Japanese Prime Minister Shinzo Abe prepares to travel to the U.S to meet with President Trump, where he will likely unveil investments to create as many as 700,000 American jobs.
Apple is shaking up its Apple TV operating unit with the hire of Timothy Twerdahl, the former head of Amazon's (NASDAQ:AMZN) Fire TV team who will fill a similar product marketing role in Cupertino. The move suggests a renewed focus on the Apple TV (NASDAQ:AAPL) and on providing more content for the device, an effort that has been stalled in the past by failed negotiations.
Tuesday's Key Earnings
Buffalo Wild Wings (NASDAQ:
BWLD
)
-4.6%
AH under sales pressure.
Disney (
DIS
)
-0.3%
AH following weakness at ESPN.
General Motors (NYSE:
GM
)
-4.7%
on profit concerns in Europe.
Gilead (NASDAQ:
GILD
)
-6.3%
AH slumping on weak guidance.
Michael Kors (NYSE:
KORS
)
-10.8%
warning on 2017 headwinds.
Mondelez (NASDAQ:
MDLZ
)
+1.9%
AH after missing expectations.
Panera Bread (NASDAQ:
PNRA
)
+2.6%
AH with strong profit guidance.