Wednesday Morning Market Prepper
News:
Reads:
Charts:
Premium:
Yesterdays Unusual Option Action
Earnings this week: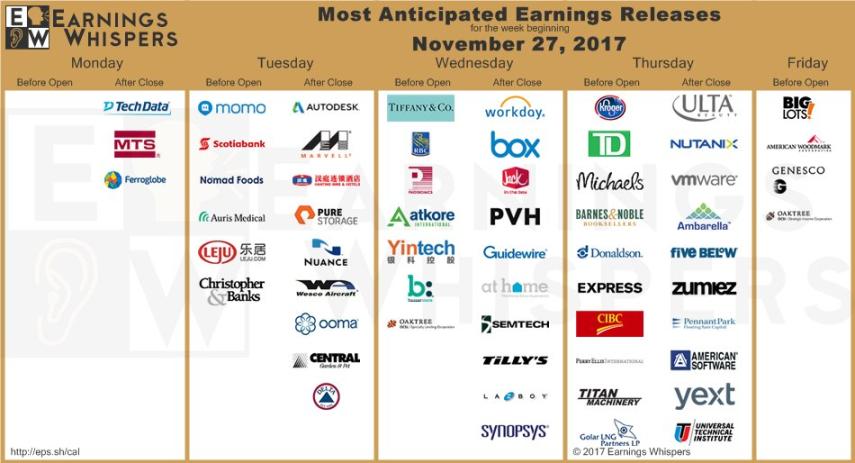 Seekingalpha:
Fed Chair Janet Yellen will update Congress today on her economic outlook, just two weeks before the central bank is widely expected to raise rates for the third time this year. Topics may include why inflation has remained persistently below the Fed's target rate and how that will shape the future path of monetary policy. It will likely be Yellen's last appearance before lawmakers, as Jerome Powell is set to take over as leader early next year.
Economy
Wall Street soared to record closing highs yesterday after the Senate Budget Committee approved the Republican tax bill, a crucial procedural step toward a vote by the full chamber later this week. The next big market event will be today's second estimate of third-quarter economic growth. GDP probably increased at a 3.2% annualized rate instead of the previously reported pace of 3%.
Mick Mulvaney has officially been named interim director of the Consumer Financial Protection Bureau after a U.S. district court denied a temporary restraining order from Leandra English. The Obama-era appointee had claimed to be the rightful acting director of the agency. "Just won the lawsuit... A big win for the Consumer!" President Trump wrote on Twitter.
Trade case showdowns... The U.S. government is launching an anti-dumping case against Chinese aluminum producers covering imports of common alloy sheets, marking the first time since 1985 that such a probe wasn't first originated by the private sector. Meanwhile, Canada has formally opened a case at the WTO over the recent U.S. decision to impose duties on lumber imports.
U.K. and EU negotiators have reached a preliminary agreement on the divorce bill that Britain will pay when it leaves the bloc, but the deal still needs to go to national governments for approval, according to Bloomberg. The U.K. is said to have accepted total liabilities of as much as €100B, but aims to pay half of that and spread it over many years. Sterling +0.6% to $1.3420.
Despite the improved economic growth in the eurozone, the ECB is warning of concerns related to a sudden increase in volatility. "Systemic stress indicators for the euro area have remained low over the past six months," the central bank said in a statement, adding that the risks of a "rapid repricing" and "large asset price correction" remain due to signs of increased risk-taking behavior.
Indonesian authorities have reopened the Bali airport, several days after a volcanic eruption spread ash across the island and forced it to close. The disruption has hurt businesses ranging from international airlines to street vendors. Bali's biggest industry is tourism, and closing the main airport costs the local economy about $18M per day.
North Korea declared it had successfully tested a new ICBM overnight that put all of the U.S. mainland within range, but investors and analysts were unfazed by the latest provocation. "People have got somewhat conditioned to some of these tests that we've seen," said Mark Lister of Craigs Investment Partners. Pyongyang also said the launch, which reached an altitude of 2,780 miles, achieved its long-held goal of becoming a nuclear power.
Stocks
Just hours after breaking through the closely watched milestone of $10,000, bitcoin has tacked on more gains to trade at an all-time high of $10,870. That represents a more than 10% jump from its price of around $9,830 just 24 hours ago. Amid increased demand for cryptocurrencies, bitcoin has surged more than 10-fold in value so far this year, posting the largest gain of all asset classes.
Following a strategic assessment of the business which began last month, Wells Fargo (NYSE:WFC) is getting out of personal insurance. It will immediately begin winding down marketing of auto, homeowners, renters and umbrella products. Personal insurance was the last remaining insurance brokerage agency at Wells, and its financial contribution was immaterial.
CEO Xavier Rolet's exit from the London Stock Exchange (OTCPK:LDNXF) has been sped up by a year after a battle between shareholders and the board over his tenure. CFO David Warren will now take over as interim chief executive until a successor can be found. The transition comes at a tricky time, with Britain likely to lose a chunk of its derivatives clearing business as it departs from the EU.
Hailing their planned merger as "pro-competitive" and "pro-consumer," AT&T (NYSE:T) and Time Warner (NYSE:TWX) have proposed to start an antitrust trial on Feb. 20, 2018, after the Justice Department sued to block the acquisition. The DOJ had planned to start a trial on May 7, 2018, a date that would come after the merger agreement is set to expire on April 22, 2018.
FCC Chairman Ajit Pai has accused Twitter (NYSE:TWTR) of being politically biased, pointing to an advertising case involving Representative Marsha Blackburn, as he continued to defend his plan to roll back net neutrality. "Because advertisements are served to users who do not necessarily follow an account, we therefore have higher standards for their content," said a Twitter spokesperson.
Unlike fellow Washington-based tech giant Amazon (NASDAQ:AMZN), which is seeking a new location for a second headquarters, Microsoft (NASDAQ:MSFT) is rebuilding its iconic Redmond campus in a project that will make room for 8,000 new employees. The plan will add 18 new buildings, 6.7M square feet of renovated workspace and $150M in infrastructure improvements.
TransCanada has started engaging landowners on the alternate route for its Keystone XL pipeline approved by the state of Nebraska, exploring the costlier path as it considers a final decision on the expansion project. "As always, we're striving to understand their perspectives on the project," said Dean Patry, TransCanada's (NYSE:TRP) senior vice president of liquids.
More foreign investment? Nestle (OTCPK:NSRGY) and Cuba have laid the first stone of a $55M coffee and biscuits factory joint venture in the Mariel special development zone, which offers significant tax and customs breaks. Nescor is the island's third joint venture with Nestle and reflects President Raul Castro's drive to attract international capital.
Weighed down by legal troubles and regulatory scrutiny, UBER's adjusted loss widened to $743B in Q3, up 14% from the prior quarter. Net revenue rose 14% to $2B and gross bookings increased 11.5% to $9.7B, on a sequential basis. As a private company, Uber is not required to publicly report its financial results, but it began offering a glimpse of its performance earlier this year.
Apple is preparing to test autonomous vehicles at an old Fiat Chrysler (NYSE:FCAU) testing ground near Phoenix, sources told Jalopnik. Interestingly, Waymo (GOOG, GOOGL) and UBER are already running self-driving tests in the area. Apple (NASDAQ:AAPL) scuttled plans last year to build a self-driving car of its own and is now focused on the underlying technology behind autonomous vehicles.
DHL has disclosed 10 preorders for Tesla (NASDAQ:TSLA) Semi vehicles in order to evaluate the potential for electric trucks with shuttle and same-delivery runs. While the company laid out $5K per truck to make the reservation, final pricing and vehicle specifications haven't been determined yet. DHL is owned by German giant Deutsche Post (OTCPK:DPSGY).