Wednesday Morning Market Prepper
Reads:
News:
Charts:
Small cap reversal?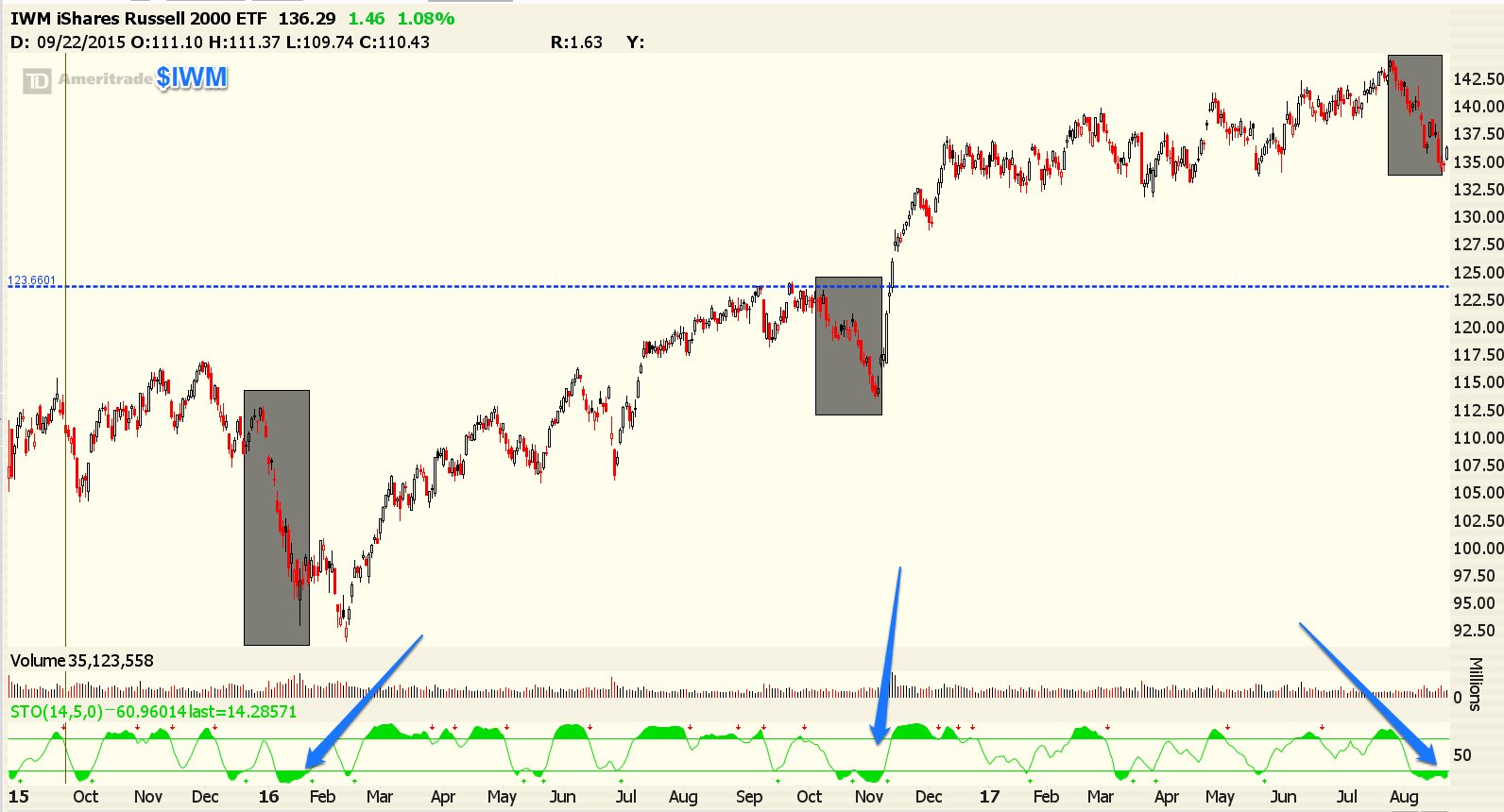 Yesterdays Unusual Option Volume:
Seekingalpha:
Samsung is set to unveil its Galaxy Note 8 at an Unpacked event in NYC, with hopes to bounce back from last year's Note 7 debacle and a recall that cost it more than $6.5B. Leaks suggest the device will sport a dual camera setup, glass back, bezel-less front (Infinity Display) and a stylus pen. The launch comes ahead of Friday's court ruling, which will decide the fate of Samsung (OTC:SSNLF) heir Lee Jae-yong, who has stood trial since April on bribery allegations.
Economy
Renewed hopes of U.S. tax reform sparked a global rally on Tuesday, with the Dow posting its strongest performance since April, but stock futures faltered overnight after President Trump threatened a government shutdown. At a rally in Arizona, Trump said he was prepared for the move if Congress didn't present him with a spending bill for the next fiscal year that included funding for a border wall.
What would tax reform look like? Significant progress has been made between Trump's top aides and Republican leaders in shaping the overhaul, according to Politico. The options include capping the mortgage interest deduction for homeowners, scrapping people's ability to deduct state and local taxes, eliminating businesses' ability to deduct interest and allowing for the "repatriation" of corporate profits from overseas.
Less than a week into NAFTA renegotiations, President Trump has cast doubt on the future of the trade agreement. "Personally, I don't think we can make a deal because we have been so badly taken advantage of," he said at the rally in Arizona. "I think we'll end up probably terminating NAFTA at some point." The comments appeared to hit Mexico's currency, with the dollar fetching as much as 17.773 pesos.
IHS Markit's Flash Eurozone Composite PMI, considered a good guide to economic growth, edged up to 55.8 in August from 55.7 in the previous month, while manufacturing activity grew at the fastest pace since April 2011. The European Commission is also poised to publish its measure of eurozone consumer confidence today, which economists expect to remain close to July's level.
Speaking at a conference in Lindau, Germany, ECB President Mario Draghi praised economists' research and said that adjustments to monetary policy are "never easy," while cautioning against hasty responses. However, he made no reference to how the bank might adjust its own policy to the improving economic data across the eurozone, a highly debated issue among market participants.
A U-turn by Theresa May? Sterling has fallen below $1.28 for the first time since late June after the British prime minister was accused of a climbdown over the future sovereignty of U.K. courts. Plans to be published today will state Britain only wants to end "direct jurisdiction," meaning EU courts could still influence U.K. law - like trade deals - after Brexit.
Due to its failure to make progress on respecting human rights and democratic norms, the U.S. has decided to deny Egypt $95.7M in aid and delay a further $195M, CNBC reports. American officials were especially unhappy that President Sisi allowed a new law governing NGOs to go into effect, which is widely seen as part of a growing crackdown on dissent.
The American government has placed new sanctions on Chinese and Russian firms and individuals, which have traded oil and other mineral resources with Kim Jong-un's regime. At the same time, Secretary of State Rex Tillerson said he would be open to "some dialogue" with North Korea after he praised the country for going two weeks without conducting any missile tests.
Typhoon Hato has canceled trade on the Hong Kong exchange, as well as the Stock Connects with Shanghai and Shenzhen (although those markets remained open during the session). Heavy winds and rains lashed Hong Kong's financial hub, closing most businesses and cancelling flights, as the city hoisted its highest-level storm warning - No. 10 - for the first time in five years.
Stocks
Wal-Mart is about to encroach even further on to Amazon's (NASDAQ:AMZN) turf, as it looks to advance its e-commerce operations and stay competitive with Alexa. The retailer will soon offer customers the ability to order "hundreds of thousands" of its products by voice through the help of the Google Assistant platform, said Marc Lore, Walmart's (NYSE:WMT) head of e-commerce.
Brace for more negative news from Wells Fargo (NYSE:WFC). "The results of our [scandal] reviews will generate news headlines, but even as we face this renewed coverage, the best thing we can do is stay focused on fixing problems," CEO Timothy Sloan told employees. Wells Fargo shares slipped 3%in extended trading on Tuesday before recovering.
Warren Buffett's Berkshire Hathaway is secretly winning, even when losing (like its failed $9B takeover bid for Oncor). Shares of the billionaire's conglomerate rose to a new high on Tuesday after S&P Global Ratings said the company is no longer at risk of a credit rating downgrade. Berkshire A (NYSE:BRK.A) shares hit $270,960, and B (NYSE:BRK.B) shares rose to $180.61, both all-time highs.
Western Digital and Toshiba (OTCPK:TOSYY) have entered talks to finalize a sale of the latter's chip division. Creditors want that to happen this month to allow time for regulatory approval before the company's potential Tokyo delisting in March. According to the Nikkei, a consortium containing Western Digital (NYSE:WDC), KKR, INCJ and the Development Bank of Japan has offered about $17.3B for the unit.
GoDaddy CEO Blake Irving, who reshaped the domain-name company over five years and helped it quadruple its market value to $9B, is retiring. Scott Wagner, GoDaddy's chief operating officer who formed a potent one-two executive punch with Irving, will assume CEO duties in 2018. Irving will remain on the board through June 2018. GDDY -0.5% premarket.
Bowing to further investor pressure, BHP Billiton (NYSE:BHP) has unveiled a board shakeup that will see controversial director Grant King step down after six months, while Malcolm Brinded will not stand for re-election. The two new independent non-executive directors: Terry Bowen, a finance director for Australian conglomerate Wesfarmers (OTCPK:WFAFY), and John Mogford, a former BP executive.
"ExxonMobil contributed to advancing climate science - by way of its scientists' academic publications - but promoted doubt about it in advertorials," Harvard University researchers wrote in the Environmental Research Letters journal. "Given this discrepancy, we conclude that ExxonMobil (NYSE:XOM) misled the public." The findings could add fuel to lawsuits brought against the world's largest oil explorer by market value.
Advantages of electric motor acceleration? In a quarter-mile drag race at the Palm Beach International Raceway, Tesla's (NASDAQ:TSLA) Model X and Model S, both P100D models with Ludicrous mode, beat a Lamborghini (OTCPK:AUDVF) Aventador, worth about three to four times their price. The Model X also ended up setting a record time for a sport utility vehicle.
Four mutual fund companies have marked down their investments in UBERby as much as 15% following a scandal-ridden year for the ride-hailing company. Among them: Vanguard, Principal Funds, Hartford Funds and T. Rowe Price (NASDAQ:TROW). Other reports suggest Hewlett Packard Enterprise's (NYSE:HPE) Meg Whitman is still being pushed by Uber's biggest investor, Benchmark, for the company's open CEO position.
Apple is scaling back plans to build actual self-driving cars, and will instead focus on creating autonomous systems, NYT reports. It follows complications over the last few years, including shifting priorities, unrealistic deadlines and lack of a clear vision for the end product. In the meantime, Apple (NASDAQ:AAPL) is focusing on a self-driving campus shuttle called PAIL - short for "Palo Alto to Infinite Loop."