Wednesday Morning Market Prepper
Reads:
News:
Earnings: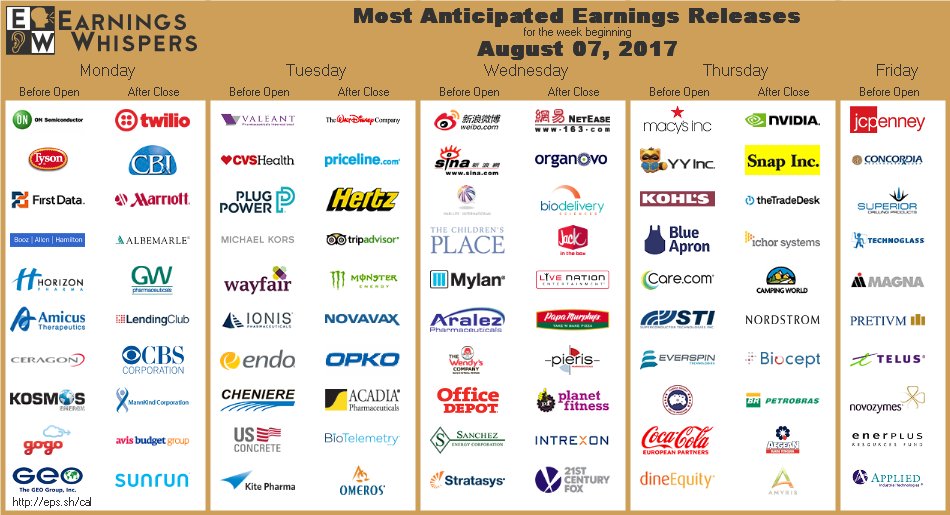 Charts:
Yesterdays Unusual Option Volume:
Seekingalpha:
North Korea is "carefully examining" a strike on the U.S. territory of Guam after President Trump warned of "fire and fury" in response to further threats from the regime. Intelligence reports are suggesting Pyongyang has successfully developed a "miniaturized nuclear weapon" and has "up to 60 nuclear weapons" in its arsenal. The geopolitical tensions have sent global equities into the red, while safe havens climb, including gold and the yen.
Economy
The South African rand plummeted against the dollar after President Zuma narrowly survived his eighth no confidence vote since taking office. While lawmakers were allowed to vote in secret, almost two dozen MPs from his own party supported the motion. Zuma will step down as party leader in December and his ex-wife is widely seen as the favorite to take his place.
Six French soldiers were injured in a vehicle attack today outside Paris, in an incident described by local mayor Patrick Balkany as "without doubt a deliberate act." French tourism just seemed to be recovering from the effects of the 2015-16 terror attacks, with statistics from Insee finding a 10.2% rise in domestic tourism in the most recent quarter.
Venezuela's new constitutional assembly has assumed even more power by declaring itself as the superior body to all other governmental institutions. The unanimously approved decree prohibits lawmakers in the opposition-controlled congress from taking any action that would interfere with laws passed by the newly installed assembly.
Oil is rising back towards $50 a barrel ahead of the EIA inventory report expected to show crude stocks dropping for a sixth week, although gains were capped by compliance doubts with OPEC-led supply cuts. Crude inventories last week fell by 7.84M barrels, but gasoline stocks rose unexpectedly, data from the American Petroleum Institute showed on Tuesday.
Stocks
Cord-cutting continues to hurt revenues at Disney (NYSE:DIS) as the company cuts ties with Netflix (NASDAQ:NFLX) by launching its own streaming service. Higher programming costs and falling subscribers at ESPN led to a 23% drop in cable network operating income during FQ3, pushing down shares down 3.7% in AH trading. Not all was negative... Parks were again the bright spot in revenues.
Separately, Disney likely paid $177M, in addition to insurance recoveries, to settle the closely watched "pink slime" defamation case against its ABC network by Beef Products. While the quarterly filing describes the charge as being "in connection with settlement of litigation," the BPI litigation is the only one Disney (DIS) specifies in the report.
Philadelphia's tax on sugary drinks has made soda more expensive than beer in the city. A new study from the Tax Foundation found that the 1.5-cent per ounce tax has fallen short of revenue projections and has forced some Philadelphians to drive outside the city to buy groceries. It's also hit the corporate level: PepsiCo (NYSE:PEP) is laying off up to 100 workers because of the tax.
The U.S. International Trade Commission will investigate Qualcomm's (NASDAQ:QCOM) patent infringement claims against Apple (NASDAQ:AAPL) after months of squabbling between the two tech giants. How long will it take? The agency will make its decision "at the earliest practicable time" and set a target date for completing its investigation within the next 45 days.
Bitcoin traded near $3,487 Tuesday afternoon after hitting an all-time high of $3,525.04 earlier in the day, according to CoinDesk. That's less than $300 away from triple the price of gold. Sign of the times? Fidelity Investments has started allowing clients to use its website to view their holdings of bitcoin and other cryptocurrencies held through digital wallet provider Coinbase.
Vantiv has agreed to buy Worldpay, the U.K.'s largest payment processing company, for £8B. The combined group, worth £22.2B, will be led by Vantiv's (NYSE:VNTV) Charles Drucker and Worldpay's (OTCPK:WPYGY) Philip Jansen as co-CEOs. Worldpay shares will be delisted from the London Stock Exchange, while the new Vantiv shares will be listed on the NYSE.
Wisconsin is not projected to break even on a $3B incentive package for Foxconn's (OTC:FXCOF) proposed LCD screen plant until 2042, according to an analysis from the Legislative Fiscal Bureau. "Any cash-flow analysis that covers a period of nearly 30 years must be considered highly speculative," the report said. Critics have also attacked the plan as potentially harmful to the environment.
Combining e-commerce with brick-and-mortar... JD.com's (NASDAQ:JD) partnership with Wal-Mart (NYSE:WMT) is proving successful, according to International President Winston Cheng. "We're integrating with Wal-Mart in a much tighter partnership, which... potentially, Amazon (NASDAQ:AMZN) might do with Whole Foods (NASDAQ:WFM)," he told CNBC. "But for us, we've already started on this strategy over a year ago."
Takata's bankrupt U.S. business will ask a federal judge today to suspend lawsuits against automakers that have been brought by people injured by its faulty air bag inflators. Without the injunction, Takata (OTCPK:TKTDY) said the litigation would distract management from completing its sale to Key Safety Systems and could threaten the supply of air bag inflators to replace recalled ones.
Tesla's record level of cash burn, which totaled $1.2B in Q2, does not seem to be scaring off bond buyers. CEO Elon Musk said he had orders for just over a third of the $1.5B newly announced debt offering that will fund the mass market Model 3. According to Bloomberg, Tesla (NASDAQ:TSLA) could wind up paying no more than 5% on the junk-rated bonds.
In the second largest corporate bond deal of the year, British American Tobacco (NYSEMKT:BTI) has tapped investors for $17.25B, as low borrowing costs and a fierce appetite for debt help persuade firms to lever up. The proceeds will help permanently finance BAT's £42B purchase of the rest of Reynolds American (NYSE:RAI), propelling it to the top position in tobacco-related products globally.
Lockheed Martin is fielding more queries from customers seeking missile defense systems in the wake of increased threats posed by North Korea's missile tests. "The level of dialogue around missile defense is now at the prime minister and minister of defense level," said Lockheed's Tim Cahill. LMT shares are nearly 8% higher since Pyongyang's first long-range missile test on July 4.