Another named calamity ready to bestow a massive correction in stock prices has come and offered yet another reason why every named sell-off since the March 2009 lows has been a great buying opportunity. The Brexit Breakout, the most recent named sell-off has launched the S&P500 above its long term consolidation range and to new record highs.
The furious rally from the Brexit lows has been a sight to behold.  The market recovered all of its sharp losses, and saw those losses another 2% and counting.  Take that!
With the S&P500 at record highs, small caps and technology are not far behind.
The $IWM broke the key $120 level yesterday and is above it this morning an hour before the opening bell.  This key level, once broke in August of last year, led to a massive collapse.  It ended up finding a bottom at $95 last year.
Tech is lagging the move to record highs as well.  $QQQ has broken trendline resistance and price now looks poised to re-visit the highs from late last year.
The VIX remains the leader in failure amid this rally.  It was the first to indicate a bottom was in at the Brexit lows.  With the S&P500 down over 1.5%  the VIX was down near 10%.  Stocks rallied from that point on and a depressed VIX is saying the chances this market rally continues are great.  One thing I will point out is that the VIX sits at trendline support.  Let's watch for a break today to confirm $SPY $220 $QQQ $116 and $IWM $125 are on the horizon.
How about a few individual names?
$GOOGL offered a great entry on Friday.
Late on Friday $GOOGL looked strong off long term support.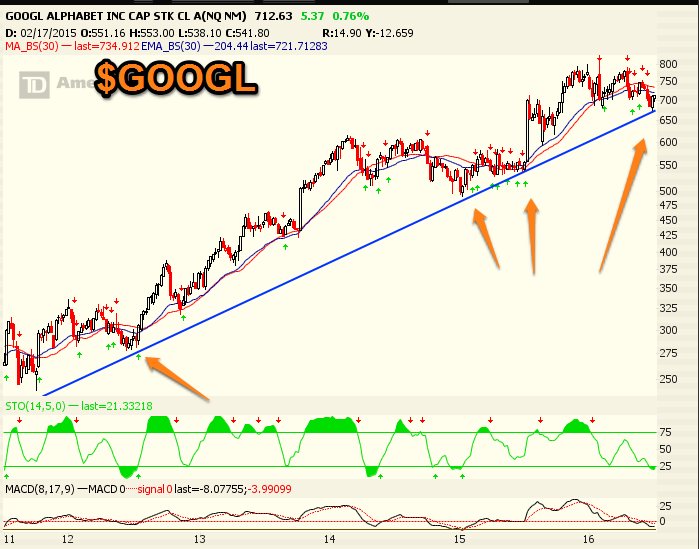 Later in the day premiums continued to melt.  The $GOOGL $730 calls dropped to $1.00, and even into the close on Friday they were $1.05.
Yesterday they hit over $7.00 each.
Support remains strong for $GOOGL.
On the flip side I remain bearish on a few names.  Yes, stocks may continue to grind higher, but I do think we will see some names fall.
$BIDU long term looks broken.
If there was a chart $BIDU reminded me of, its $FCX when it was trading in the $40's a few years ago.  Until it proves me wrong,  it's a long term topping pattern and I will trade it for downside.
$PCLN also looks bearish below long term resistance. The stock has not been able to break out from current levels.  And unless that changes, I think we could see another $200 move to the downside as it seeks out support.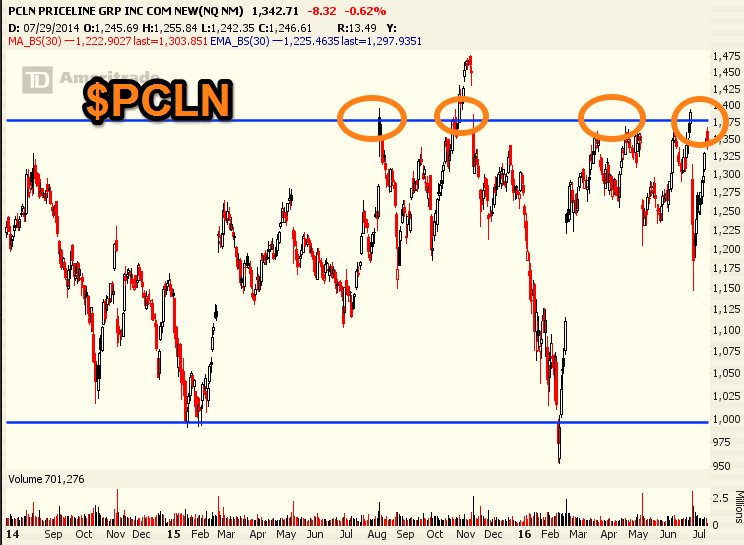 I am in BIDU $165 and $PCLN $1192.50 Puts for a trade on downside on both names.
While the market looks to be setting up for a move higher with Tech and Small caps likely to breach new highs, my concern short term is the drastic change in sentiment.
The headlines have changed in 3 weeks from sell everything to buy everything.  We've seen a lot of the buy everthing action recently... and with good reason.  The central banks continue to buy everything.  The corporations themselves are buying back their own stock at dizzying rates.  It is tough to trade for downside amid this back drop.  And it already feels like we are back in that 'the market will never go down again' phase.  Remember last year the VIX was in the 10's just weeks before it spiked over 50.  Excessive complacency is setting in yet again.  Heck if Brexit launches stocks to record highs, and every other headwind has been a tremendous buying opportunity for the stock market, why sell?  And that is the market we trade in these days.
Stocks at record highs, yet the Central Banks continue to feed the market free money and embark on unprecedented endevours such as buying corporate bonds.  It doesn't make sense on the surface, but if you dig deeper you realize that everything takes a back seat amid a massive central bank infused asset bubble.  They remain hell bent on blowing growth back into the global economy and thus far it's only blown a massive debt and equity 'bubble'.  But if growth were to follow....
The market knows well before any of us.  Price action continues to point higher, but be wary of the VIX.