2008 is off to a terrible start.  Check that.  2016 is off to a terrible start.  It is the worst two 'weaks' the market has ever seen to start a year since the Bronze Age Collapse in 1206 BC.  There are no stats on how many precious metals bugs were around back then, but there wasn't much money in television appearances and book sales during that era.  Today fear sells and for the last 8 years the same people have been trying their best to sell it.  Perhaps 2016 is the year the get it right.
Heading into 2016 I made quite a few predictions.  I did not think two weeks in many of them would already be coming to fruition.
I thought the market would come back to the 2015 lows.
and in two weeks, it has been quite a precipitous drop....
You can see the rest of my 2016 predictions here ---->>>>  https://www.optionmillionaires.com/2016-predictions/
I also stated when that support level was it, there was a good chance it would not hold.
Let's look at some charts to get a better idea where the market stands, and where it is likely to head in the days and weeks ahead.
From a 5 year perspective the $SPY came right to long term support.  The degree of this recent pull back still lags the August collapse.
This same chart on a 5 day scale.  Look where the 'support line' is.  I posted this same chart yesterday during the market session.
You are talking about a 5 year trendline being met almost to the penny twice yesterday and getting rejected.  It was the same trendline that instigated a massive rally the previous day.
The late day attempt to rally yesterday failed precisely at former support.  Clearly this is resistance now.  And even more clearly.... this is the line in the sand.  Where the rubber meets the road.
But all is not lost just yet.  Small caps were able to mount a furious late day rally - landing the $IWM back over the key triple digit level.   It seemed far fetched earlier in the day as prices fell to $97.50.  I stated in the chat room yesterday how key that $100 level was.
It's candle time.......
$IWM put in a big hammer on Friday.  Hammer candle can be a good indicator of a trend change.
a closer look at $IWM
$IWM is down over 22.4% from its record high level in 2015.  The definition of a bear market - the other broader indices are down nearly 13% from their record levels.
From their record highs:  $IWM is -22.4% $SPY -12.1% $DIA -12.8% $QQQ -12.9% $AMZN -18% $FB -14% $GOOG -11% $NFLX -22% $AAPL -28% $TSLA -28%
It has been a veritable blood bath to start 2016.  Stocks have to bounce... right?
$QQQ was also able to head into the long holiday weekend above the key $100 level.  Remember how key the $110 break was.  Holding over the $100 level means the bulls get to live another day.
I think the reversal off the recent move lower will be violent.  We could even witness the return of the  'V' bottom.  Those V bottoms were great short term trades.  The question heading into next week is what price will it start at?  $QQQ $100?  $95?  $90?
One of my predictions for 2016 I still think is the likeliest outcome this year.  And it doesn't mean the market will crash, but it does mean we won't see an up 15% year.
It's been an incredible run since the lows in March 2009.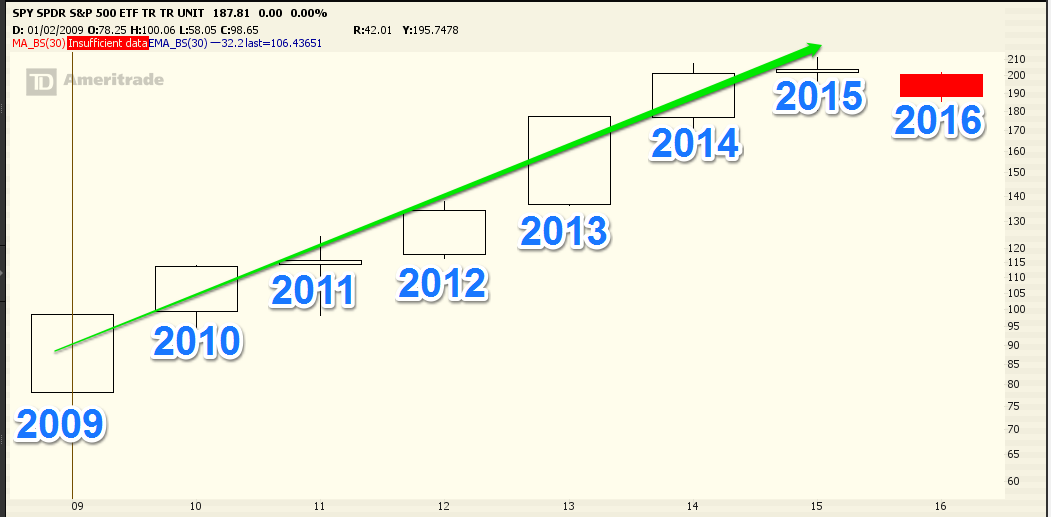 and the year the elk poop really hit the fan, in 2008, January was a terrible month for the market.  Stocks dropped some 14% out of the gate before finding a bottom later in the month.  I expect the market crash calls to triple the next few months.  And as I mused in 2013, perhaps 2016 will be the year.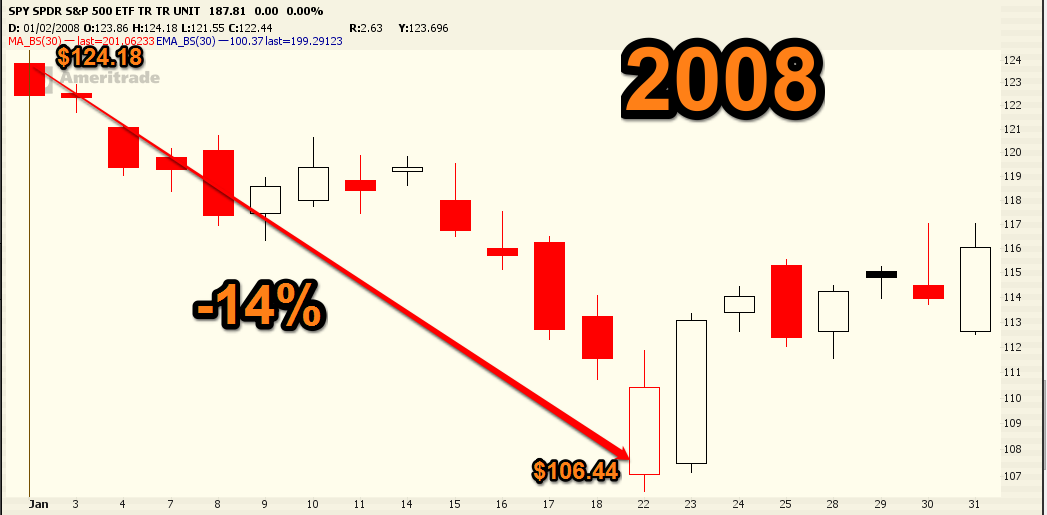 So here we are.  Markets in Turdoil.  Every morning the question isn't where markets are going to open, its been how much more is the market set to decline.  The markets are on the cusp of another crash.
Will we hear the same headlines Tuesday Morning?
Crude oil set to open lower.....
Stock futures sharply lower....
China stocks fall into triple lundy bear market status...
and worse yet we have earnings season coming up this week.  Has the bar been set low enough this time around?  We will soon find out.  US Dollar strength will remain a headwind for corporate earnings in the quarters ahead.  We are likely to hear more about it this time around than last quarter.
From a market perspective I think we are reaching that short term nadir.  We are close to that sharp reversal of years past.  $IWM and $QQQ reclaiming key $100 levels could set the tone for next week.
Anyone who traded back in 2008/2009 - during the financial crisis - - amid some nasty 700 point DJIA days to the downside , were some 1,000 pt days to the upside.  Bear markets are great for short term long and short positions.  The market is in flux.  This past week was no different.  2016 is already shaping up to be a stellar year to be trading.
And in 2016 I think those moves will be more of the 2-3 day variety than the 1 day reversal we saw in 2015.
Break out your "V" bottom shirts.
When the market opens for trade on Tuesday I'll be watching key support levels and prices.
The bearishness out there is reaching an extreme as well.  The historic bull market from 2009 to 2015 was not built on the back of extreme optimism.  Each rally along the way as fueled from disbelief, a lack of faith in the market.  On the flip side when you see excessive bearishness a trend change, even a short term one, could be in order to sober up the market.
Stocktwits.com  $SPY sentiment is one of many great ways to gauge market perspective.
Also a quick gander at twitter.
I see a lot of:
"selloff isnt over"
time for market crash
its just starting
There is no telling what Tuesday will bring.  Let's keep an open mind and watch key support/resistance levels.
What are the likely scenarios?
A big gap up to start the week.  If you are a bull you do not want this.  2016 has been a sell the rip market.  We could have a 3rd consecutive week of nasty losses for the market.
A big gap down could signal capitulation.  If S&P500 futures gap 1-2%+  lower, I think it will mark a low for the market for at least the next few months.
The market opens flat or +/-  .2%  - This would be the more bullish scenario.  Hold Fridays support levels and a slow, deliberate rally throughout the session.
When I look out to the end of this month, what do I see?  I see a sharp reversal to the upside.
Bonus Chart below --->>>
Enjoy your long weekend.
We've been through market crashes before.  We've seen financial crisis.  And it's in those times some of our best trades were made.  Come check us out next week.  Join our community with a limited trial offer.   Only a few remain.  email optionmillionaires@gmail.com  with 'trial' in the subject for details and availability.
From a market perspective this is what I think the action will look like in the weeks ahead: