Tuesdays Morning Market Prepper
Reads:
News:
Charts:
Premium:
Yesterdays Unusual Option Action
Earnings this week: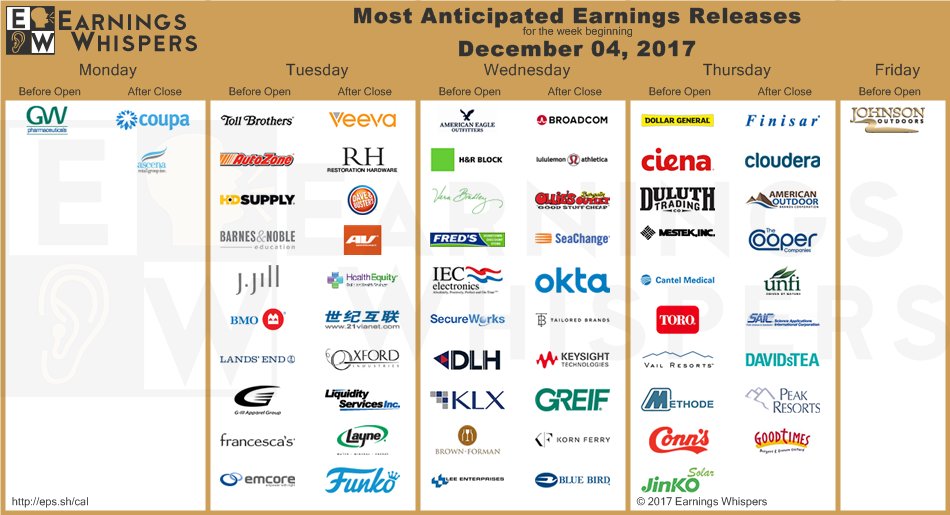 Seekingalpha:
The Senate Banking Committee will take two major steps today toward reshaping federal financial regulations and U.S. economic policy. The panel is expected to approve the nomination of Jerome Powell as Fed Chair, then mark up a bipartisan bill to exempt small and mid-size banks from portions of the Dodd-Frank Act. Powell is seen as a non-controversial pick and would take up the post on Feb. 3.
Economy
EU finance ministers will discuss U.S. legislation to slash taxes at a meeting in Brussels today and whether some parts of the reform will violate rules of the World Trade Organization. The group will seek to adopt a common stance, without taking any concrete decisions pending a final version of the bill, which aims to lower the corporate tax rate to 20% from 35%.
Sterling is heading for its worst day in over a month, falling 0.5% to $1.3415, on uncertainty over whether Britain can open up talks on post-Brexit trade with the EU. Prime Minister Theresa May failed to clinch an agreement during a lunch in Brussels yesterday after a tentative deal with Dublin to keep EU rules in Northern Ireland angered her allies in Belfast.
Japan is preparing to acquire precision air-launched missiles that for the first time would give it the capability to strike North Korea, sources told Reuters. The country is exploring Lockheed Martin's (NYSE:LMT) JASSM-ER, as well as missiles from Norway's Kongsberg Defence & Aerospace. The report comes as UN chief diplomat Jeffrey Feltman travels to Pyongyang today for rare, high-level, political talks.
Saudi Arabian warplanes have bombed the presidential palace in Yemen's capital, stepping up attacks on Houthi rebels after they killed ex-President Ali Abdullah Saleh just as he appeared set to switch sides in the conflict. His death may alter the course of the war in the country, and comes as the U.S. Supreme Court upheld President Trump's travel ban on six Muslim-majority nations, including Yemen.
Stocks
Three years after Starbucks launched its first Reserve Roastery in Seattle, the coffee chain is opening its second Roastery - and first international location - in Shanghai. The 30,000 square foot space features everything from Starbucks' (NASDAQ:SBUX) longest coffee bar to its first in-store augmented reality experience and Princi bakery in Asia. China is Starbucks' fastest growing market with a new store opening every 15 hours.
In a price war with rivals ranging from Taco Bell (NYSE:YUM) to Dunkin' Brands (NASDAQ:DNKN), McDonald's (NYSE:MCD) will introduce new menus with $1, $2 and $3 items on Jan. 4. The company dropped its "Dollar Menu" in 2013 after franchisees groused that selling some items cut into profits. The replacement "Dollar Menu & More" had higher prices, but failed to draw more customers despite heavy marketing.
Walgreens is taking a different approach to grow in the wake of CVS Health (NYSE:CVS) announcing plans to acquire Aetna (NYSE:AET). The company is repositioning to reach two demographics of female shoppers - millennials and Gen X - with a big emphasis on beauty and food products. Walgreens (NASDAQ:WBA) is also modernizing its business, showing off an updated mobile app, a strong loyalty program and revamped website.
The Philippines has ordered Sanofi (NYSE:SNY) to stop the sales and marketing of its Dengvaxia dengue vaccine in the country after the drugmaker warned last week it could worsen the disease in some cases. Some good news? U.S. researchers have found that a Zika vaccine Sanofi dropped in September produced strong responses in more than 90% of those taking part in an early-stage clinical trial.
Facebook is hiring an executive to negotiate sports deals, according to the Sports Business Journal, and has been interviewing candidates for a lengthy period. Whoever gets the Facebook (NASDAQ:FB) job will reportedly have a budget of "a few billion dollars" for Internet-only sports streaming deals. While that won't stretch far in the conventional TV world, it could still be used to acquire multiple licenses.
A Google supercomputer has created its own "AI child," which is more capable than any AI built by human hands. Known as NASNet, the open source system is able to identify objects, such as people and cars, in photos and videos. According to studies, the Google (GOOG, GOOGL) "brain" can pick out these objects with an 82.7% accuracy rate.
While Amazon Australia intended to go live on Black Friday, a few technical hiccups got in the way, forcing the launch to be postponed. Customers Down Under will now have an opportunity visit Amazon.com.au (NASDAQ:AMZN) today as the website officially opens for business. Local retail stocks are on the march higher, however, amid complaints of limited product range and uncompetitive prices.
Ireland will begin collecting €13B in back-taxes from Apple (NASDAQ:AAPL) as soon as early next year after both sides agreed to the terms of an escrow fund for the money. The tech giant is still appealing the case. "We remain confident the General Court of the EU will overturn the Commission's decision once it has reviewed all the evidence," Apple said in a statement.
Going deeper? Deutsche Bank (NYSE:DB) has received a subpoena from special prosecutor Robert Mueller over its real estate dealings with President Trump, who owed about $300M to the bank before moving into the White House. Those loans will likely be inspected to see if they "were guaranteed by the Russian government, or were in any way connected to Russia."
With fewer regulatory hurdles and a better strategic fit, Twenty-First Century Fox (FOX, FOXA) favors selling some assets to Disney (NYSE:DIS) over several deep-pocketed rivals, sources told Bloomberg. Meanwhile, Netflix (NASDAQ:NFLX) has announced that the final season of House of Cards will start production in 2018, but will not star Kevin Spacey, who is facing a number of sexual misconduct allegations.
Get your tickets... Regal Entertainment (NYSE:RGC) +6% premarket after British movie theater chain Cineworld agreed to buy the company for $3.6B, creating the world's second-largest cinema operator. The combined group's scale will help Cineworld mitigate any volatility in particular markets and match the global nature of rivals, including industry leader AMC Entertainment (NYSE:AMC).
Part of a broader realignment of its supply chain in North America, Toyota (NYSE:TM) has confirmed it will decide on a location for its joint U.S. factory with Mazda (OTCPK:MZDAY) in the first quarter of 2018. There's more than one state in the running for the $1.6B plant, said Jim Lentz, CEO of Toyota North America, outlining his belief that the Trump administration "will tweak, rather than throw out NAFTA."
General Motors is about to enable drivers to buy coffee, find gas or parking and make restaurant reservations with a touch of the dashboard. It will roll out the new technology on millions of existing 2017 and 2018 GM vehicles starting today. Called Marketplace, the system links drivers to vendors like Starbucks (SBUX), Dunkin' Donuts (DNKN) and Priceline (NASDAQ:PCLN) to place orders while on the road.
Plagued by weak vehicle sales in the region, Ford (NYSE:F) is launching 50 new vehicles in China by 2025, including 15 electrified vehicles, said Peter Fleet, Ford's head of Asia Pacific. The automaker has also been scrambling to come up with electric cars to comply with China's tough quotas for new energy vehicles, or NEVs, that come into play in 2019.
Japan Airlines is betting at least $10M to bring back supersonic commercial flight at speeds that top those of the doomed Concorde. The sum is going to Boom Supersonic, a startup hoping to develop a plane that could cut flight times in half with cruising speeds of Mach 2.2. Japan Air (OTCPK:JAPSY) also agreed to take an option to purchase up to 20 aircraft.
Today's Markets 
In Asia
, Japan 
-0.4%
. Hong Kong 
-1%
. China 
-0.2%
. India 
-0.2%
.
In Europe
, at midday, London 
+0.1%
. Paris 
-0.5%
. Frankfurt 
-0.4%
.
Futures at 6:20
, Dow 
+0.2%
. S&P flat. Nasdaq 
-0.4%
. Crude 
-0.5%
 to $57.20. Gold 
+0.1%
 to $1278.60. Bitcoin 
+0.5%
 to $11676.
Ten-year Treasury Yield
 flat at 2.38%
Today's Economic Calendar
8:30
International Trade
8:55
Redbook Chain Store Sales
9:45
PMI Services Index
10:00
ISM Non-Manufacturing Index