Tuesday's Market Prepper
Reads:
News:
Earnings: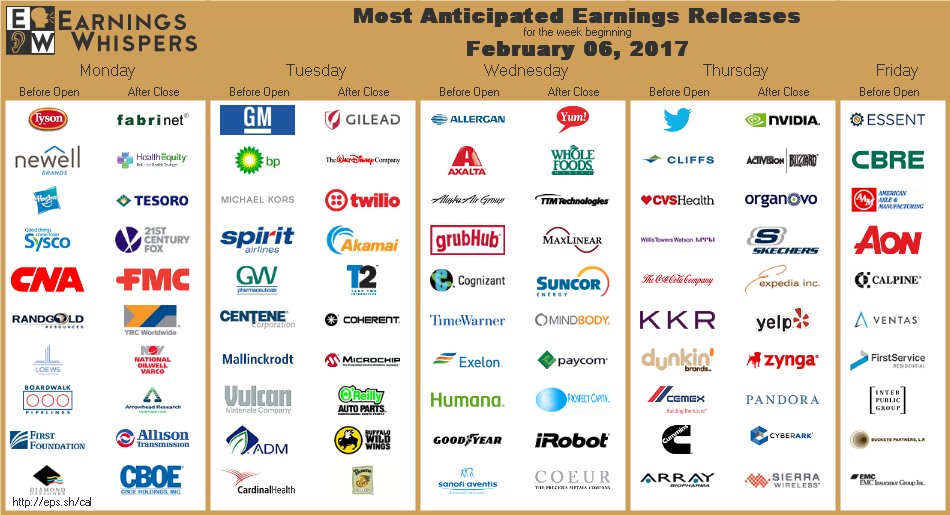 Premium:
Charts:
Tweets:
Eurozone outpacing global inflation?! Sacre Bleu! HS pic.twitter.com/aJSHIhLQ5F

— Driehaus (@DriehausCapital) February 7, 2017
S&P 500 at 35 days,this is now the longest streak in history w/o a 1% intraday move:high to low as % @charliebilello pic.twitter.com/rDi6PnjApO

— Steve Burns (@SJosephBurns) February 7, 2017
Oil falls after the biggest drop in two weeks on rising U.S. supply https://t.co/8nmq85B45x pic.twitter.com/saTX7u1zkC

— Bloomberg (@business) February 7, 2017
Seeking Alpha:
A light week of economic news is being overshadowed by a flurry of corporate results. Companies reporting today include General Motors (NYSE:GM), Michael Kors (NYSE:KORS), Yum! Brands (NYSE:YUM), Gilead Sciences (NASDAQ:GILD), Mondelez (NASDAQ:MDLZ) and most notably Disney (NYSE:DIS). Traders will be looking for S&P 500 firms to maintain the 7.5% average profit increase that has marked an encouraging Q4 earnings season so far and will likely be needed to sustain the market rally.
Economy
The Reserve Bank of Australia kept interest rates steady at record low 1.5% today and appeared to signal they would remain on hold for a while. "There is no longer an expectation of further monetary easing in other major economies," the central bank declared. It expects the economy Down Under to grow around 3% annually for "the next couple of years" and inflation to head above its 2% target over the course of 2017.
China's foreign exchange reserves have dropped below the $3T level for the first time since 2011, marking the seventh straight monthly decline as capital continues to flow out of the world's second-largest economy. Data from the PBOC showed reserves falling by over $12B in January, despite government efforts to tighten capital movement controls and stabilize the yuan's exchange rate.
Yields on two-year Greek bonds are up 9 basis points and are at their highest level since the middle of last year, as a rare split on IMF board puts the country's bailout at risk. The fund's annual review of the Greek economy showed they are in disagreement over the austerity measures imposed on Athens, the nation's huge debt burden and the need for further economic reforms.
Protesters in Romania are not backing down, even after the government gave in to their demands Sunday night. A controversial decree that would have decriminalized some graft offenses and shielded politicians from prosecution has been scrapped, but demonstrations have continued for a seventh night, calling for the government to resign. Romania was admitted into the EU in 2007.
In the U.K., the Speaker of the House of Commons plans to block President Trump from addressing parliament during his state visit as Prime Minister May urges "patient on constructive" talks with the new U.S. administration. "Our opposition to racism and to sexism, and our support for equality before the law and an independent judiciary, are hugely important considerations," John Bercow told cheering lawmakers.
After last week's non-farm payrolls report showed disappointing earnings growth and a tick up in the unemployment rate, many investors felt the odds of a March rate hike were off the table. But voting Fed member Patrick Harker just said another increase of 25 bps should be considered. "I still am supportive of three rate hikes this year, of course with a major caveat depending on how the economy and policy evolves."
The U.S. Justice Department has defended President Trump's immigration order, stating it's a "lawful exercise" of his authority. But a possible middle ground emerged as DOJ lawyers argued the suspension of the travel ban should be limited to people who are already granted entry to the country and were temporarily abroad. A federal appeals court hearing is set to rule on the policy late today.
Stocks
Overnight oil earnings: BP -4% premarket after Q4 underlying replacement cost profit fell to $400M, missing estimates, and came in at $2.59B for 2016, the lowest level in a decade. Capex for 2017 is expected to be $16B-$17B, the top end of BP's forecasted range. Meanwhile, a $2.3B impairment charge pushed Statoil (NYSE:STO) to a major loss in Q4, but the company maintained its dividend policy and said capex in 2017 would remain at the 2016 level of around $11B.
Singapore Exchange has held talks with Saudi Aramco (Private:ARMCO) on a secondary listing, after the oil and gas company suggested last week it would likely simultaneously list on more than one exchange. Sources told Reuters that the SGX talks were still at an early stage as Aramco, which is slated to list in 2018, reviews several markets - including New York, London, Hong Kong and Japan.
Tom Brady set a record for the winningest quarterback in Super Bowl history, but the New England Patriots' comeback against the Atlanta Falcons wasn't enough to set record ratings. The game drew an average TV audience of 111.32M, according to preliminary figures from Nielsen, making it the fifth most-watched, but Fox (FOX, FOXA) was able to reap additional advertising dollars when the game went into overtime.
comScore has received notice from Nasdaq, which intends to delist the stock and suspend trading effective today. That's after comScore (NASDAQ:SCOR) informed the exchange's Hearings Panel that it wasn't going to meet a Feb. 23 deadline to regain compliance with financial reporting requirements. Shares slid 1.3% in extended trading after plunging 28.4% during market hours.
Toshiba favors private equity bidders in the sale of a stake in its chip business as suitors, including rivals SK Hynix (OTC:HXSCF), Micron (NASDAQ:MU), Foxconn (OTC:FXCOF) and Western Digital (NYSE:WDC), vie with financial investors like Bain Capital. Toshiba (OTCPK:TOSYY) needs to raise funds by the end of March to offset an imminent multi-billion dollar nuclear unit writedown, meaning there may not be enough time to conclude a deal with another chipmaker.
The Chicago Stock Exchange has proposed a new speed bump that certain traders could bypass if they agree to strict trading obligations aimed at making it easier for others to buy and sell stocks. It would prevent "latency arbitrage" - when speedy traders detect a price change on one exchange and then race ahead to other exchanges to pick off quotes at stale prices.
Teva Pharmaceutical CEO Erez Vigodman is stepping down after three years, following a series of strategic stumbles and legal and operational setbacks. Chairman Yitzhak Peterburg will become interim CEO, but will no longer serve as chairman, since the roles must be separated under Israeli law. The board named former Celgene (NASDAQ:CELG) CEO Sol Barer to serve as the new chairman. TEVA -2.6% premarket.
Mylan has agreed to pay $96.5M to settle claims by drug purchasers that it delayed launching a generic version of Cephalon's narcolepsy drug Provigil in exchange for payment from Cephalon. "Nothing in the settlement agreement constitutes an admission of wrongdoing by Mylan (NASDAQ:MYL) or any of its affiliated entities or personnel," the drugmaker confirmed, adding that the terms are subject to approval by the district court.
Stepping up its efforts to make flying cars a reality, UBER has hired leading NASA engineer Mark Moore to spearhead its research into airborne vehicles. Moore has spent the last 30 years at the agency, but will now take on a new role as director of engineering at Uber Elevate. "I can't think of another company in a stronger position to be the leader for this new ecosystem," he said.
Shares in Fiat Chrysler fell 2.5% premarket after French investigators referred the carmaker for possible prosecution over abnormal emissions from some of its diesel engines. The referral makes it the third manufacturer to be referred to French prosecutors, after Volkswagen (OTCPK:VLKAY) and Renault (OTCPK:RNLSY). Following the decision, Fiat Chrysler (NYSE:FCAU) reiterated its diesel vehicles were fully compliant with emissions requirements.
Honda plans to set up a joint venture with Hitachi's (OTCPK:HTHIY) automotive parts unit to build motors for electric vehicles. Both companies will jointly shoulder development costs for the operation, which will have offices and manufacturing in China and the U.S. Honda (NYSE:HMC) aims to derive two-thirds of its sales from hybrids, battery-electric and hydrogen fuel-cell vehicles by 2030, according to CEO Takahiro Hachigo.
Marriott will soon introduce communal hotel rooms at its Element brand that could hold between six and 16 guests. Visitors will have their own bedrooms and bathrooms, but will share a kitchen, dining room and lounge area. Some think it's the chain's answer to Airbnb (Private:AIRB), but Marriott (NYSE:MAR) said they are perfect for groups traveling together.