Tuesdays Market Prepper
Reads:
News:
Charts:
Premium:
Yesterdays Unusual Option Action
Earnings this week: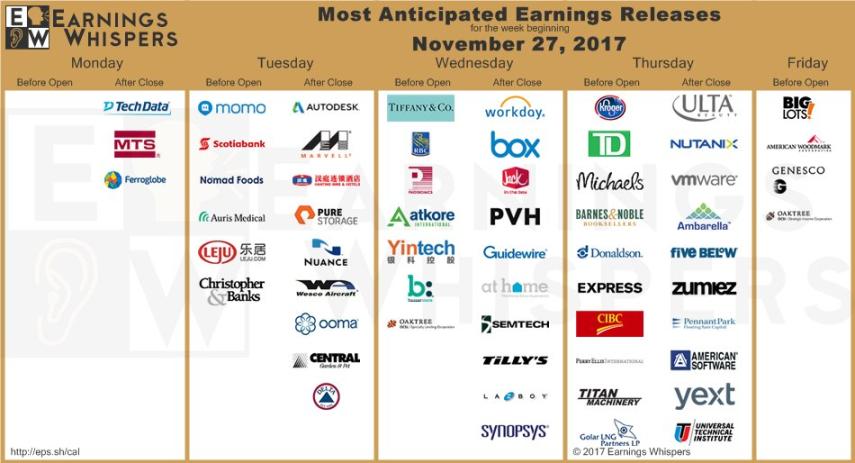 Seekingalpha:
In the latest report released by Adobe, Cyber Monday hit record revenues of $6.59B, making it the largest U.S. online sales day ever. In comparison, Black Friday and Thanksgiving Day brought in $5.03B and $2.87B respectively. The internet holiday shopping season has so far (Nov. 1-27) driven a total of $50B in revenue, a 16.8% increase, and Adobe predicts it will be the first-ever season to break $100B in online sales.
Economy
Marking his third visit in a little over a month, President Trump will head to Capitol Hill today to rally Senate Republicans on his signature tax bill. Among the holdouts are GOP Trump critics, including Sens. Jeff Flake of Arizona and Bob Corker of Tennessee, though Republican leaders are seeking to rope in straggling lawmakers with a flurry of dealmaking.
The U.S. Department of Labor has issued an 18-month-delay for key provisions of the fiduciary rule, which will now go into effect July 1, 2019. The extension will give the department time to review public comments received in recent months and satisfy President Trump's request to review the cost the rule poses to the wealth management industry and investors.
Ahead of his Senate confirmation hearing today, Jerome Powell signaled broad support for how the Fed operates and didn't signal a shakeup at the central bank. "Our aim is to sustain a strong jobs market with inflation moving gradually up toward our target," he said in prepared remarks. "We expect interest rates to rise somewhat further and the size of our balance sheet to gradually shrink."
The fight for control of the Consumer Financial Protection Bureau is intensifying as Mick Mulvaney, President Trump's pick to run the agency, imposed a hiring freeze and halted any new regulations. "Please disregard any instructions you receive from Ms. English in her presumed capacity as Acting Director," he wrote in an all-staff email that he also signed "acting director."
Next prediction from Wall Street... Stocks should peak in the first half of next year, with the S&P hitting 2,750, but then turn volatile as the market begins to sniff out a pullback, according to Morgan Stanley. While the firm doesn't anticipate a recession next year, it expects the "late-cycle" stock market to begin discounting one that could come in 2019.
An ISDA industry committee will reconvene today to discuss terms of two auctions that will determine the payout on some $1.5B of CDS contracts tied to Venezuelan bonds. Earlier this month, it declared the nation and state-owned oil company PDVSA in default after they failed to make timely payments on some of their debt.
British banks could cope with a "disorderly" Brexit without needing to curb lending or be bailed out by taxpayers, the Bank of England said after carrying out its annual stress tests. The BOE will still force U.K. lenders to hold an extra £6B in capital to guard against risks beyond Brexit and warned that the buffer could rise again in 2018.
Oil prices slipped overnight amid uncertainty over a possible extension of output cuts this week by OPEC and expectations of higher supply as the Keystone pipeline restarts today. According to a new filing, TransCanada (NYSE:TRP) has also asked the Nebraska Public Service Commission to reconsider its order approving an alternate pipeline route through the state.
Stocks
Royal Dutch Shell +3% premarket after cancelling its scrip dividend austerity policy and reinstating an all-cash dividend, drawing a line under years of oil turmoil. Shell (RDS.A, RDS.B) further reiterated a 2015 plan to buy back at least $25B of shares from 2017 to 2020, subject to reducing debt further and a recovery in crude prices.
He'll be a tough act to follow, but Airbus (OTCPK:EADSY) has chosen Rolls-Royce (OTCPK:RYCEY) executive Eric Schulz to replace "legendary" sales chief John Leahy, who is set to retire next year. During his 23-year reign, Leahy transformed Airbus into an industry giant capable of battling Boeing (NYSE:BA), securing over 16,000 aircraft orders and racking up more than $1.7T in jetliner deals.
Executives from General Motors (NYSE:GM), Fiat Chrysler (NYSE:FCAU) and Ford (NYSE:F) urged VP Mike Pence on Monday to tap the brakes on proposed changes to NAFTA that they say could add thousands of dollars to car costs in the United States. The high profile meeting in Washington also included U.S. Trade Representative Robert Lighthizer and National Economic Council Director Gary Cohn.
Shopping for a bargain? SoftBank (OTCPK:SFTBY) is offering to purchase shares of UBER at a valuation of $48B, a 30% discount to its most recent valuation of $68.5B, sources told Bloomberg. Investors will reportedly have 20 business days to respond to the offer which would give the Japanese investor up to 17% of the ride services company.
Laying out a common product road map for joint customers, Microsoft (NASDAQ:MSFT) and SAP have agreed to expand the use of each other's cloud-based services, like S/4 HANA and financial systems on Azure. The two companies agreed 18 months ago to work together to integrate Microsoft Office 365 into SAP, while the latter would run its HANA database software on Azure.
Roku shares soared 18% yesterday after getting its price target raised to a street-high of $50 from Needham's Laura Martin. She boosted 2018 estimates and expects the company to hit break-even in EBITDA in Q3 2018, a quarter earlier than expected. "Like Netflix (NASDAQ:NFLX), we view ROKU as a pure-play on over-the-top (OTT) TV-viewing growth, but ROKU has no content risk."
In a hearing on Monday, U.S. Supreme Court justices appeared divided over the USPTO's in-house process, known as inter partes review, for challenging patents. The reviews have been especially popular with tech firms such as Apple (NASDAQ:AAPL) and Samsung (OTC:SSNLF) that are common targets of infringement suits, but others, like pharma companies AbbVie (NYSE:ABBV), Allergan (NYSE:AGN) and Celgene (NASDAQ:CELG), say the process is a threat to innovation.
With "political emotions" running high in Europe, Unilever (UL, UN) is delaying a decision on whether to pick Britain or the Netherlands as its home base, FT reports. CEO Paul Polman promised in April to review the group's dual structure - involving two parent companies, two headquarters and two stock market listings - and issue a verdict by the end of the year.
The chief executive of Reynolds American, which was taken over by British American Tobacco (NYSEMKT:BTI) in July, will leave the group at the end of the year. The news comes six months after it was announced she would remain at the helm once the $49.4B deal was complete. Debra Crew will be replaced by Ricardo Oberlander, currently regional director for the Americas.
Evidence that Wells Fargo swindled some of its clients has emerged from a June conference call led by its managers, WSJ reports. Of the roughly 300 fee agreements for foreign exchange trades, only about 35 firms were billed the price they had been quoted. The malpractice is said to be tied to Wells Fargo's (NYSE:WFC) unusual policy, where higher bonuses were tied to the revenue brought in by traders.
SpaceX has raised another $100M as part of its latest funding round, according to new regulatory documents, valuing the startup at $21.5B. Led by Elon Musk, SpaceX (Private:SPACE) has been ramping up its rocket launches, including its reusable booster technology, and has dreams of providing high-speed internet satellites and an "interplanetary transport system" to Mars.