Tuesdays Market Prepper
Reads:
News:
Premium:
Charts:
Earnings this week: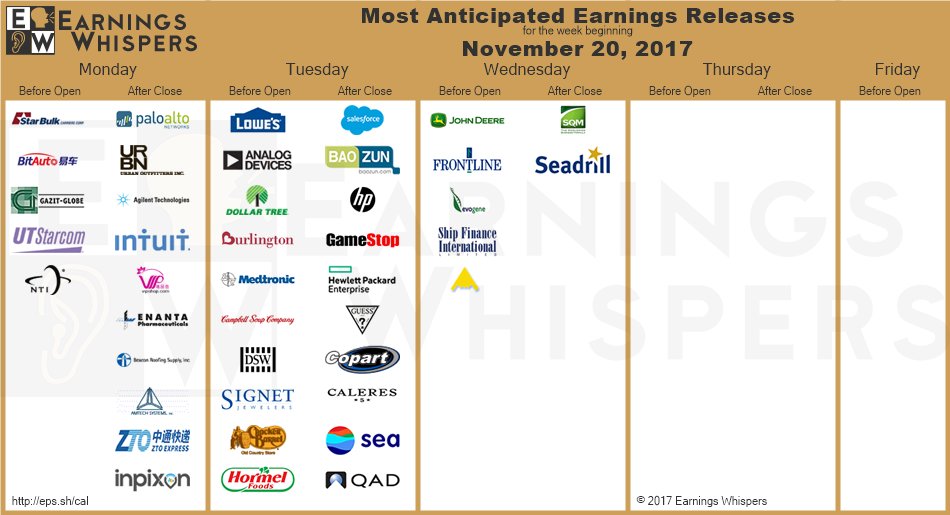 Unusual Option Action:
Seekingalpha:
Tencent's stock market cap has risen above that of Facebook (NASDAQ:FB), climbing as much as 4.7% to $534.5B, the day after it became the first Chinese company to break through the $500B mark. Investors have been piling into the WeChat social networking giant, extending this year's share rally to 127%. Tencent (OTCPK:TCEHY) also ousted Facebook from the list of the world's five largest corporations, which includes Apple (NASDAQ:AAPL), Alphabet (GOOG, GOOGL), Microsoft (NASDAQ:MSFT) and Amazon (NASDAQ:AMZN).
Economy
Fed Chair Janet Yellen is scheduled to participate in a moderated discussion at the NYU Stern School of Business, where she's expected to discuss the direction of policy and Wall Street oversight in the years ahead. It comes after Yellen announced she would resign from the Fed's Board of Governors once Jerome Powell is sworn into the office, leaving yet another vacancy at the central bank.
U.S. District Court Judge William Orrick has blocked President Trump's executive order which would cut funding from sanctuary cities that limit cooperation with U.S. immigration authorities. It will "cause constitutional injuries by violating the separation of powers doctrine and depriving [the counties] of their Tenth and Fifth Amendment rights," he wrote. The Trump administration has appealed the decision.
Negotiators from NAFTA nations will square off today as the fifth round to renegotiate the trade pact comes to an end in Mexico City. Officials say Mexico and Canada will firmly push back against the American demand to raise the minimum threshold for autos to 85% from 62.5%, as well as a requirement that half the content is from the United States.
The U.S. is poised to reinstate its designation of North Korea as a state sponsor of terrorism, leading to further sanctions from the Treasury and some significant measures to be announced today. Pyongyang was removed from the list in 2008 following negotiations with world powers on disabling its nuclear facilities. The talks eventually broke down but North Korea stayed off the list, until now.
Russia is about to end its military operation in Syria that tipped the six-year civil war in favor of government forces, President Vladimir Putin said at surprise talks with Syrian President Bashar Assad. The meeting follows the recent capture of Albu Kamal by Syrian troops and their allies, which the last major inhabited area held by Islamic State in Syria.
According to President Frank-Walter Steinmeier, Germany is facing its worst governing crisis in the history of its post-WWII democracy and pressed all parties in parliament "to serve our country" and form a government. It comes after Angela Merkel said she would prefer fresh elections to ruling with a minority government after talks on forming a three-way coalition collapsed. The euro is flat on the session at $1.1736.
Following three rounds of voting that failed to produce a winner, the EU has picked Paris as the new host for its London-based European Banking Authority after Britain leaves the bloc. With Paris tying Dublin in the third vote, the Estonian chairman of the meeting picked the winner according to a pre-agreed procedure.
Persistent political risk and concerns over inflation hammered Turkish bonds and sent the lira to its lowest level of the year on Monday, but the currency opened weaker again today. As a result, the central bank announced new efforts to tackle "lira liquidity," with a cut to banks' borrowing limits that will boost funding costs for institutions by an average of 0.25 percentage points.
Stocks
TransCanada rose 1.3% yesterday after Nebraska regulators cleared plans for the Keystone XL pipeline running through the state. The approval was not for TransCanada's (NYSE:TRP) most preferred route, but for a more costly alternative that would add 5 miles of pipeline, along with an additional pumping station and related transmission lines.
Due to safety concerns, the U.S. Army Corps of Engineers temporarily halted Fluor's (NYSE:FLR) work under its Puerto Rico power restoration contract, but expects the work to resume today. It comes after the company announced the completion of a high priority 38kv power line close to San Juan. Fluor shares have returned almost 25% in the past three months.
Biggest push yet to roll out autonomous cars... Volvo (OTCPK:GELYF) has struck a deal to supply UBER with up to 24,000 self-driving SUVs for its taxi fleet between 2019 and 2021. In separate news, Uber has been hit with an $8.9M fine by Colorado's public utilities commission after regulators found that dozens of drivers were operating there despite often egregious criminal histories.
Tesla shares have now dropped more than 20% since an intraday all-time high of $389.61, set roughly two months ago in mid-September. The Semi and next-gen Roadster created a buzz since they were unveiled last week, but some investors remain concerned over issues like whether Tesla (NASDAQ:TSLA) can deliver on its production goals and secure the gross margins it expects for the Model 3.
Bitcoin took its steepest dive in over a week, falling as much as 5.4% to $7,798, before paring declines to 0.5%, after a cryptocurrency peer renewed concern about the security of digital coins. A "malicious" hacker removed $31M of tokens from the Tether Treasury wallet on Nov. 19 and sent them to an unauthorized bitcoin address. Tether's development team is now trying to prevent the stolen coins from being used.
AT&T is prepared to go to trial, ideally within 60 days, after the DOJ sued the company to block its $85.4B acquisition of Time Warner (NYSE:TWX), according to the lead trial counsel representing AT&T (NYSE:T). "We are going to ask the court for the earliest possible date," Daniel Petrocelli, a partner at O'Melveny & Myers, told reporters at a news conference.
As part of its $103B bid, Broadcom (NASDAQ:AVGO) has hinted that it would make big changes to Qualcomm's (NASDAQ:QCOM) patent licensing business. It's a major cash-cow for the company, with some $5.1B in pre-tax profits in fiscal 2017, but it's also a source of bitter conflict with regulators and key customers including Apple (AAPL).
Amazon has introduced a cloud service for the CIA, six years after the tech giant introduced GovCloud, its first data-center region for public-sector customers. AWS Secret Region (AMZN) can also be used by government agencies outside the intelligence community if they have high enough clearance. The announcement comes about a month after Microsoft (MSFT) launched Azure Government Secret.
The allegations keep coming... CBS, PBS and Bloomberg have suspended Charlie Rose following a Washington Post report in which eight women claimed he sexually harassed them. Glenn Thrush has also been suspended by the New York Times (NYSE:NYT) following accusations of sexually inappropriate behavior toward women, while 21st Century Fox (NASDAQ:FOXA) reached a $90M settlement tied to its companywide sexual harassment scandal.