Tuesdays Market Prepper
Reads:
News:
Premium:
Charts:
Earnings: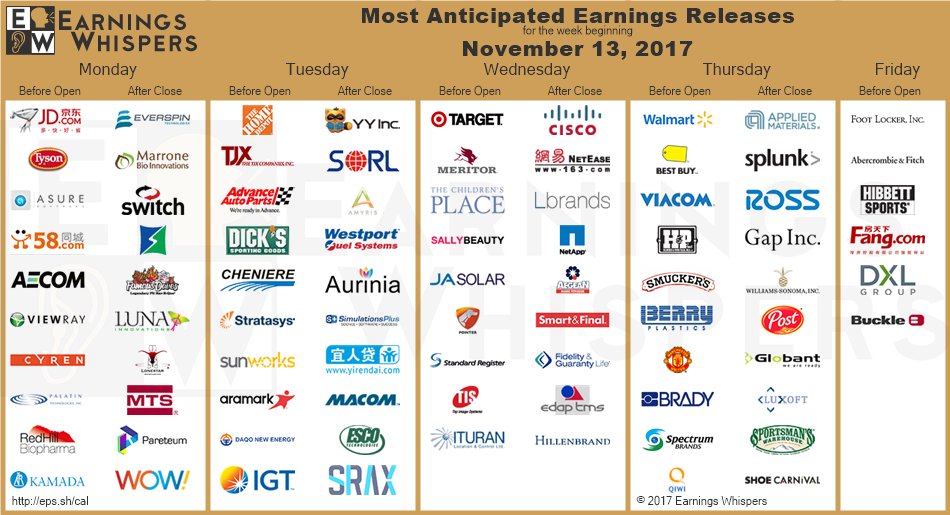 Option Data:
Seekingalpha
Janet Yellen, Mario Draghi, Mark Carney and Haruhiko Kuroda walk into a bar... well, it's actually a conference without drinks, but it's happening today. The quartet has taken the stage together in Frankfurt for an ECB hosted panel on "Communications challenges for policy effectiveness." During her time at the podium, Janet Yellen admitted the Fed could be confusing the public with its many voices and said "this really is one of the challenges of our system."
Economy
President Trump wouldn't support tax legislation with a corporate tax rate of more than 20% as part of any future compromise between the House and the Senate, Steven Mnuchin told the Wall Street Journal CEO Council. He also said the Treasury Department believes the plan, which congressional analysts estimate would cost $1.4T over a decade, would ultimately make up the lost revenue through stronger economic growth.
S&P has downgraded Venezuela's foreign currency sovereign credit rating to "selective default" after it failed to make $200M in payments on its global bonds. The decision capped off a day in which the government promised to keep paying its debts, but offered no firm proposals, at a conference in Caracas. State oil producer PDVSA has already been said to be in default by Fitch Ratings and Moody's Investors Service.
Greece will distribute €1.4B as a social dividend to pensioners and others hit hard by the nation's austerity programs, Prime Minister Alexis Tsipras announced late Monday. The cash is available because the country has beaten its 2017 bailout target for a primary surplus - which excludes debt servicing costs - of 1.75% of gross economic output.
British-based banks looking to keep their access to the EU markets need to "move quickly," regardless of the "final outcome" of Brexit negotiations, according to ECB Supervisor Daniele Nouy. She added that larger banks are making good progress but some smaller lenders appeared to be delaying their decision on whether to relocate to the EU.
The German economy picked up pace in Q3, underpinned by global demand and higher corporate investment. GDP grew at an annualized rate of 3.3%, compared with 2.6% in the second quarter, providing the latest evidence of an acceleration in the eurozone's biggest economy. The figures sent the euro up overnight, rising 0.5% to $1.1724.
Many believe Saudi Arabia intends to do to Lebanon what it did to Qatar - corral Arab allies into enforcing an economic blockade, but others are less worried about sanctions. Lebanon's central bank Governor Riad Salameh said the country's financial system will be able to withstand the latest political crisis with no special measures, adding that the level of outflows so far had "surprised positively."
The U.S. will become the world's "undisputed" leader in oil production, with growth in its output through 2025 to be the strongest seen by any country in the history of crude oil markets, the IEA predicted in its annual World Energy Outlook. Sparked by technological advances from its shale fields, U.S. production will see growth of 8M bpd during 2010-25, accounting for 80% of the increase in global supply over the period.
Stocks
Vodafone +4.9% premarket after doubling its full-year growth forecasts, boosted by a strong rollout of IoT services and taking the knife to costs. The company now expects adjusted EBITDA to expand by around 10%, to between €14.74B-€14.95B. "It's the first time we have raised Vodafone's (NASDAQ:VOD) organic EBITDA guidance in recent history," said CEO Vittorio Colao.
Beijing Sinnet Technology is buying physical infrastructure assets of Amazon's (NASDAQ:AMZN) cloud business in China for up to 2B yuan ($301M), but the latter will still own intellectual property and isn't exiting the world's second-largest economy. A regulatory filing said the purchase, which is still pending, would help Amazon "comply with Chinese law that forbids non-Chinese companies from owning or operating certain technology for the provision of cloud services."
Separately, Amazon has told regulators it will not be using the pharmacy licenses it obtained from Tennessee and Indiana to sell prescriptions, but will instead use them to sell medical devices and supplies. That said, most industry experts aren't ruling out the possibility of Amazon (AMZN) entering the prescription drug market. However, they maintain that it's a matter of if, not when.
The FDA has approved the first digital pill - made by Otsuka Pharmaceutical (OTCPK:OTSKY) and Proteus Digital Health (Private:PRDI) - that is embedded with a sensor and can tell doctors whether, and when, patients take their medicine. While a patient can block transmissions via a smartphone app, the technology is still likely to prompt questions about privacy.
General Electric set forth a new agenda on Monday as it tried to claw its way back to stronger growth amid a reduced dividend and an aggressive corporate restructuring. The 125-year-old industrial conglomerate will also be cutting the number of seats on its board and will slice 25% of staff from its home office. GE shares sunk almost 8%, marking their worst day since April 2009.
Calling all bitcoin bears: You will be able to bet against the cryptocurrency in about a month. "When can you be able to short this product, I think sometime in the second week in December you'll see our contract out for listing," said CME Chairman and CEO Terry Duffy. "So you create a two-sided market, I think it's always much more efficient."
A bipartisan group of U.S. senators has reached a tentative deal to cut the number of banks labeled systemically risky, in a major step forward for efforts to roll back Dodd-Frank. It would raise the threshold at which banks are subject to boosted regulation to $250B in assets from the current $50B, meaning the number of institutions subject to the Fed's annual stress test would be just 12, instead of 38.
Roku shares soared nearly 43% yesterday after signing a licensing deal that would put its technology on Philips-branded televisions in the U.S. The surge has also made CEO Anthony Wood into a brand-new billionaire. The stock has spiked more than 70% since last Thursday, when investors jumped on the company's first earnings report since ROKU's IPO in September.
Confirming earlier rumors, Lord & Taylor (OTCPK:HBAYF) will launch a "flagship store" on Walmart.com (NYSE:WMT) in spring 2018. Sign of the times? Walmart is making heavy investments in its online operation in order to stay competitive with Amazon (AMZN), while department stores are trying to shore up online sales amid flagging foot traffic.
Buffalo Wild Wings climbed 22% in after hours trading after WSJ reported a takeover bid valued at more than $2.3B from Roark Capital. Investment bankers at Barclays are working with Roark, while Goldman Sachs is advising Buffalo Wild Wings (NASDAQ:BWLD). The company was founded in 1982 and went public in 2003.
Latest from the Dubai Airshow: Boeing (NYSE:BA) has signed off on a $1.3B deal to sell four cargo freighters to Ethiopian Airlines. Meanwhile, Bombardier (OTCQX:BDRAF) is in advanced talks with EgyptAir over a potential $1.1B order for CSeries jets after Airbus (OTCPK:EADSY) took a majority stake in the program. Defense news... The UAE is buying laser-guided missiles from Raytheon (NYSE:RTN) in a deal worth $684M.