Tuesdays Market Prepper
Reads:
News:
Yesterdays  Unusual Option Action
Premium:
Earnings: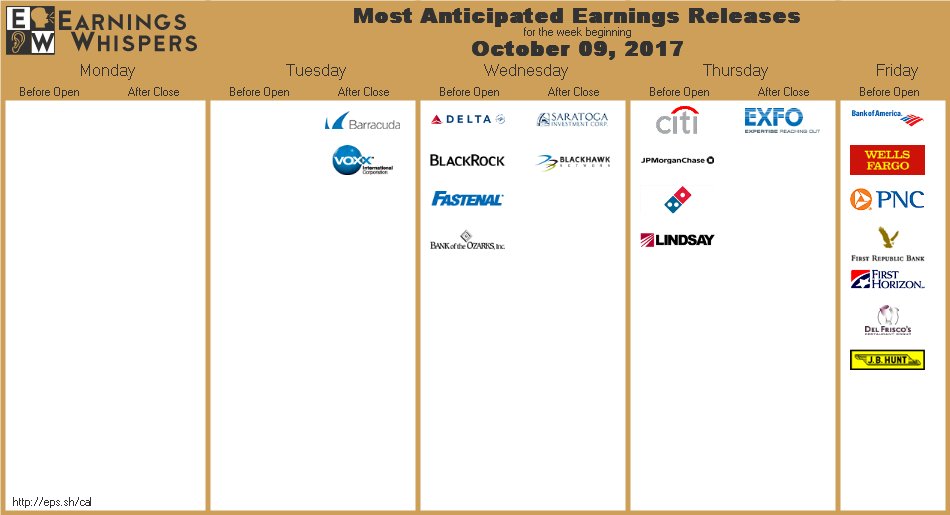 Charts:
Seekingalpha:
European stock markets are treading cautiously amid concerns about political instability in Spain as well as a strengthening euro, offsetting a solid showing in Asian trading. "Investors are yearning for confirmation today that the Spanish situation can calm down," according to strategists at Commerzbank, as Catalonia's president is expected to address the regional parliament at 6 p.m. local time today and possibly declare independence from Spain. Yet Europe's economic recovery continues to broaden, as German exports surged in August due to strong eurozone demand, surging 3.1% from July and 7.2% from August 2016, and factories in the U.K. wrap up their strongest two-month period of the year so far.
Economy
The Trump administration will formally withdraw from the Obama-era Clean Power Plan today, EPA Administration Scott Pruitt announced. "Regulatory power should not be used by any regulatory body to pick winners and losers," Pruitt said yesterday at a speech in the coal mining state of Kentucky. The Clean Power Plan, which required states to reduce greenhouse gas emissions by one-third by 2030, was blocked by the Supreme Court in February 2016 as it worked its way through the courts. New York state Attorney General Eric Schneiderman says he will sue to stop the repeal, likely one of several lawsuits in what promises to be a broad legal fight from states and environmental groups to preserve the plan.
Oil prices are stable so far today, with OPEC pointing to a rebalancing market even as the U.S. looked forward to getting production back on track following Hurricane Nate. "There is clear evidence that the market is rebalancing," OPEC's secretary general Mohammad Barkindo says. "The process of global destocking continues, both onshore and offshore, with positive developments in recent months showing not only a quickening of the process but a massive drainage of oil tanks across all regions. OPEC and other producers are looking to create an extension of their deal to cut production ahead of the official November meeting of the cartel; the cuts currently are set to expire in March.
Finance experts from the eurozone are weighing in on comments made by outgoing German finance minister Wolfgang Schäuble, who warned in a weekend interview of the potential for another global financial crisis driven by debt and liquidity problems. Eurozone officials told CNBC that they largely share Schäuble's concerns, and believe debt and liquidity should be closely monitored. The influential Schäuble, who is due to leave his post as finance minister and become president of Germany's parliament in the next Merkel administration, said high debt levels - attributable to the loose monetary policies of central banks across the world, which were adopted in response to the global financial crisis in 2008 - present a threat to the global economy.
Stocks
General Electric tumbled nearly 4% yesterday en route to its lowest level since August 2015, as investors were rattled by a management shakeup that included the exit of the CFO and two other top executives and what the move might portend about Q3 results to be announced next week. J.P. Morgan analyst Stephen Tusa views the departures as a "clear negative" for the stock, which indicates that the fundamental challenges facing GE are worse than Wall Street has expected. Tusa also thinks the chance of a dividend cut has moved "materially higher." Meanwhile, GE has given Trian Fund founding partner Ed Garden a seat on its board, evidently with more critical items on its plate than the distraction of a potential proxy fight.
Google has uncovered evidence that Russian operatives used its platforms to interfere with the November 2016 U.S. election, according to multiple reports. The disinformation campaign hit YouTube, Google's DoubleClick ad network and Gmail (GOOG, GOOGL). The ads reportedly were funded with tens of thousands of dollars but did not trace back to the same "Kremlin-affiliated troll farm" that advertised on Facebook (NASDAQ:FB), a sign that the Russian effort to spread fake news online may be a much broader problem than previously understood. Google is said to have shared some of the Russian-bought ads with congressional investigators.
Procter & Gamble is set to become the biggest company ever to face a shareholder vote over a proxy contest, seeking to prevent Trian Fund CEO Nelson Peltz from securing a seat on its board of directors. After the two sides collectively spent more than $100 million on mailings, phone calls and advertisements to woo investors, the outcome as of late Monday reportedly was too close to call. Peltz wants PG to reorganize into three business units: beauty, grooming and healthcare; fabric and home care; and baby, feminine and family care. The vote will be influenced more than usual by individual stock owners, who collectively hold about 40% of PG's stock, a much higher proportion than at most big companies.
Online users have slammed Mark Zuckerberg as a "heartless billionaire" after the Facebook (FB) CEO live-streamed a virtual reality cartoon avatar of himself in hurricane-ravaged Puerto Rico. The tone-deaf display was part of Zuckerberg's demonstration of Facebook Spaces, a product that allows users to create a 3-D virtual avatar of themselves to use with an Oculus Rift VR headset and communicate with each other by having their avatars be in the same space, even if the real people talking are not. Zuckerberg also talked about features such as Safety Check, which allows Facebook users to mark themselves safe when a natural disaster hits, and said the company had donated more than $1.5M to Puerto Rico relief efforts.
A scandal has erupted beyond company borders in Japan over false data supplied by Kobe Steel (OTCPK:KBSTY) over the strength and durability of its products used in some mission-critical applications in cars, aircraft and perhaps a rocket. The falsification was intended to make metals look like they met clients' quality standards. Kobe Steel has acknowledged shipping products including copper and aluminum products to more than 200 customers but did not disclose their names. Toyota (NYSE:TM), Honda (NYSE:HMC) and Subaru (OTCPK:FUJHY) all said they used materials from Kobe Steel that were subject to such falsification. Boeing (NYSE:BA) gets some parts from Subaru but says nothing so far has raised safety concerns. Other top Kobe customers by revenue: Shinsho Corp., Mitsubishi (OTCPK:MSBHY), General Motors (NYSE:GM), Ford Motor (NYSE:F), Nissan Motor (OTCPK:NSANY).
Today's Markets 
In Asia
, Japan 
+0.64%
. Hong Kong 
+0.58%
. China 
+0.26%
. India 
+0.24%
.
In Europe
, at midday, London 
+0.20%
. Paris 
-0.09%
. Frankfurt 
-0.14%
.
Futures at 6:20
, Dow 
+0.15%
. S&P 
+0.13%
. Nasdaq 
+0.17%
. Crude 
+0.89%
 to $50.01. Gold 
+0.65%
 to $1,293.40.
Ten-year Treasury Yield
 -14 bps to 2.354%.
Today's Economic Calendar
6:00
NFIB Small Business Optimism Index
8:55
Redbook Chain Store Sales
10:00
Fed's Kashkari speech