Tuesdays Market Prepper
Reads:
News:
Premium:
Charts:
Earnings: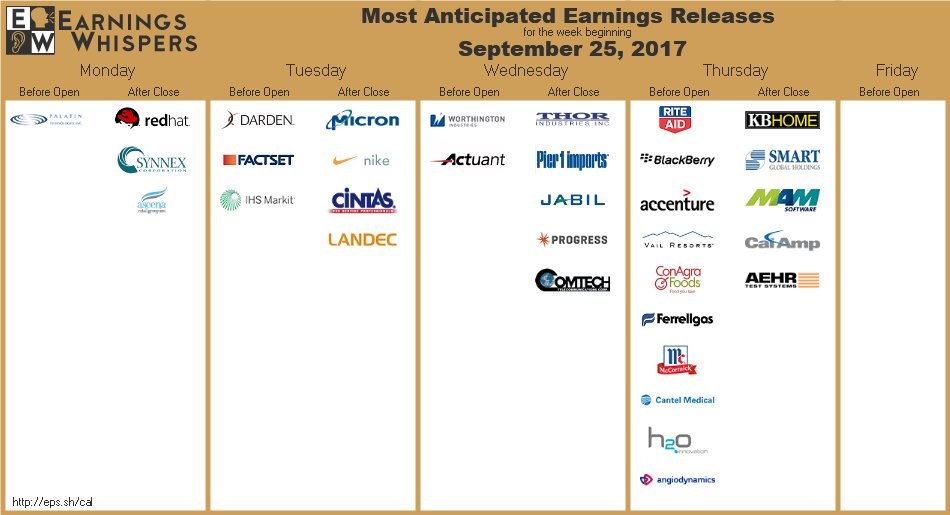 Yesterdays  Unusual Option Action:'
Seekingalpha:
A slew of upcoming speeches by Fed officials will be closely monitored by investors following last week's more-hawkish-than-expected outlook from the central bank. Chairwoman Janet Yellen is up first today, speaking on "Inflation, Uncertainty, and Monetary Policy" before the National Association for Business Economics. Also speaking in the days ahead is Vice Chair Stanley Fischer, in what may be his final public speech before he retires next month.
Economy
Tensions between the U.S. and North Korea have reached a new level as the country's foreign minister said President Trump's recent comments amount to a declaration of war, threatening to shoot down American warplanes outside North Korean airspace. The White House called the claim of a war declaration "absurd." Safe haven assets made gains following the comments, with gold rising further above the $1,300 level.
Commerce Secretary Wilbur Ross is in China to discuss the need for "meaningful action" on key trade issues. He shared American concerns over forced technology transfers and data localization requirements, while stressing his intent to cut the trade deficit with the world's largest exporter. Chinese officials committed to "further market openness" and welcomed U.S. firms' participation.
Spanish Prime Minister Mariano Rajoy will meet President Trump in Washington today, while his team back in Madrid warns that it's game over for the Catalan independence referendum. The up-down vote will take place this Sunday. U.S. companies including Procter & Gamble (NYSE:PG) and DowDuPont (NYSE:DWDP) are among the largest foreign investors in Spain and have operations in Catalonia.
The Iraqi government has ruled out talks on possible secession for Kurdish-held parts of northern Iraq after a referendum on independence showed strong support for a split. It follows threats from Turkish President Tayyip Erdogan, who warned of cutting off the Ceyhan pipeline that carries the Kurdish region's entire oil production - 500K-600 bbl/day - to the outside world.
Hurricane Maria has caused up to $85B in insured losses, according to catastrophe modeling firm AIR Worldwide. "Texas & Florida are doing great but Puerto Rico, which was already suffering from broken infrastructure & massive debt, is in deep trouble," President Trump wrote on Twitter. "Much of the Island was destroyed, with billions of dollars owed to Wall Street and the banks which, sadly, must be dealt with."
Stocks
The drama goes on... Western Digital (NYSE:WDC) is seeking an injunction to block the sale of Toshiba's (OTCPK:TOSYY) semiconductor business to a consortium led by Bain Capital. The latest legal action is being sought with the International Court of Arbitration, where Western Digital initiated proceedings against its partner earlier this year.
Amid a tech selloff yesterday, Apple (NASDAQ:AAPL) shares flirted with correction territory following a report that the tech titan asked suppliers to scale back shipments of iPhone X parts. Apple also announced it was ditching Microsoft's (NASDAQ:MSFT) Bing for Google (GOOG, GOOGL) as the default search engine for Siri and Spotlight. The switch happened for "a consistent web search experience with the default in Safari."
Toys "R" Us has closed on $3.1B of financing facilities that will support the company's operations during its previously announced restructuring process. That's good news for vendors Mattel (NASDAQ:MAT), Hasbro (NASDAQ:HAS) and JAKKS Pacific (NASDAQ:JAKK), as the debtor-in-possession financing will likely eliminate collection risk in the fourth quarter.
Adding interactive experiences and live streams of theme park parades, Disney (NYSE:DIS) is testing the first major redesign of its retail stores since 2010 and is launching a new shopping website. The world's largest entertainment company has grown and shrunk its network of retail outlets over the years, and at one point sold off its U.S. and Canadian locations.
Spooking investors... Netflix (NASDAQ:NFLX) fell almost 5% on Monday after FX Networks (FOX, FOXA) announced that its FX+ streaming service will be included on Cox Communications in October. FX worked out a deal with Comcast (NASDAQ:CMCSA) earlier this month. FX+ costs consumers $5.99 per month for no-ad on-demand access to 16 FX series past and present.
Alibaba is raising its stake in logistics affiliate Cainiao to 51% from 47% by investing 5.3B yuan ($801M). It also expects to invest 100B yuan, or $15.2B, over the next five years to boost its global logistics network. Future goals? Alibaba (NYSE:BABA) wants to fulfill orders on the mainland withing 24 hours and within 72 hours globally.
Razor wars: Gillette (PG) has sued Edgewell (NYSE:EPC), the maker of Schick razors, for the second time in 13 months, seeking to stop its sale of blade cartridges designed to fit Gillette's Fusion handles. Gillette filed its latest lawsuit roughly six months after slashing razor prices an average of 12% to keep rivals from cutting into its still-dominant market share.
Facing pressure from Daniel Loeb's Third Point, Nestle (OTCPK:NSRGY) has for the first time set a target for increasing profit margins ahead of a much-awaited investor day in London. The company will aim for underlying trading operating profit margins of between 17.5% and 18.5% by 2020, up from 16% last year, while speeding up share buybacks and pursuing external growth opportunities.
SEC Chairman Jay Clayton is expected to be grilled by the Senate Banking Committee later today over the 2016 hack of EDGAR. He reportedly only learned about the breach last month, but he's been on the job since May. Investigators are looking into suspicious trading that happened after the attack, which could have accessed millions of market-sensitive corporate disclosures.
A new global operations center? JPMorgan (NYSE:JPM) plans to hire more than 3,000 people for the new facility in Warsaw, according to the Polish Development Ministry. Possible other contenders to host the center were Budapest and the Polish city of Wroclaw, though reports in April suggested that Warsaw was the front-runner.
Marking the first major strategic move by new CEO Brian Duperreault, AIGis reorganizing into three new units and will no longer have separate commercial and consumer businesses. Under the new structure, the company will have a general insurance division, a life and retirement unit and a stand-alone technology business. Duperreault is widely seen as a turnaround expert.
Boeing has opened an office for a potential new mid-market jet, taking it a step closer to deciding whether to launch the new airplane. It would fit between the 737 series of single aisle jets and the wide body 787. The "New Mid-market Airplane" office will be run by Mark Jenks who currently heads Boeing's (NYSE:BA) Dreamliner program.
Jaguar Land Rover, the luxury unit of Tata Motors (NYSE:TTM), is scouting for acquisitions of international automakers amid rising competition in the industry, Bloomberg reports. The company has been holding internal discussions on buying other brands to diversify the range of vehicles it sells and is considering purchases of luxury marques that fit with its current portfolio.
London Mayor Sadiq Khan has asked Transport For London to meet UBER's CEO after the ride-hailing service apologized for its "mistakes." In an open letter, Dara Khosrowshahi said the firm must change, vowing to appeal the decision to strip its license in the capital. Uber's 40,000 drivers will continue to operate until the appeals process is exhausted, which could take months.
WhatsApp suffered a complete blockage in China this week as the government stepped up security ahead of a Communist Party meeting in October. The service is Facebook's (NASDAQ:FB) only product allowed to operate on the mainland. Chinese authorities have also handed down maximum fines to Baidu (NASDAQ:BIDU), Tencent (OTCPK:TCEHY) and Weibo (NASDAQ:WB) for failing to deal with pornography, violence and other banned content on their sites.
After a hotly political weekend in the NFL, a few of the league's corporate sponsors have started speaking out. Ford (NYSE:F), Nike (NYSE:NKE), Under Armour (NYSE:UAA) and AB InBev (NYSE:BUD) have issued statements that appeared to affirm players' rights to kneel during the pre-game national anthem, while sounding patriotic notes and displaying support of the flag.