Tuesdays Market Prepper
S&P500 futures are off .5% after N Korea Missile Launch
Reads:
News:
Charts:
Fridays Unusual Option Volume:
Earnings: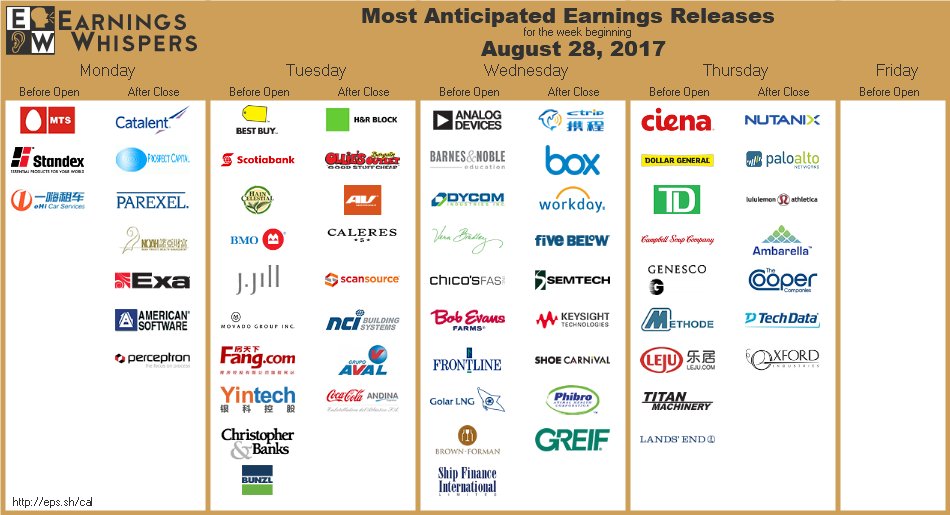 Seekingalpha:
The "flight to safety" trade is being seen across financial markets after Pyongyang fired a ballistic missile over Japan, while the U.S. and South Korea wrapped up their annual military drills in the area. U.S. stock index futures and global shares are flashing red, while gold, the yen and Swiss franc are all getting a bid. Describing the test as an "unprecedented, grave threat," Prime Minister Shinzo Abe called for an emergency meeting of the UN Security Council.
Economy
Floodwaters from Tropical Storm Harvey are likely to rise, with forecasts for another 10 to 20 inches of rain in the coming days. Insured losses could be as much as $10B-$20B, according to JPMorgan, putting it among the top 10 costliest hurricanes to hit the U.S. Impact on stocks? Oppenheimer Asset Management pointed out that losses from Katrina and Sandy "were digested and discounted by the markets and the national economy relatively quickly."
Meanwhile, U.S. fuel prices continue to rise as more Gulf Coast refiners cut output, leaving more than 13% of the country's refining capacity offline. Gasoline for September delivery climbed as much as 2.77 cents to $1.74 a gallon, while crude prices dipped slightly to $46.50/bbl. "Data available so far point to sizably larger refining than production disruptions," Goldman Sachs said in a research note.
Looking elsewhere for trade? Mexican President Enrique Pena Nieto is scheduled to hold a bilateral meeting with China's President Xi Jinping at the BRICS summit next week as he looks to decrease its dependence on NAFTA. He'll also visit the offices of Alibaba (NYSE:BABA). It comes as Mexico takes part in three days of talks in Australia aimed at reviving the Trans-Pacific Partnership trade agreement.
President Trump is sticking to his pledge to make Mexico pay for his proposed border wall despite his request for federal funding for the structure and threat to shut down the government over the money. "It may be through reimbursement, but one way or the other Mexico is going to pay for the wall. It's needed from the standpoint of security, for the drugs that are pouring in... and the tremendous crime problem."
Confidence in Qatar's creditworthiness has taken another hit after Fitch downgraded the country's long-term issuer rating by one notch, to AA- from AA. "In our view, the negotiating positions of Qatar and the boycotting countries remain far apart," analysts Krisjanis Krustins and Jan Friederich said in a statement. The gulf nation is also on negative watch at S&P and Moody's.
In a move that would deepen eurozone integration, German Chancellor Angela Merkel is backing an idea to turn the region's rescue fund, the European Stability Mechanism, into a European Monetary Fund. "I could also imagine a [combined] economy and finance minister," she said, adding that this could allow for better coordination on budget and economic policies. The news comes as the euro topped $1.20 overnight for the first time since January 2015.
The war of words between Catalonia and the central government of Spain has escalated in recent days. Pro-separatist parties are going ahead with legal preparations to create an independent state as they prepare for a disputed referendum on secession in October. The region's previous non-binding poll in 2014, which was ruled illegal by Madrid, saw 80% in favor of full secession.
Stocks
Mark Zuckerberg is going on paternity leave following the birth of his second daughter named August. "I'll take a month off to be with Priscilla and the girls at the beginning, and then we'll spend the whole month of December together as well," he wrote in a Facebook (NASDAQ:FB) post. The company offers up to four months of maternity and paternity leave to all employees.
Amazon slashed prices by up to 43% for some of Whole Foods' bestselling products on Monday, the day its $13.7B purchase of the grocery chain was completed. Echo speakers also went on sale in Whole Foods stores across the country as Amazon (NASDAQ:AMZN) placed its mark on its acquisition. Stocks of rival grocers fell again in response to the fresh anxiety hitting the food industry.
The SEC has issued a warning about potential internet coin offering scams and "pump and dump" schemes by public companies. An ICO is similar to a stock IPO, but instead of buying shares in the company, investors are buying digital "tokens" used on cryptocurrency platforms. Latest crackdown? Last month, the SEC signaled for the first time that securities laws may apply to the sale of new digital coins.
Ending a long-running dispute, Indonesia will allow Freeport-McMoRan (NYSE:FCX) to continue operating the giant Grasberg copper and gold mine after the company agreed to relinquish majority ownership (from 90.64% to 49%) to the government. The agreement will also require Freeport to build smelters, but will extend its permit to operate the mine in easternmost Papua until 2041. FCX -1.8% premarket.
Oops! Statoil's (NYSE:STO) highly anticipated Korpfjell prospect in the Arctic Barents Sea contained only non-commercial quantities of natural gas, and no oil. It was the first exploration well drilled in the Norwegian section of a formerly disputed area between Norway and Russia, where Statoil and its partners, including Chevron (NYSE:CVX), Lundin Petroleum (OTCPK:LNDNF) and ConocoPhillips (NYSE:COP), had hoped to make a major discovery.
While it may be best known as a cable company, Comcast (NASDAQ:CMCSA) is banking on remote-controlled door locks and cameras as well as other "smart home" offerings to advance its home security business. The push to diversify comes at a time when more U.S. consumers are dropping traditional cable television packages, or cutting the cord, in favor of cheaper alternatives.
Expedia has confirmed reports that CEO Dara Khosrowshahi had been offered the top job at UBER. However, board member Barry Diller wrote in regulatory filings that while he's likely to accept the role, the arrangement has not yet been finalized. Expedia (NASDAQ:EXPE) shares fell 4.5% yesterday on the news.
Already trying to fix its reputation? UBER is pulling a heavily criticized feature from its app that allowed it to track riders for up to five minutes after a trip. The change, which restores users' ability to share location data only while using the app, is expected to be announced today and rolled out to iPhone users starting this week.
Tapping into a boom for "new energy" vehicles, Nissan (OTCPK:NSANY) and its alliance partner Renault (OTCPK:RNLSY) are setting up a new joint venture with Dongfeng Motor (OTCPK:DNFGY) to design and build electric cars in China. The project will be called eGT New Energy Automotive. It follows a similar move by Ford, which announced a comparable joint venture last week with Anhui Zotye Automobile.