Tuesday Morning Reads, News, Options, Charts
Reads:
News:
Futures:
 Open Interest Changes:
Charts:
Unusual Option Action 
Earnings This Week: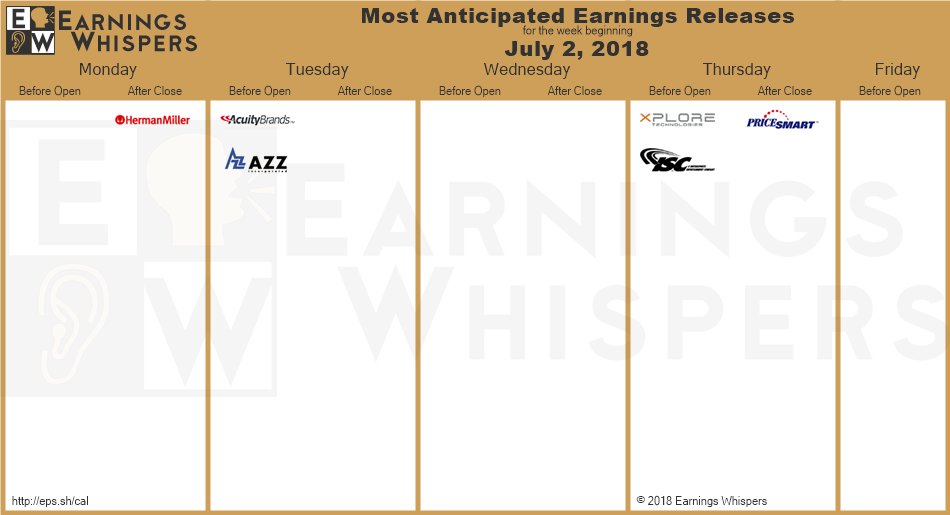 Seekingalpha:
Markets in Asia continue to struggle to break free of trade anxiety as Friday's $34B tariff shot from the U.S. looms large. Hong Kong's Hang Seng Index was in catch-up mode after a holiday on Monday and fell around 1.4%. Japan's Nikkei Index managed a 0.1% gain, while the Shanghai Composite Index gained 0.4% after hitting a two-year low the day before and the Shenzhen Composite posted a 1.1% rise. Meanwhile, China's currency sunk to its lowest level against the greenback in nine months. An agreement in Germany over migration is providing a slight spark to European markets, with the Stoxx 600 Index showing a 0.7% gain. The immigration dispute had threatened to topple Chancellor Merkel's fragile governing coalition. In the U.S., traders will hit the exit doors early today, with the stock market set to close at 1 p.m. ET for the 4th of July holiday and the bond market scheduled to close at 2 p.m. ET. U.S. stock futures are pointing to a higher opening for what is expected to be a low volume day. S&P 500 futures are up 0.3%, while Nasdaq 100 futures are 0.2% higher.
Economy
A statement by President Trump that the administration won't take any action against the World Trade Organization unless the organization is "unfair" to the U.S. is being gauged carefully by traders. While the latest rhetoric is a downshift in tone, concerns of a standoff still remain. Height Capital Markets warned yesterday of the "immense" economic downside from U.S. action against the WTO. The investment firm noted that while Trump cannot roll back the U.S statute agreeing to the WTO, he can signal U.S. withdrawal under the structure of the WTO agreement. "However, this quirk of US law - enabling the President to claim the U.S. is withdrawing even as U.S. law differs - does not guarantee that other nations would still grant the US the protections afforded to a member of the WTO," summarized Height. Stay tuned.
Also sitting filed away in the trade anxiety department is the watch to see if Beijing will slap an additional 25% tariff on U.S. auto imports this Friday. The China wildcard is on top of a warning from the European Union that up to $294B worth of U.S. exports would face dueling tariffs if President Donald Trump went through with his threat to slap duties on auto imports. In a combative stance, the American Automotive Policy Council says on behalf of General Motors (NYSE:GM), Ford (NYSE:F) and Fiat Chrysler Automobiles (NYSE:FCAU) that tariffs will lead to higher costs for consumers and a drop in jobs for the U.S. auto sector. Research firm LMC Automotive is also out with a warning. "If you put that kind of a tariff on a vehicle or an industry, prices are definitely going to go up on average," reasoned LMC's analyst Jeff Schuster. Even if the tariff threats end up being a negotiating tactic, analysts warn that the auto supplier sector could see a drop in future orders.
Crude oil prices are looking to continue to recover from yesterday's dip as the focus returns to potential supply disruptions in Libya and Venezuela. Saudi Arabia is also still in the mix after King Salman reportedly told President Trump that his country would increase oil production "maybe up to 2,000,000 barrels," leaving traders a wildcard. The oil market saw some momentum with large price gains in the second half of June. WTI crude oil future +0.78% to $74.52/bbl at last check. Brent crude +0.38% to $77.59/bbl.
Retail sales in Europe were unchanged in May to miss the consensus estimate for a 0.1% gain. Retail sales were up 1.4% on a year-over-year comparison vs. +1.6% expected. Eurostat reported that the highest the highest gains in retail sales were registered in Portugal (+4.7%), Latvia (+3.4%) and Slovenia (+3.1%). Decreases were seen in Germany (-2.1%), Austria (-0.7%), Spain (-0.1%) and Poland (-0.1%).
Factory orders are in focus later this morning when the U.S. Census Bureau updates on activity for June. Last month, factory orders fell 0.8% to miss the expectation of economists for a 0.5% decline. Economists expect a drop of 0.1% in July. The manufacturing gauge has been watched closely in recent months, as it has risen less than anticipated after the tax reform packages were passed by Congress.
Stocks
U.S. auto sales are due out today from major manufacturers. Edmunds forecasts that an extra selling weekend in June helped sales increase 3.4% during the month to 1,519,072 new cars and trucks. Strong selling months from General Motors (GM), Fiat Chrysler Automobiles (FCAU) and Hyundai-Kia (OTCPK:HYMLF) are anticipated, although the industry tone from Edmunds is cautionary for the balance of the year. "The strength of the economy is creating a very thick forcefield for automakers now, but once that starts to weaken, there are a lot of market factors bubbling just below the surface that could really start to slow down sales," notes Edmunds analyst Jeremy Acevedo. On a more positive note, RBC Capital says the auto sector industry took a fairly disciplined approach to incentives in June and average transaction prices rose again on a higher mix of SUVs.
Federal agencies are reportedly turning up the heat on Facebook (NASDAQ:FB), with the FBI, SEC and FTC joining the Justice Dept. in probing the company's response to the Cambridge Analytica data sharing scandal. The focus of the agencies is on squaring Facebook's statements about the affair with the underlying facts, as well as how forthcoming and prompt the company has been in cooperating. Shares of Facebook are down 1.4% in premarket trading.
The 4th of July holiday falling on a Wednesday isn't expected to disrupt traffic to Las Vegas casinos. Roughly 300K people are expected to visit Las Vegas from today through Sunday as visitors stretch out their trips. Union Gaming's John DeCree has a positive outlook on Caesars Entertainment (NASDAQ:CZR) and MGM Resorts (NYSE:MGM) amid the Vegas bounce. "For so long, Vegas has been a non-gaming, RevPAR, margin story, and the market has lost sight that people actually play slot machines in Las Vegas," noted DeCree.
A retailer exodus has malls at their emptiest in six years as customers continue to shift key spending online. Vacancy rates hit 8.6%, vs. 9.4% in the third quarter of 2011; strip malls and community shopping centers were even worse at 10.2% vacancy. Names like Bon-Ton Stores, Sears (NASDAQ:SHLD), J.C. Penney (NYSE:JCP) and Toys "R" Us are among those loading up the moving vans.
Airline passengers are paying an average $171 for a round-trip flight in the U.S. this Independence Day, according to data from AAA. The average fare marks a 9% drop from a year ago and is the lowest level of Independence Day airfares since 2013. Airlines fares also saw a 6.6% year-over-year drop during June in a trend that doesn't bode well for Q2 profit for domestic carriers American Airlines Group (NASDAQ:AAL), Delta Air Lines (NYSE:DAL), JetBlue (NASDAQ:JBLU), Spirit Airlines (NASDAQ:SAVE), Alaska Air (NYSE:ALK), United Continental (NYSE:UAL), Southwest Airlines (NYSE:LUV) and Hawaiian Airlines (NASDAQ:HA).
Summer movie sizzle: Keep an eye on the U.S. box office through the holiday break as this summer's strong slate of movies continues to resonate with moviegoers. In Q2, the U.S. box office is estimated to have increased 22% compared to a year ago to $3.32B. Looking ahead to the next few days, Universal's (NASDAQ:CMCSA) Jurassic World Fallen Kingdom, Disney's (NYSE:DIS) Incredibles 2 and Sony's (NYSE:SNE) Sicario: Day of The Soldadoare all expected to see continued solid traffic, while Universal's The First Purgeopens on the 4th of July. The U.S. box office is up 9.3% YTD from the same point last year.
Japan has selected Lockheed Martin's (NYSE:LMT) advanced radar for its multibillion-dollar missile defense system, according to an anonymous defense ministry official. Japan reportedly would buy two Aegis Ashore batteries to deploy in 2023 in an upgrade of its missile defense system to provide cutting-edge protection against China and North Korea. Other candidates for the radar were Raytheon's (NYSE:RTN) SPY-6 and a version of LMT's Long Range Discrimination Radar.
Wolfe Research includes Target (NYSE:TGT) and Amazon (NASDAQ:AMZN) as two of its top picks for the second half of the year. The analyst team at Wolfe sees multiple tailwinds for Target and near-term profitability upside for Amazon. Also making the 2H top pick list from Wolfe Research are Hyatt Hotels (NYSE:H) and Royal Caribbean (NYSE:RCL).
Ten days ago, Federal Reserve officials called Goldman Sachs (NYSE:GS) and Morgan Stanley (NYSE:MS) executives and offered to give the banks a "conditional non-objection" grade and avoid failing the annual bank stress tests if the two banks kept capital returns to shareholders at recent levels, according to The Wall Street Journal. Other banks in the past have been able to keep payouts steady after failing the quantitative part of the stress test, but in this case Goldman and Morgan Stanley got the same result but didn't officially get a failing grade. It's a clear sign of the shift in the regulatory environment for banks, which had been expecting a more pro-business approach from Washington since Donald Trump was elected president.
Hyundai workers in South Korea voted to strike today after talks over wage increases stalled. The union representing Hyundai (OTCPK:HYMLF) workers said almost 75% of its workers approved the strike action. Shares of Hyundai fell to a nine-month low in Seoul today amid the ongoing production and tariff concerns.
Today's Markets 
In Asia
, Japan 
-0.12%
. Hong Kong 
-1.41%
. China 
+0.41%
. India 
+0.40%
.
In Europe
, at midday, London 
+0.53%
. Paris 
+1.00%
. Frankfurt 
+1.29%
.
Futures at 6:20
, Dow 
+0.47%
. S&P 
+0.35%
. Nasdaq 
+0.40%
. Crude 
+1.12%
 to $74.77. Gold 
+0.42%
 to $1,246.90. Bitcoin 
+4.17%
 to $6,601.
Ten-year Treasury Yield
 +1bps to 2.877%
Today's Economic Calendar
Auto Sales
8:55 Redbook Chain Store Sales
10:00 Factory Orders
NYSE close at 1:00 PM