Tuesday Morning Reads, Earnings, Charts, and News
Reads:
News:
Earnings: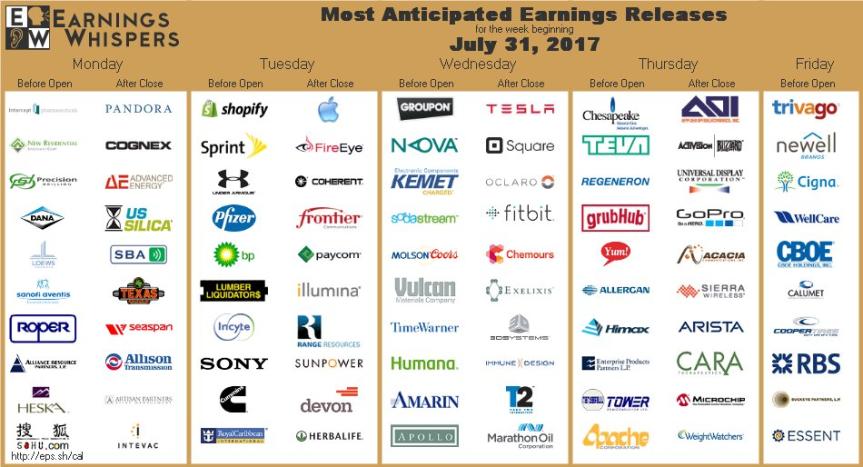 Charts:
Seekingalpha:
Apple's earnings come just as the tech sector has been looking a little weak in the knees, so its results could set the tone across markets, with investors positioning for the new month. The tech giant is expected to report a rise in third-quarter revenue, benefited by higher sales of smartphones, as well as strength in its services business. Details on the iPhone 8 (NASDAQ:AAPL) and its release date are also anticipated.
Economy
Latest ousting in the West Wing... Anthony Scaramucci has become the shortest-serving communications director in White House history. Press Secretary Sean Spicer resigned last month, while former Marine general John Kelly replaced Reince Priebus as chief of staff yesterday. Investors did not seem to mind the shakeup too much, the Dow Jones industrial average closing at a record high.
The White House expects tax reform legislation to move quickly through Congress this fall, advancing through the House in October and clearing the Senate in November. "So that, I think, is an aggressive schedule, but that is our timetable," legislative director Marc Short said, later adding, "I think we're in for a long fall, legislative calendar-wise."
Mexico has named Kenneth Smith as its chief negotiator for talks set to begin next month aimed at revamping NAFTA. He's a veteran Mexican trade policy expert and currently serves as director of the Trade and NAFTA Office at the Mexican embassy in Washington. Smith's U.S. counterpart will be John Melle, the assistant U.S. Trade Representative for the Western Hemisphere.
The eurozone economy gathered pace in the three months to June, making it more likely the ECB will decide later in 2017 to remove some of its stimulus measures. GDP growth expanded 0.6% on quarter after increasing 0.5% in Q1, marking 17 consecutive quarters of growth. Unemployment also dropped to a nine-year low of 9.1%.
Downing Street has quashed suggestions that EU citizens will still be able to come to Britain to live and work after Brexit takes effect in March 2019. Theresa May's office was forced to clarify its position on "free movement" after senior cabinet officials appeared to take contradictory lines on the issue.
Despite concerns about cooling growth in the world's second-largest economy, China's Caixin manufacturing PMI came in at a four-month high of 51.1 in July, up from June's 50.4. Separately, China lashed out at the U.S. over North Korea, saying Washington was ratcheting up tensions with Pyongyang and violating U.N. Security Council resolutions through its plan to impose unilateral sanctions.
Qatar has lodged a formal complaint with the World Trade Organization against the "illegal siege" imposed by four Arab neighbors that have accused the Gulf state of sponsoring terrorism. By formally "requesting consultations," Qatar triggered a 60-day deadline for the countries to settle the complaint, or face litigation at the WTO and potential trade penalties.
Former petroleum minister Shahid Khaqan Abbasi is poised to become Pakistan's new prime minister in a parliamentary vote today, just days after the ouster of veteran leader Nawaz Sharif. A quick transition should ease fears that the nation would be plunged into another bout of political instability, which could erode economic and security gains since the last poll in 2013.
The U.S. has imposed sanctions against Venezuela's President Maduro, stating his government abused human rights and organized an illegitimate vote designed to advance an authoritarian regime. When asked about oil sanctions against Venezuela, Treasury Secretary Steven Mnuchin said the U.S. would consider all options, keeping the possibility of trade flow disruptions alive.
Stocks
BP +4% premarket as higher oil prices and deeper cost cuts propelled the oil giant to a second quarter profit beat. The company reported a 10% rise in production, though it took a big charge related to failed exploration in Angola. BP also expects relief in H2 from a boost in divestment proceeds and a decline in payments related to its Gulf of Mexico spill.
Earnings out of Japan: Sony (NYSE:SNE) +2.3% premarket as Q1 net profit surged from the same period a year ago, buoyed by strong sales of smartphone sensor components and PlayStation 4 consoles. Solid motorcycle revenues and weakness in the yen provided Honda's (NYSE:HMC) earnings with a boost in the first quarter, prompting the vehicle maker to lift its full-year forecasts.
Bitcoin will likely split into two separate currencies today due to a dispute between core developers, who want to keep network blocks limited to protect against hacks, and miners, who want to increase their size to make the network faster. "This is somewhat like a stock split," said Jeff Garzik, CEO of Bloq. "You go to sleep with 100 bitcoins and wake up in the morning with 100 bitcoins plus 100 'Bitcoin Cash', a new token."
The Serious Fraud Office has opened a formal probe into British American Tobacco (NYSEMKT:BTI) over "allegations of misconduct," while the cigarette maker said it "intends to cooperate with that investigation." In February last year, BAT announced it had hired lawyers to examine allegations that it bribed officials in east Africa to undermine anti-smoking laws.
Jurors in the Martin Shkreli fraud trial ended their first day of deliberations Monday without reaching a verdict. The "Pharma Bro" is charged with defrauding investors in two hedge funds he ran, as well as a drug company he founded, Retrophin (NASDAQ:RTRX). He faces up to 20 years in prison if convicted.
Wisconsin Governor Scott Walker has ordered the state's legislature into special session today to consider an incentive package that would award Foxconn (OTC:FXCOF) $3B over 15 years and waive several state environmental reviews. The firm said last week it plans to build a $10B LCD factory in the state, but the deal has drawn some criticism from those calling it a corporate giveaway.
Spotify's growth in paid users is still accelerating, outpacing deep-pocketed rival Apple (AAPL) along the way. The company hit 60M paid subscriptions vs. Apple Music's 27M as of the end of June. Spotify (Private:MUSIC) also attracted 20M of those in less than a year; it took Apple longer than a year and a half to add similar numbers.
The ride-hailing wars continue... Didi Chuxing (Private:DIDI) has teamed up with UBER rival Taxify to grow its network across Europe, Africa and Asia, underscoring its tightening grip on the global transport market. Last year, Didi bought Uber's Chinese business and, at the start of this year, invested $100M in its U.S. rival LYFT.
PSA Group has completed its takeover of the Opel and Vauxhall brands from General Motors (NYSE:GM), helping it become Europe's second-largest carmaker by sales. "We are witnessing the birth of a true European champion today," PSA (OTCPK:PEUGF) Chairman Carlos Tavares said in a statement. It highlights GM's steady retreat from Europe, a region where it has not been profitable since 1999.