Tuesday Morning Reads
Reads:
News:
Futures:
 Earnings: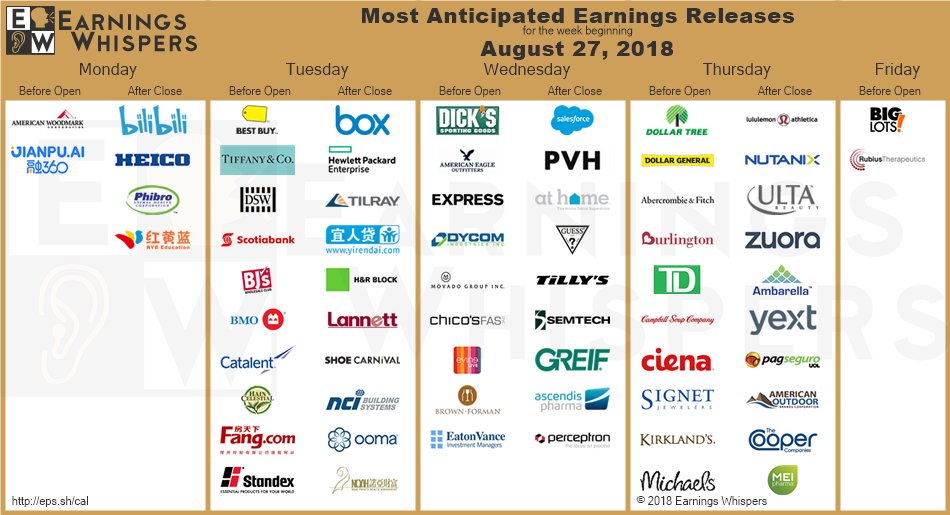 Charts:
SeekingAlpha:
Amid news that Mexico and the U.S. reached a trade agreement, which boosted investor sentiment and sent stocks flying, Canadian Foreign Minister Chrystia Freeland will travel to Washington today to continue trade negotiations. "We'll give them a chance to have a separate deal, or we could put it into this," President Trump declared, adding that the "simplest deal is more or less already made." "We will only sign a new NAFTA that is good for Canada and good for the middle class," spokesman Adam Austen replied in a statement.
Economy
Details of the Mexican deal - which is for 16 years, to be reviewed every six years - are starting to emerge: Proposals will obligate car companies to manufacture at least 75% of an automobile's value in North America, up from the current 62.5%, and would require a set proportion of auto components be made by workers earning at least $16 an hour. The U.S. also backed off from a "sunset" clause demand, while Mexico agreed to eliminate a settlement system for anti-dumping disputes, but payments for a border wall were not discussed.
The need to involve Canada and the Mexican presidential transition mean a comprehensive pact won't be approved by Mexico until December at the earliest. That will almost certainly push U.S. approval into 2019, when a new Congress will have say in the matter. "We may have to resort to auto tariffs if the U.S. and Canada can't reach a fair deal," White House Economic Adviser Larry Kudlow told CNBC.
Speaking to reporters after the Mexico accord, President Trump said he's rejecting overtures from China to negotiate as he tries to achieve a less "one-sided" trade policy. "They want to talk... but it's just not the right time to talk right now, to be honest." Chinese officials reportedly raised the prospect of suspending talks last week until after U.S. congressional elections in November.
With some U.S. farm products getting slammed by retaliatory tariffs, the Trump administration is prepared to begin its emergency agriculture plan right after Labor Day in a "three-pronged approach" that will initially include about $6B in aid. Farmers "cannot pay their bills with simple patriotism," Agriculture Secretary Sonny Perdue declared. Some farm groups, however, are cautioning the spending won't make up for losses from the trade clashes.
It's the first time Iran's parliament summoned President Hassan Rouhani, who is under pressure from hardline rivals to change his cabinet after a deterioration in U.S. relations and growing economic difficulties. "The problems are critical, but more important than that is that many people have lost their faith in the future of the Islamic Republic and are in doubt about its power," he said. "We will overcome the troubles."
The U.K. can still make a success of Brexit if it tumbles out of the EU without a deal, according to Prime Minister Theresa May. "I've said right from the beginning that no deal is better than a bad deal." Trade Secretary Liam Fox echoed the comments in Singapore, where he is making the case for the U.K.'s accession to the Comprehensive & Progressive Agreement for Trans-Pacific Partnership.
Stocks
China this week is mulling scrapping its controversial birth restrictions, with the draft civil code set to be completed by 2020. Couples are limited to two children at present, after rules were relaxed from the notorious one-child policy that was in force from 1979 to 2016. Companies seen potentially gaining from the reversal of nearly four decades of family planning policies include Hasbro (NASDAQ:HAS), Mattel (NASDAQ:MAT), Danone (OTCQX:DANOY), Nestle (OTCPK:NSRGY), Procter & Gamble (NYSE:PG), Kimberly-Clark (NYSE:KMB) and Reckitt Benckiser (OTCPK:RBGLY).
Sealing their consumer goods alliance, Nestle (OTCPK:NSRGY) and Starbucks (NASDAQ:SBUX) have concluded a $7.15B licensing deal for the Swiss food giant to market the U.S. coffee maker's packaged coffees and teas around the world. Those include products such as Seattle's Best Coffee and Teavana. Nestle will also take on about 500 employees from Starbucks as part of their partnership.
Latest in the Papa John's crisis... Ousted founder John Schnatter has made a slew of accusations against CEO Steve Ritchie for causing the company's poor performance, including "bad financial decisions, insufficient management skills, a toxic senior management culture and serious misconduct at the top levels of our leadership." A Papa John's (NASDAQ:PZZA) spokeswoman said Schnatter's claims were unfounded and "distract from the damaging impact his own words have had on our stakeholders."
A federal judge in San Francisco has dismissed a lawsuit in which Tesla (NASDAQ:TSLA) shareholders accused the carmaker of misleading the public about the progress on production of its Model 3. "Federal securities laws do not punish companies for failing to achieve their targets," wrote Charles Breyer. Plaintiffs have until Sept. 28 to amend their complaint.
Looking to catch up to rivals, Toyota (NYSE:TM) is investing $500M in Uber Technologies (UBER) as part of an agreement between the two companies to work together on autonomous vehicle development. The infusion by the Japanese automaker values the ride-hailing company at about $72B. Uber's autonomous program was derailed in March after its self-driving SUV killed a pedestrian in Tempe, Arizona.
Apple plans to unveil three new phones using the edge-to-edge screen design of the iPhone X, sources told Bloomberg. The new "S year" devices, expected to be unveiled at Apple's product event in September, will include updated features and cover a broader range of prices, colors and sizes. One will even include a 6.5-inch display, the largest Apple (NASDAQ:AAPL) has ever included on an iPhone.
"We have made a decision to cancel our three remaining Madden Classic qualifier events while we run a comprehensive review of safety protocols for competitors and spectators," Electronic Arts (NASDAQ:EA) CEO Andrew Wilson announced Monday night. The news comes after the fatal weekend shooting in Jacksonville, Florida, which saw three people including the suspected gunman killed during a video game tournament.
The SEC is urging stock and options exchanges to work together with industry members to complete a long-overdue trading database the regulator needs to police the market. The Consolidated Audit Trail, which is now expected to roll out in phases starting in November and ending in November 2022, will track all trades from their inception, pinpointing buyers, sellers, exchanges and brokers.
Companies don't want to be left off of the blockchain bandwagon. According to a new survey published by PwC, which included 600 executives from 15 territories, 84% of their firms said they are "actively involved" with the technology. Despite the growing interest, other research from Cowen estimated it will take 5.9 years for blockchain to gain widespread adoption amid worries about trust, regulatory uncertainty and compliance. Related: NDAQ, IBM, OSTK, KODK, AXP, BHP, ORCL, BABA, MET, FB, PRU, DIS, F, TM, GS, JPM, MS, SAN, RY, PFE, ING, AMZN, INTC, AAPL, WFC, BAC, RDS.A, RDS.B, BRK.A, BRK.B, BUD, CMCSA, WMT, GOOG, GOOGL, MSFT, OTC:SSNLF, OTCPK:NSRGY, OTCPK:TCEHY, OTCPK:SIEGY, OTCPK:HVBTF