Tuesday Morning Reads
Reads:
Some Tesla (TSLA) suppliers are concerned about getting paid. WSJ Report
Microsoft (MSFT) has discovered that Russian hackers have targeted conservative political groups (RSX, HACK). USA Today Report
EU automakers are against President Trump's NAFTA plan (VLKAY, FCAU, BMWYY, CARZ). Reuters Report
JP Morgan (JPM) will introduce new investing app that will offer 100 free trades during the first year (SCHW, AMTD, ETFC). CNBC Report
Kellogg (K) and Reckitt Benckiser (RBGLY) are interested in acquisition of Glaxo's (GSK) India unit. Economic Times Report
U.S. sanctions stress  already-battered emerging markets.
Microsoft finds Russia again targeting U.S. political groups.
Doors slam shut for China deals around the world.
Euro goes from bane to boon for struggling European stocks.
World's biggest wealth fund struggles under weight of trade war.
Apple is planning a new low-cost Macbook, pro-focused Mac mini.
'Lazy' approach may be best for some jobs.
President Trump does not believe anything will come out of trade meetings with China; he has a 'long horizon' viewpoint regarding trade (FXI, TUR, SPY, RSX). Reuters Report
Stakeholders and companies were mostly against $200 bln China tariff proposal during first day of hearings, as widely expected (FXI). WSJ Report
NYC Apartment sales above $5 million dropped 31% in H1 of 2018.  WSJ Report.
News:
Futures: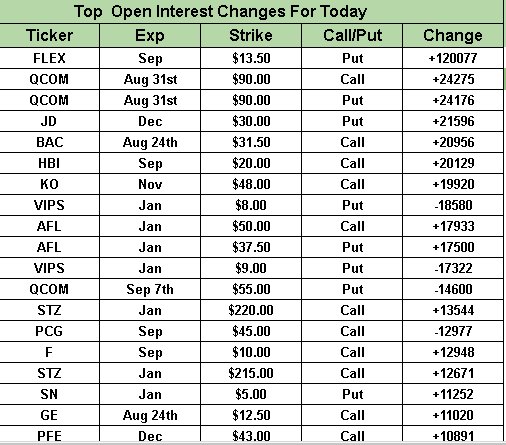 Earnings: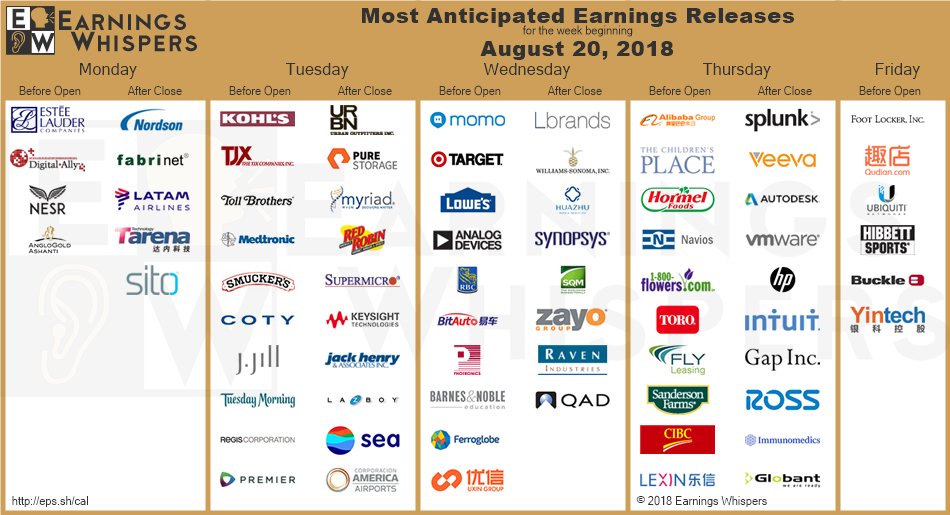 Charts:
The S&P 500 will tie the record for the longest U.S. bull market in history today at nearly 3,500 days, rising more than 320% since March 9, 2009. It's a record few would have predicted when stocks struggled to find their footing after a 50% plunge during the financial crisis. There is still no shortage of bearish warnings out there as analysts debate the future, but many investors continue to see plenty of gas left in the tank for equities.
Economy
U.S. gold futures climbed above $1,200 an ounce overnight on the back of a weaker dollar, after President Trump said he was "not thrilled" with Fed Chair Jerome Powell for raising interest rates. Base metals also joined the party, with London copper advancing for a second day and crossing the $6,000-a-tonne mark, along with big price moves for zinc, nickel and aluminum.
NAFTA talks between the U.S. and Mexico will resume today in Washington, with many expecting the two sides to finalize an agreement in principle on a range of bilateral issues. That would pave the way for Canada, which has been sidelined for weeks from the negotiations, to return to the bargaining table. Timing is also a big issue ahead of U.S. midterm elections in November.
More trade tensions? Germany's current account surplus will remain the world's largest for the third year running in 2018 at $299B, followed by Japan with $200B, according to the Ifo institute. "On the other end of the spectrum, the U.S. is set to remain the country with the largest current account deficit with roughly $420B." The situation is set to spark criticism of Germany's export strength and Chancellor Angela Merkel's fiscal policies.
Taiwan has pledged to fight China's "increasingly out of control" behavior after Taipei lost another ally to Beijing. El Salvador has become the third country to switch allegiances to China this year as President Xi warns that the issue of unification cannot be put off indefinitely. Taiwan now has formal relations with only 17 countries worldwide, many of them small, less developed nations in Central America and the Pacific.
Australian Prime Minister Malcolm Turnbull has survived a leadership challenge after struggling to pass key pieces of his legislative agenda and keep members of his party in line. A bid to cut corporate taxes has stalled in Parliament, a devastating drought is threatening to hurt growth and a spat with China over political interference has chilled relations with the country's top trading partner.
Iraq's economy is so closely linked to Iran that Baghdad is going to ask Washington for permission to ignore some U.S. sanctions on its neighbor, according to government and central bank officials. The request would mark an important change in political tactics for Iraqi Prime Minister Haider al-Abadi. He initially said Baghdad would respect all the U.S. sanctions but faced heavy criticism from rivals.
The U.S. Department of Energy is offering 11M barrels of crude for sale from the nation's Strategic Petroleum Reserve ahead of sanctions on Iran that are expected to reduce global oil supplies and increase prices. The SPR was established in the 1970s after the U.S. economy was paralyzed by an oil embargo. As recently as 2011 it contained 727M barrels in caverns along the Texas and Louisiana coasts.
Stocks
"I won't mention names but when they take certain people off of Twitter (NYSE:TWTR) or Facebook (NASDAQ:FB) and they're making that decision, that is really a dangerous thing because that could be you tomorrow," President Trump told Reuters. The comments raise the (ever-present?) specter of regulation that has haunted social media firms over the past year, amid controversies over data privacy and the services' handling of political news.
Uncovering new Russian hacking attempts targeting U.S. political groups ahead of the midterm elections, Microsoft (NASDAQ:MSFT) is expanding its Defending Democracy Program with a new initiative called AccountGuard. "This technology is free of charge to candidates, campaigns and related political institutions using Office 365," said Brad Smith, Microsoft's chief legal officer, adding that the software includes threat notification and security guidance.
A group of 22 state attorneys general and the District of Columbia late Monday asked a U.S. appeals court to reinstate Obama-era landmark net neutrality rules and reject the Trump administration's efforts to preempt states from imposing their own rules guaranteeing an open internet. Several internet companies also filed a separate legal challenge to overturn the FCC decision, including Mozilla, Vimeo, ETSY, and numerous media and technology advocacy groups.
Throwing a grenade into the increasingly competitive world of retail investing, JPMorgan (NYSE:JPM) is rolling out a digital investing service next week that comes bundled with free or discounted trades, a sophisticated portfolio-building tool and no-fee access to the bank's stock research. "You Invest," more than two years in the making, has a distinct advantage over many competitors: JPMorgan already has financial ties with half of American households.
Volumes of bitcoin futures listed by CME Group (NASDAQ:CME) doubled in July and continued to increase in August, but such growth has been lacking at fellow Chicago exchange operator CBOE Global Markets (NASDAQ:CBOE). The two exchanges are under pressure to gain traction because it's rare for similar futures contracts to flourish in more than one venue. A third company, Intercontinental Exchange (NYSE:ICE), plans to offer its own bitcoin futures in November.
Several crypto exchanges have signed on to what appears to be the industry's first self-regulatory organization - called the Virtual Commodity Association - in a step toward transparency in the opaque and volatile market. Representatives from Bittrex, bitFlyer USA, Bitstamp and Gemini will meet in September to begin setting goals for the group founded by the Winklevoss twins, including rules for the marketplaces and guidelines for members.
BHP Billiton -1.6% premarket as fiscal-year net profit fell 37% due to a massive write-down on its U.S. onshore oil and gas assets, U.S. corporate tax cuts and the ongoing fallout from its Brazilian dam collapse. BHP still announced a record dividend of $0.63/share, up from $0.43/share a year earlier, but the world's biggest miner by market value lowered its projection for productivity gains.
Venezuela's PDVSA and ConocoPhillips have reached a payment agreement over a $2B arbitration, suspending a dispute that blocked the state-run company from exporting oil from most of its key Caribbean facilities. The case relates to the nationalization of Conoco (NYSE:COP) assets dating back over a decade in Venezuela. An international court ruled in favor of Conoco in April and ordered PDVSA to pay, but no payment had been forthcoming.
Today's Markets 
In Asia
, Japan 
+0.1%
. Hong Kong 
+0.6%
. China 
+1.3%
. India flat.
In Europe
, at midday, London 
-0.4%
. Paris 
+0.7%
. Frankfurt 
+0.7%
.
Futures at 6:20
, Dow 
+0.2%
. S&P 
+0.2%
. Nasdaq 
+0.3%
. Crude 
+0.1%
 to $65.47. Gold 
+0.5%
 to $1200.80. Bitcoin 
+3%
 to $6441.
Ten-year Treasury Yield
 +2 bps to 2.84%
Today's Economic Calendar
8:55 Redbook Chain Store Sales