Tuesday  Morning Reads
Reads:
News:
S&P500 Futures:
 Futures:
 Open Interest Changes:
Charts: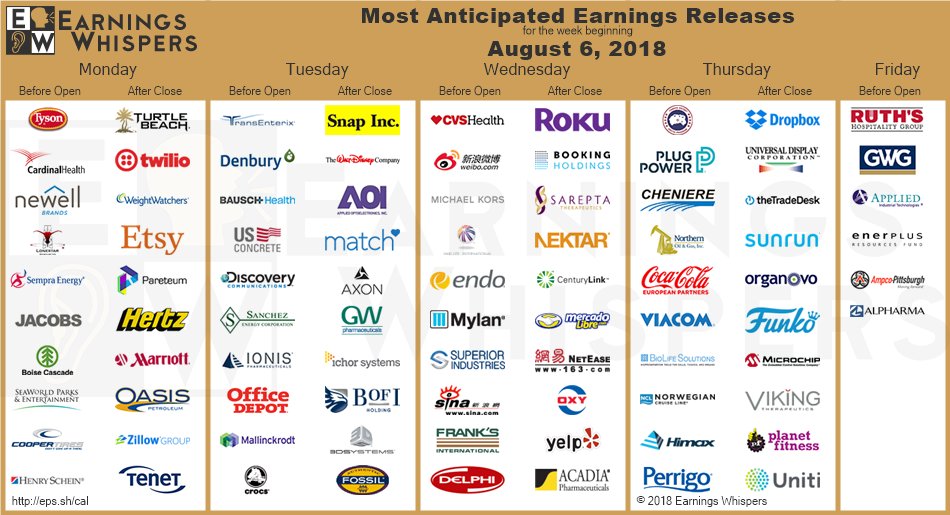 SeekingAlpha:
The first batch of American sanctions on Iran has come into effect, 90 days after the U.S. withdrew from the nuclear deal. The new measures bar the sale of U.S. currency to Iran's government, sanction trade in precious metals and industrial materials, outlaw the purchase of Iran's sovereign debt, and restrict the country's auto and aerospace sector. Unless Iran complies with the U.S. demands, far-tougher steps will take effect on Nov. 5, when the U.S. will cut off Iran's oil exports and impose sanctions on shipping.
Economy
The lira is rebounding somewhat, after its biggest single-day drop in a decade, on reports that Turkish officials will head to the U.S. to resolve a dispute over Pastor Andrew Brunson, whose ongoing detention sparked tit-for-tat sanctions between the two allies. On Monday, the U.S. Trade Representative said it was also reviewing Turkey's duty-free access to the U.S. market after Ankara imposed retaliatory tariffs against American duties on steel and aluminum.
The Reserve Bank of Australia held its interest rate overnight at a record low of 1.5%, where it has stood for two years, declining to follow recent moves to tighten liquidity by some other central banks. A statement accompanying the decision from RBA Governor Philip Lowe gave a nod to uncertainty over domestic household consumption and noted the toll taken on Australia's farm sector by a recent drought.
The Mendocino Complex Fire in Northern California is now the largest in state history, burning though 283,800 acres, according to Cal Fire. The 12-day-old blaze topped the Thomas Fire that scorched the state in 2017 and lit up 281,893 acres. Fire officials still expect it to take several more days to fully contain the flames.
The recent acceleration in wage growth in the eurozone is a harbinger of higher future inflation, according to an article in the ECB's Economic Bulletin that dispelled concerns that pay rises have lost their signaling function. While wage increases in the 19-nation currency area have picked up in the last two years, they have largely been offset by productivity gains, keeping unit labor costs flat.
After briefly closing the entry point, Brazil has reopened its northern border with Venezuela to those fleeing economic and political turmoil. "It is not justified to take the easy path to 'close the doors' because of difficulties in hosting refugees," Supreme Court justice Rosa Weber said in her ruling. With a severe crisis plaguing the country, more than 1M people have left Venezuela since 2015.
Stocks
All but one of the major content platforms have banned the accounts of Alex Jones as tech giants raced to act in the wake of Apple's (NASDAQ:AAPL) decision to remove podcasts by his Infowars website. While Facebook (NASDAQ:FB), YouTube (GOOG, GOOGL) and Spotify (NYSE:SPOT) said his content violated community guidelines, such as those prohibiting hate speech and harassment, Twitter (NYSE:TWTR) is leaving his handles open, but will "take action if it needs to."
Following its recent partnership with Starbucks (NASDAQ:SBUX), Alibaba (NYSE:BABA) is planning to merge its food delivery units Ele.me and Koubei, Reuters reports. The move would raise between $3B-$5B for the combined entity, which could be valued at $25B and battle Tencent-backed (OTCPK:TCEHY) Meituan Dianping for dominance of China's booming online-to-offline market.
SoftBank is speaking to advisers about selling a third of its Japanese wireless business in an IPO, Bloomberg reports, adding that discussions are preliminary and the final valuation will depend on investors' feedback. A $30B offering would make SoftBank Mobile (OTCPK:SFTBY) the largest listing ever. Alibaba (BABA) made its market debut in 2014 with a $25B offering, the biggest so far.
More deals... The DOJ has filed its appeal of the AT&T/Time Warner (NYSE:T) decision in a brief with the D.C. Appeals Court, arguing that the approval ignored "fundamental principles of economics and common sense." Sources also suggest that U.S. antitrust enforcers are in the early stages of reviewing T-Mobile's (NASDAQ:TMUS) plan to buy Sprint (NYSE:S) for $26B, but have not yet reached a conclusion on how many wireless carriers are needed nationwide.
Hot off reports that Google (GOOG, GOOGL) is trying to get back into China with a censored search engine, Tencent (OTCPK:TCEHY) is said to be working with the tech giant on cloud offerings in the world's second largest economy. Baidu (NASDAQ:BIDU) also had some words for its rival as the U.S. search engine giant plans to re-enter a market it left eight years ago. "Chinese companies today have plenty of ability and confidence," CEO Robin Li declared. "Baidu will win again."
Since 2015, China has outspent the U.S. by $24B in 5G infrastructure, potentially creating a "tsunami" that will be difficult to catch up with, according to a new study by Deloitte. China has built 350,000 new cell sites, while the U.S. has built fewer than 30,000 in the same time frame. 5G would support connected infrastructure in cities, including driverless cars, and make it possible for people to stream high-bandwidth video.
Tesla has begun hiring for its new Shanghai factory, just a month after the EV maker signed agreements with local authorities for the $2B project. Most of the 14 positions are senior in level and require at least six years' experience, including architectural designer and senior finance manager. Tesla's (NASDAQ:TSLA) first factory outside the U.S. would double the size of the company's global manufacturing.
In reaction to renewed U.S. sanctions, Daimler (OTCPK:DDAIF) has dropped plans to expand its Iran business, but will continue to monitor political developments carefully. In early 2016, Daimler established a joint venture with Iranian vehicle manufacturer and dealer Iran Khodro to make and distribute Mercedes-Benz trucks in the country. It also planned to open a representative office in Tehran.
Facebook shares jumped 4.5% yesterday after a WSJ report said the company asked big banks to share detailed financial information about customers. It has already talked with JPMorgan Chase (NYSE:JPM), Wells Fargo (NYSE:WFC), Citigroup (NYSE:C) and U.S. Bancorp (NYSE:USB) about getting details like card transactions and checking account balances, and to consider offerings it could host for the banks' customers on Facebook Messenger (FB).
Indra Nooyi is stepping down from the helm at PepsiCo (NYSE:PEP), leaving only two dozen female CEOs among the S&P 500 companies. President Ramon Laguarta will take her place later this year. Sales grew 80% during Nooyi's 12-year tenure, while PepsiCo shares returned 162%. Challenges may lie ahead, however, with Americans' growing distaste for sugary sodas.
It's the latest example of a U.S. brick-and-mortar retailer struggling financially amid competition from e-commerce firms. Mattress Firm, the largest U.S. mattress retailer owned by Steinhoff International Holdings (OTCPK:SNHFY), is considering a potential bankruptcy filing as it seeks ways to get out of costly store leases and shut some of its 3,000 locations that are losing money. Related stocks: TPX, SNBR