Tuesday Morning Reads
Reads:
News:
Futures:
S&P500 Futures:
 Open Interest Changes:
Charts:
 Earnings: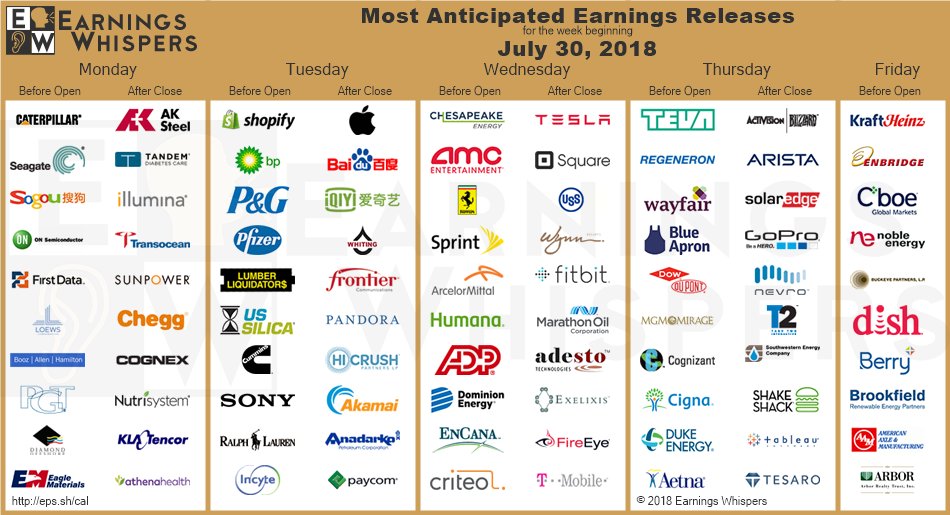 SeekingAlpha:
Quashing speculation that it was mulling bigger changes to its framework, the Bank of Japan vowed to maintain "extremely low" interest rates, but revealed a series of small policy adjustments. Those include allowing long-term rates to fluctuate depending on economic and price developments, and conducting asset purchases more flexibly. The BOJ also trimmed its price forecasts and conceded inflation could fall short of its target for three more years.
Economy
The eurozone's economy slowed further in the three months through June, expanding at an annualized rate of 1.4%. That contrasts heavily with the 4.1% GDP growth recorded in the U.S., likely widening the gap between the interest rates set by the Fed and ECB. Eurozone inflation meanwhile rose by 2.1% in the year to July, though that was largely driven by stronger energy prices.
Forming a trilateral partnership, Australia and Japan have joined the U.S. in a push to invest in infrastructure projects in the Indo-Pacific region as China spends billions of dollars on its Belt and Road initiative across Asia. The investments will include energy, transportation, tourism and technology infrastructure, with the governments aiming to attract private capital to projects.
The Treasury Department is considering bypassing Congress to grant a $100B tax cut. The maneuver would slash capital gains taxation by adjusting for inflation, fulfilling a long-held ambition of many investors, NYT reports. The Treasury also predicted the U.S. government's borrowing needs in the second half of this year will jump to the most since the financial crisis, with net borrowing of $769B (and $1.33T for the year).
At a press conference on Monday, President Trump said he would be willing to meet with Iranian President Hassan Rouhani "anytime they want to," and that he would impose no preconditions on such a meeting. The news follows reports suggesting North Korea appears to be building one or two new liquid-fueled ICBMs at a factory that produced the country's first missiles capable of reaching the U.S.
The Department of Homeland Security will today announce the creation of the National Risk Management Center, aimed at guarding U.S. banks, energy companies and other industries from major cyberattacks that could cause systemic failures across society. Dozens of chief executives from critical infrastructure sectors are expected to attend the government-hosted cyber summit in New York City.
One month into California's fiscal year, the state has already spent about one-fourth of its $442.8M annual emergency fund fighting fires. Those costs are expected to go up due to the extensive ground and air firefighting resources being used. If the state's fire costs exceed its e-fund budget in fiscal 2018-19, California can tap into its traditional budget reserves that now total about $2B.
Stocks
It was another strong quarter for Sony (NYSE:SNE), buoyed by strength in its PlayStation business and demand for smartphone camera components. For the April-June period, the company reported net profit of ¥226.4B ($2.04B), compared to ¥80.9B in the same quarter a year ago. Sony's fiscal first-quarter earnings were also lifted by the sale of part of its stake in Spotify (NYSE:SPOT). SNE +1.3% premarket.
Following four straight quarters of record-breaking profits, Samsung Electronics (OTC:SSNLF) has ended the streak. Overall net profit for Q2 came in at 11.04T won ($9.87B), versus 11.05T won a year earlier. Sluggish global smartphone market weighed on earnings amid weak Galaxy S9 sales, although Samsung's chip business continued to perform well.
European earnings roundup: BP +1.2% premarket with profit surging in the second quarter as the oil giant hiked its dividend for the first time in four years. Credit Suisse (NYSE:CS) +2% registering gains from its three-year overhaul, but struck a cautious tone on its outlook. Sanofi (NYSE:SNY) +0.4%as strength in its Genzyme rare diseases unit offset a continued slowdown at its struggling diabetes division.
Starbucks is joining forces with Alibaba (NYSE:BABA) on coffee delivery in China as the U.S. company seeks to rebound from a sales slump in the once-booming market. A formal announcement of the deal will be made later this week, WSJ reports. Starbucks's (NASDAQ:SBUX) quarterly sales in China declined 2% in the period ended July 1, a steep departure from the 7% growth in the same period a year earlier.
Chipotle -1.6% premarket following a Business Insider report of a restaurant closing in Powell, Ohio. Three reports were made to the IWasPoisoned.com website on July 29 and July 30, indicating that at least nine customers fell sick after eating at the location. Chipotle (NYSE:CMG) plans to reopen the restaurant tomorrow, pending approval from the local health department.
Numbers are in... More than 22,000 fans packed the Barclays Center in Brooklyn this past weekend to watch the Overwatch League's first-ever Grand Finals. "I don't think any company has made the same commitment in resources, in talent, in people and capital that we have made to ensure that this is something truly incredible," declared Activision Blizzard (NASDAQ:ATVI) CEO Bobby Kotick. Overwatch became the company's eighth billion-dollar franchise less than a year after its May 2016 release, following the likes of Call of Duty and World of Warcraft.
After a long board meeting, CBS will bring in outside counsel to investigate CEO Les Moonves, who is facing allegations of sexual misconduct. It's not made a decision about suspending Moonves or taking any other immediate action on the matter, but CBS will postpone its annual meeting, originally set for Aug. 10.
Uber is shuttering its self-driving trucks unit, a beleaguered program borne out of the company's $680M acquisition of Otto in August 2016. Instead, it's refocusing self-driving efforts on cars only, having recently taken "the important step of returning to public roads in Pittsburgh." UBER Freight, a business unit that helps truck drivers connect with shipping companies, is unaffected by the decision.
Under the threat of growing protectionism, BMW (OTCPK:BMWYY) is strengthening its European footprint. The luxury carmaker is investing €1B in a new assembly plant in Hungary, marking its first factory in Europe in nearly two decades. BMW currently exports most of its popular SUVs from South Carolina to Europe, a strategy that could become increasingly challenged if tariff threats become reality.
Latest legal headache? Embraer (NYSE:ERJ) said it will defend itself against a lawsuit brought by Brazil's left-wing Workers' Party aimed at halting a bid by Boeing (NYSE:BA) to take over most of the Brazilian planemaker's commercial jet unit. While Embraer is a private company, the government holds a special stock that grants it veto power over major business decisions.
The Keystone XL pipeline has won a mostly positive review from the U.S. State Department, which determines the project's approved route would have no significant environmental impacts. While TransCanada (NYSE:TRP) is planning some preparatory work for the fall, the pipeline still faces a case before the Nebraska Supreme Court, which the company expects to be resolved by late 2018 or early 2019.
General Electric is seeking a buyer for key parts of its digital business and has hired an investment bank to run an auction for the operations, WSJreports. It's not exactly clear what is for sale and how much a potential deal could generate, but possible buyers include software companies and other industrial players. GE Digital (NYSE:GE) amassed $4B in revenues last year, up 12% from 2016.
Eight U.S. states are jointly suing the Trump administration in a last-ditch effort to block the public from being able to download diagrams for 3D printable guns. The blueprints are set to go online tomorrow, following a June settlement between the U.S. government and Texas-based Defense Distributed that allows the company to legally publish the designs. The U.S. State Department had previously banned the blueprints as a national security risk and a violation of arms trafficking regulations. Related: PRLB, SSYS, DDD, XONE, VJET, AOBC, RGR