Tuesday Morning Reads
Reads:
News:
Futures:
 Open Interest Changes:
Charts:
Earnings This Week: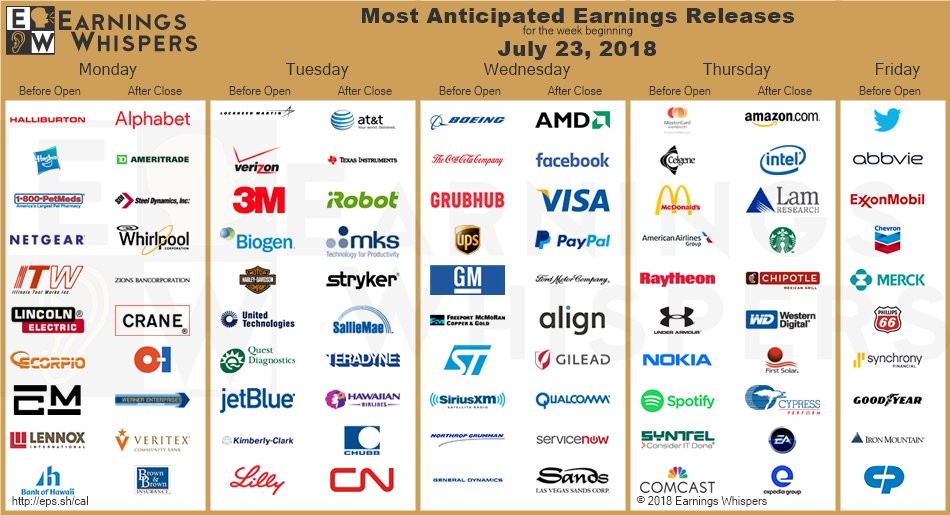 SeekingAlpha:
Government bond prices around the world tumbled yesterday following reports that central banks could be preparing to pull back from the easy money policies that have provided critical support for equity markets since the financial crisis. The U.S. benchmark 10-year yield could soon hit 3% or higher after moving 8 basis points to 2.965% yesterday on a report that the Bank of Japan could change its easy money policies, and global bond prices remain under pressure overnight, with yields on 10-year Japanese bonds up to 0.08% from 0.03% late Friday. "The US 10-year could go to 3% on this move," says Ian Lyngen, U.S. rate strategist at BMO Capital. "There seems to be a momentum that has brought out sideline players, anxious to sell the market," adding that the lack of volatility signaled the 10-year had been coiled for a breakout after spending 20 sessions in a 9.8 basis point range, an extremely rare event. Related ETFs: IEF, SHY, PST, IEI, PLW, BIL, VGSH, VGIT, UST, DTYS, GOVT, TYO, SHV, SCHO, GSY, SCHR, STPP, FLAT, TBX, TYD, SPTS, ITE, DTYL, EGF, RISE, TAPR, DTUS, FTT, TFLO, DTUL, TUZ, USFR, FIBR, GBIL, HYDD, DFVL, TYNS, DFVS, CLTL, USTB, VRIG
Economy
Iran will respond with equal countermeasures if the U.S. tries to block its oil exports through the Strait of Hormuz, the foreign ministry in Tehran says a day after Pres. Trump's twitter warning of dire consequences "the like of which few throughout history have suffered before" if it makes threats against the U.S. John Kilduff of energy hedge fund Again Capital says Brent crude is on a path to $90/bbl because the Trump administration is unlikely to issue many waivers to U.S. sanctions against Iran but could pop well into three figures if Iran ever shuts down the Strait. More likely, Iran could cause problems in other regional sea routes such as the strait off the coast of Yemen, where Iranian-aligned rebels are fighting a Saudi-led coalition, says RBC Capital's Helima Croft. Oil prices jumped by ~$1/bbl yesterday following Trump's tweet but ultimately pulled back to end the day roughly flat; prices were little changed in overnight trading. Relevant tickers include USO, OIL, UWT, UCO, DWT, SCO, BNO, DBO, DTO, USL, DNO, OLO, SZO, OLEM
Outflows of U.S. mutual funds and ETFs in June totaled $22.1 billion, the greatest amount in nearly three years, according to Morningstar's latest report. The bulk of the outflows were from U.S. equity, with $20.8 billion of outflows, $17.1 billion from active funds and $3.7 billion on the passive side. Outflows from international equity funds totaled $9.8 billion, the most since 2008, largely due to emerging-market outflows. Only taxable-bond and municipal-bond funds had inflows, $15.5 billion and $2.6 billion, respectively. Among top U.S. fund families, Vanguard led the way with $7.4 billion in inflows, but its growth continues to slow. Related ETFs include VXUS, EEM.
The Trump administration plans to challenge the state of California's right to set its own fuel emissions standards, with a formal proposal expected this week. The U.S. Environmental Protection Agency will attempt to pull back the waiver granted to California as part of the Clean Air Act and propose to push the federal fuel economy standard back to the 2020 level of 35 mpg per manufacturer fleet. Automakers for the most part are stuck in the middle, with the industry opposing the timing of the Obama Administration fuel emission standards while also fearing a long legal battle that makes it difficult to plot strategy. Related tickers include F, GM, FCAU, HMC, TM, OTCPK:NSANY, TSLA, OTCPK:BMWYY, OTCPK:DDAIF, OTCPK:HYMLF, OTCPK:VLKAY.
Stocks
U.S. stock futures are higher, following a positive showing in overseas markets after financial and tech stocks helped snap a two-trading-day losing streak yesterday. Asian indexes finished with strong gains after China's State Council unveiled several measures to boost domestic consumption, with the Shanghai Composite closing +1.6%, Hong Kong's Hang Seng +1.4% and Japan's Nikkei +0.5%. European stocks also are higher, helped by some upbeat results from UBS and PSA Peugeot; Germany's DAX +1.4%, France's CAC +0.9%, U.K.'s FTSE +0.8%. Investors will be digesting corporate results that came out after Monday's close, including Google parent Alphabet (GOOG, GOOGL), which tallied better than expected Q2 results that sent shares nearly 5% higher in after-hours trading.
The cost to insure debt holdings in Tesla (NASDAQ:TSLA) against declining credit quality rose yesterday to its second highest price ever, Reuters reported, implying the company is at a greater risk of default following a report that sparked concern that the company may need to raise funds. Credit default swaps on Tesla's debt increased by $0.13 to $5.96 per $100 of debt, following a weekend Wall Street Journal report that the company had turned to some suppliers for a refund of previously made payments in a bid to make a profit. Tesla said it had asked fewer than 10 suppliers to cut prices on ongoing long-term projects, and any changes with these suppliers would improve future cash flows but not affect its ability to achieve Q3 profitability. Shares fell as much as 6% in yesterday's trade before settling for a 3.3% loss.
Russian hackers gained access to the networks of U.S. electric utilities last year, claiming "hundreds of victims" in a campaign that could have allowed them to cause blackouts, according to U.S. government officials, who believe the campaign probably is continuing. The Department of Homeland Security has been warning utility executives about the Russian threat to critical infrastructure since 2014, but a briefing yesterday was the first time the agency had provided information in an unclassified setting with so much detail. Related ETFs include XLU, UTG, VPU, GUT, IDU, BUI, FUTY, RYU, UPW, PSCU, FXU, SDP, PUI, FUGAX, JHMU, BUYN, UTLF, XU.
Pepperidge Farm has issued a voluntary recall of 3.3M packages of Goldfish crackers over fears they may be tainted by salmonella bacteria. The Campbell Soup (NYSE:CPB) business said it was notified by an ingredient supplier that the whey powder used in seasoning four varieties of the crackers could contain salmonella, although the company said no illnesses have been reported so far. Mondelez (NASDAQ:MDLZ) said over the weekend that it was voluntarily recalling some Ritz Cracker products due to similar concerns about whey powder potentially tainted with salmonella.
UBS reported a Q2 net profit of 1.28B Swiss francs ($1.29B), a 9% increase from a year ago, while operating income increased to CHF7.55B from CHF7.27B a year earlier. The results beat analyst consensus estimates for net profit of CHF1.02B and adjusted operating income of CHF7.38B - "relatively solid," according to Baader Helvea Equity Research, but "the outlook is rather more cautious than usual." UBS's global wealth management unit reported pretax profit of CHF1.04B, slightly below expectations, with CHF1.2B in net new money outflows in the quarter, as "tough ongoing geopolitical tensions and rising protectionism have dampened investor confidence and remain a threat."
Nike is planning to raise salaries for at least 7,000 workers as part of a sweeping overhaul of its compensation program. Nike (NYSE:NKE) said 10% of those workers would receive competitive-pay adjustments in the coming weeks to equalize pay across the same job functions around the world. The company initiated the compensation review after some negative publicity on its pay scale.
Monday's Key Earnings
Alphabet (NASDAQ:
GOOG
) 
+3.9%
 AH on revenue growth.
Whirlpool (NYSE:
WHR
) 
-9.8%
 AH on earnings miss, weak guidance.
Steel Dynamics (NASDAQ:
STLD
) 
+4.4%
 AH on earnings beat and revenue growth.
TD Ameritrade (NASDAQ:
AMTD
) 
+1%
 AH on asset-based revenue growth.
Cadence Design Systems (NASDAQ:
CDNS
) 
+2.3%
 AH on earnings beat, in-line guidance.
Owens-Illinois (NYSE:
OI
) 
-3.5%
 AH on earnings headwinds.