Tuesday Morning Reads
Reads:
News:
Futures:
 Open Interest Changes:
Charts:
Unusual Option Action 
Earnings This Week: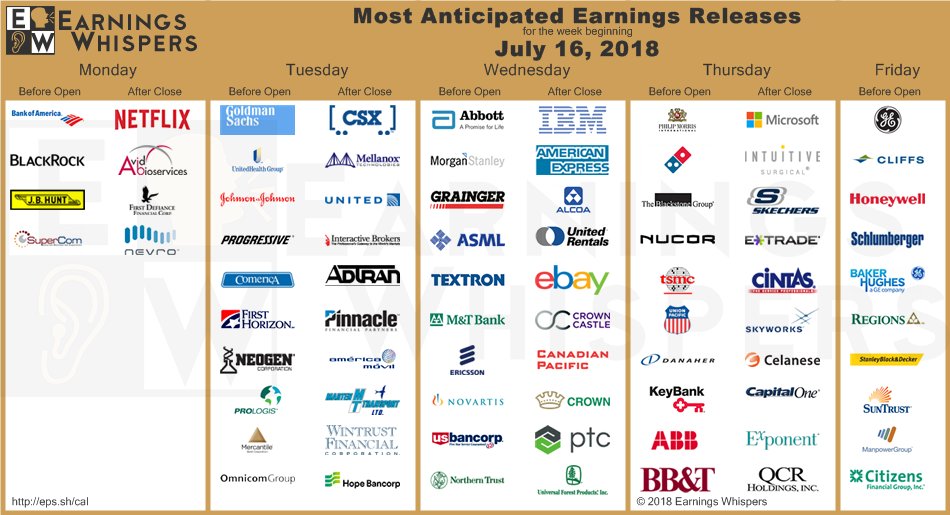 SeekingAlpha:
The spotlight will be on Fed Chair Jerome Powell this morning as he delivers his semi-annual monetary policy testimony on Capitol Hill. The questioning rarely breaks new ground, typically reviewing the Fed's recent policy statements and economic forecasts, but some inquiries may revolve around steps the Fed has taken to relax certain financial regulations. Investors are also paying close attention to discussion on the yield curve - which compares long- and short-term interest rates.
Economy
A U.K. Customs Bill related to Brexit has narrowly passed the House of Commons, with Downing Street previously concluding that all four amendments were "consistent with the Brexit white paper." One clause would prevent the U.K. from collecting taxes on behalf of the EU, unless the the bloc does the same, while another would ensure the U.K. is out of the EU's VAT regime.
The U.S. has filed separate claims with the World Trade Organization against China, the EU, Canada, Mexico and Turkey after the countries lodged complaints over the Trump administration's steel and aluminum tariffs. President Trump has repeatedly raised the prospects of withdrawing from the WTO, although this month he said that no withdrawal was planned for now. Amid the trade tensions, Chinese mainland stocks are down almost 30% since their peak in January.
Despite months of negative trade headlines, the IMF expects the global economy to grow 3.9% this year and next. That's unchanged from its April forecasts, and would represent the best back-to-back years of growth since 2010 and 2011 when the world enjoyed a fleeting snapback from the financial crisis. The fund is still cautious on the road ahead, stating the "risks to the outlook are mounting."
The IEA is sounding the alarm over a "worrying" pause in the shift to clean energy after global investment in renewables fell 7% to $298B last year. Electricity generation still attracted more capital than oil and natural gas for the second year in a row, taking in $750B thanks to robust spending on grids, compared to the $715B that flowed into the latter category.
Russia is prepared to extend the New START nuclear treaty that expires in 2021, according to Vladimir Putin, which calls for deployable nuclear warheads and bombs to be capped at no more than 1,550. While President Trump has criticized the treaty as a bad deal negotiated by his predecessor, proponents of the accord say it's important because it created a new monitoring regime.
Stocks
Netflix tumbled 14% AH after a sizable miss with new subscriber growth. The company disclosed 670K domestic streaming additions vs. 1.21M consensus and guidance for 1.20M - blaming its miss on faulty internal forecasting and not on business reasons, like recent price increases. Netflix (NASDAQ:NFLX) has missed forecasts three times in the past 10 quarters.
Shares of Sinclair (NASDAQ:SBGI) and Tribune Media (NYSE:TRCO) also tanked on Monday after FCC Chairman Ajit Pai signaled his intention to refer the merger to an administrative law judge, a likely death knell for the broadcasting behemoth. The issue is whether divestitures promised by Sinclair include too many joint-operating setups that would leave the company still in effective control of the stations.
A five-year cloud and artificial intelligence agreement has been signed between Walmart (NYSE:WMT) and Microsoft (NASDAQ:MSFT) that includes algorithms for purchasing and sales-data sharing with vendors. The rivalry with Amazon (NASDAQ:AMZN) "is absolutely core to this," Microsoft CEO Satya Nadella declared. "How do we get more leverage as two organizations that have depth and breadth and investment to be able to outrun our respective competition."
It comes as Jeff Bezos shatters more wealth records - now the richest man in recent history (adjusted for inflation). His fortune just crossed the $150B mark, more than $55B richer than Bill Gates, at number two. The milestone was recorded in the heat of Prime Day, which could ring up at least $3.4B within a 36-hour window. Wall Street expects a higher share price for Amazon (AMZN) as a result.
IBM has asked a U.S. jury to award it $167M in a patent lawsuit accusing Groupon (NASDAQ:GRPN) of infringing foundational e-commerce technology, which has already been licensed to Amazon (AMZN), Facebook (NASDAQ:FB) and Google (GOOG, GOOGL). Securing more U.S. patents than any other company for the past 25 years, Groupon argued IBM was overreading the scope of its patents and claiming ownership of building blocks of the internet.
Papa John's founder John Schnatter said "it was a mistake" to resign as chairman after using a racial slur during a training session and is questioning how the company investigated him. He remains a board member, but will no longer be featured in any advertising or marketing materials. As of March, Schnatter owned 29% of Papa John's (NASDAQ:PZZA) shares, currently worth about $500M.
Chinese ride-hailing giant Didi Chuxing (DIDI) is planning to spin off its car services unit ahead of the parent company's planned IPO. About $1B-$1.5B is expected to be raised from the deal, which includes investor SoftBank (OTCPK:SFTBY), Reuters reports. The unit is mainly involved in car rental and maintenance services and provides drivers with optimized gas station deals.
More Takata fallout... Ford (NYSE:F) has agreed to an almost $300M so-called economic loss settlement covering at least 6M U.S. vehicles with potentially faulty Takata (OTCPK:TKTDQ) air bag inflators. Meanwhile, comments from Elon Musk are still weighing on Tesla (NASDAQ:TSLA) shares, down almost 1% premarket, after the CEO lashed out at at one of the British divers involved in Thai cave rescue last week.
There's already big news at Farnborough amid commercial aircraft orders of $43.6B (and engine contracts worth $2.8B), more than double the first day of orders at the 2016 Farnborough Air Show. Airbus (OTCPK:EADSY) led the day, securing commitments for 186 planes compared to 175 for Boeing (NYSE:BA), with the battle significantly focused on the narrowbody market: The A320neo earned 159 orders and options compared to 145 for the 737 Max.