Tuesday Morning Reads
Reads:
News:
Charts:
Premium:
Futures:
Earnings: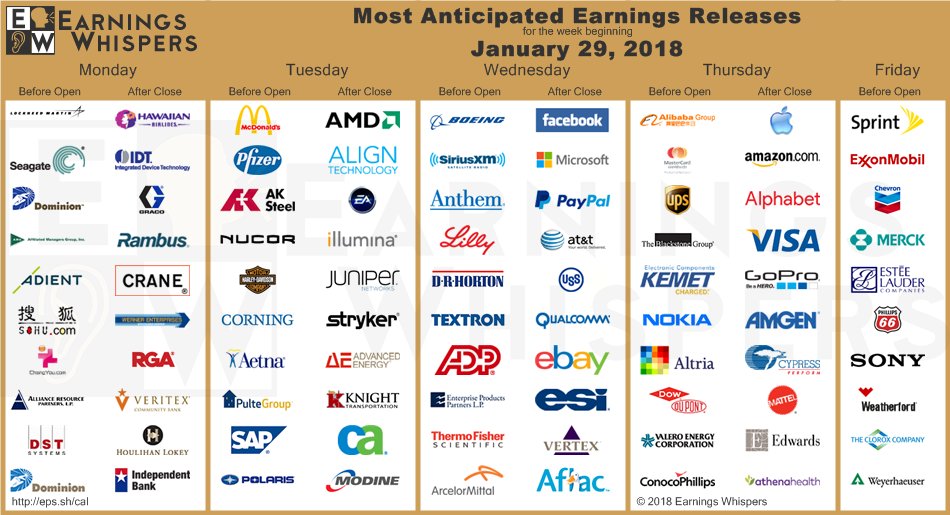 Unusual Option Action:
Seekingalpha:
President Trump will deliver his first State of the Union address tonight, marking an end to the first year of his presidency that has seen U.S. markets ascend to new heights. It will focus on five main policy areas: jobs and the economy, infrastructure, immigration, trade and national security. The S&P 500 jumped 1.4% the day after Trump's speech last year - which was only delivered to Congress - but with a new tax law under his belt, he might need to promise more to further inspire investors. U.S. stock index futures are down around 0.5%, while the U.S. 10-year Treasury yield has risen above 2.7%.
Economy
Following groundbreaking commercial pacts with Japan and Canada, top officials from the EU will meet today with the Mercosur group of Argentina, Brazil, Paraguay and Uruguay to gauge the prospects for a free-trade deal. The EU-Mercosur talks were re-started in 2010, but President Trump's "America First" agenda has prompted the EU to wrap up the negotiations.
The eurozone economy finished off last year with a boom, with the bloc's GDP expanding at 2.5%, better than anticipated by economists and the European Central Bank. In a sign the vibrant pace in the euro area is set to carry on into 2018, a separate release showed regional economic confidence remaining close to a 17-year high in January.
BuzzFeed has leaked Britain's government forecasts on the economic impact of leaving the EU, in an assessment entitled "EU Exit Analysis - Cross Whitehall Briefing." Under a comprehensive free trade agreement with the EU, UK growth would be 5% lower over the next 15 years, the "no deal" scenario would reduce growth by 8% over that period, while continued single-market access would still lower growth by 2%.
A Saudi-led economic blockade has failed to isolate Qatar, which has found ways to shield itself from outside pressure, according to Finance Minister Ali Shareef al-Emadi. "If the blockade strategy was to corner us economically, that completely failed and it will not work." Top Qatari officials are also in Washington this week for a series of meetings meant to strengthen ties between Doha and the Trump administration.
Stocks
Pushing toward the launch of a public robot taxi fleet later this year, Waymo (GOOG, GOOGL) has finalized an order for thousands of self-driving Chrysler Pacifica (NYSE:FCAU) hybrid minivans. "We've moved from research and development to operations and deployment," said Waymo CEO John Krafcik. Although not stating an exact number, a company spokesperson said the order will consist of fewer than 10,000 minivans.
An EV planemaker? Boeing HorizonX Ventures (NYSE:BA) has taken a minority stake in startup Cuberg, which is seeking to develop next-generation battery technology for potential aerospace and industrial applications. "Battery technology is still heavy," so you can't make it for a plane of current commercial aircraft size, Cuberg CEO Richard Wang told CNBC. "You need to take a leap to the next generation."
German carmakers, including Volkswagen (OTCPK:VLKAF), Daimler (OTCPK:DDAIF) and BMW (OTCPK:BAMXF) are under fire following revelations they helped finance experiments that saw humans and monkeys exposed to diesel fumes. The German government has called a special meeting with the affected car companies to ask them to explain themselves, with acting transport minister Christian Schmidt saying "this has once again damaged trust in the auto industry."
Exxon Mobil plans to invest more than $50B in the U.S. over the next five years, citing the recent tax law changes and "the unique strengths" of the company. "Exxon (NYSE:XOM) will be investing billions of dollars to increase oil production in the Permian Basin in west Texas and New Mexico... on top of our massive build-out of operations along the Gulf Coast," said CEO Darren Woods.
Teva Pharmaceutical plans to raise $5B of debt securities as it pushes ahead with a global overhaul aimed at cutting costs and managing its massive debt burden. "The net proceeds... will be used for general corporate purposes, which may include additions to working capital, investments in or extensions of credit to our subsidiaries and the repayment of indebtedness," TEVA said in an SEC filing.
Jamie Dimon will stay on as JPMorgan's (NYSE:JPM) CEO for another five years, according to the bank, though it named two lieutenants to a co-president job. Dimon is one of banking's longer-running CEOs, taking on the title of chief executive officer at the end of 2005 and chairman a year later. During his tenure as CEO, JPMorgan's stock has more than doubled to $116.20 from $48.07.
The Commodity Futures Trading Commission has fined Deutsche Bank (NYSE:DB), UBS and HSBC nearly $47M to settle "spoofing" charges, while the DOJ charged eight individuals for deceptive trading, calling it "the largest futures market criminal enforcement action in department history." Spoofing is rapidly placing orders with the intent to cancel them before they trade in order to trick other investors by creating the illusion of demand.
Corporate governance experts are of the opinion that Wynn Resorts (NASDAQ:WYNN) directors could face the possibility of civil liability over allegations involving CEO Steve Wynn. However, some say the board could "be shielded under some circumstances" if it's proven they've acted in good faith. Fallout continued Monday from the sexual misconduct allegations against Steve Wynn as the casino giant's stock fell further.
Blackstone is in advanced talks to buy an approximate 55% stake in the Financial and Risk business of Thomson Reuters, a deal that would value the unit at about $20B including debt. The unit contributes more than half of Thomson Reuters' annual revenues. A successful deal would put Blackstone (NYSE:BX) in direct competition with Bloomberg and Dow Jones (NASDAQ:NWSA) in selling data services, as well as analytical and trading tools.
SAP has revealed its biggest acquisition in more than three years, scooping up Callidus Software (NASDAQ:CALD) for an enterprise value of $2.4B. It comes as the company reported earnings for Q4, generating sales of €6.8B in the period. SAP's new cloud bookings, a keenly watched metric for future sales growth, grew 31% at constant currencies. CALD +12% premarket.
Intel's Spectre patch has created its own problems, like causing computers to reboot more often than normal, so Microsoft (NASDAQ:MSFT) has put out an update to fix it. Customers can manually download the emergency security software from the Microsoft Update Catalog website. It comes nearly four weeks after Intel (NASDAQ:INTC) confirmed that its chips were affected by vulnerabilities known as Spectre and Meltdown.
Shooting down yesterday's rumors, Renesas Electronics (OTCPK:RNECY) has thrown cold water on a media report stating it was in talks to buy Maxim Integrated (NASDAQ:MXIM), which propelled the U.S. chipmaker's shares up 12%. CNBC had said that discussions were ongoing for an acquisition that could be valued at up to $20B, but also revealed that a deal was not imminent and may not happen. MXIM -10% premarket.
The FCC, wireless companies and some lawmakers oppose an idea by members of President Trump's national security team for the government to build a 5G wireless network to counter China spying on phone calls. White House spokeswoman Sarah Sanders said Monday that discussions were at "the very earliest stages" to ensure a "secure network," and "absolutely no decisions" have been made. Related tickers: AMT, AVGO, CCI, CHTR, CMCSA, CSCO, ERIC, EQIX, IBM, IDCC, IDTI, INTC, JNPR, GLW, NOK, QCOM, RHT, SWKS, S, SBAC, T, TMUS, TWLO, VMW, VZ, WIFI, XLNX, ZAYO