Tuesday Morning Reads
Reads:
News:
Charts:
Premium:
Futures:
Earnings: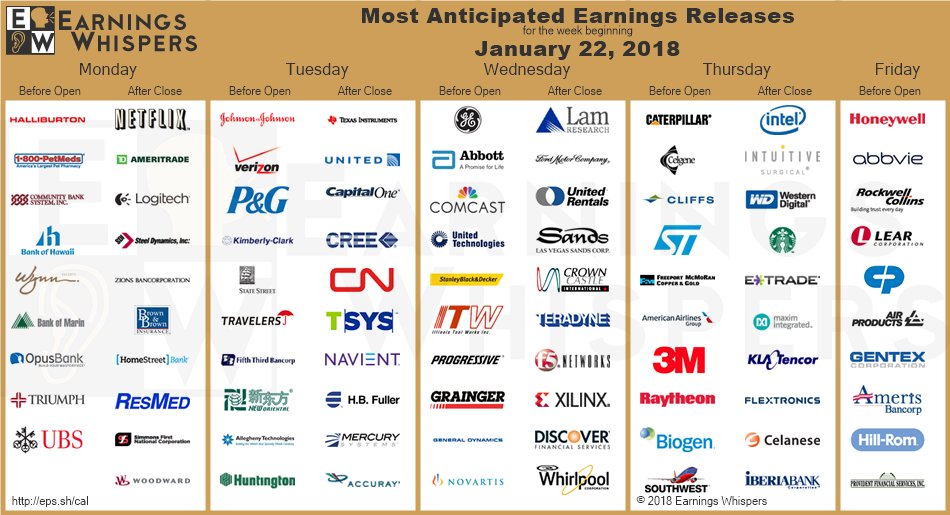 Unusual Option Action:
Seekingalpha:
The world's political and business leaders, plus the usual smattering of celebrities, are heading to Davos, the Swiss Alpine resort where the World Economic Forum's annual conference begins today. The official theme of the 2018 meeting is to build a shared global narrative and is entitled "Creating a Shared Future in a Fractured World." President Trump will be the first U.S. leader to attend the summit since Bill Clinton in 2000.
Economy
U.S. trading partners are starting to respond to the Trump administration's decision to slap steep tariffs on imports of solar panels and washing machines. China called them "an abuse," South Korea will file a complaint with the WTO, while Mexico said it would use all legal means at its disposal to ensure the U.S. meets its international obligations. Related premarket movers: ASYS +4.6%, CSIQ -0.4%, DQ -6.8%, ENPH +4.6%, FSLR +5.4% JASO -2.1%, JKS -2.9%, RGSE +46.1%, RUN +6%, SEDG +3.3%, SOL +0.7%, SKYS +2.5%, SPWR-1.4%, SUNW +29.5 TSLA +0.9%, VSLR +8.5%, WHR +3.2%.
Puerto Rico's Governor Ricardo Rossello intends to sell off the U.S. territory's troubled power utility to the private sector. Less than 64% of homes and businesses are receiving power, according to the U.S. Department of Energy. PREPA has yet to recover fully from the devastation wrought by Hurricane Maria, which in late September knocked out power to the entire island.
A magnitude 8.2 earthquake off Alaska's Kodiak Island prompted a tsunami warning overnight for a large swath of coastal Alaska and Canada's British Columbia, while the remainder of the U.S. West Coast was under a watch. The following warning from the National Weather Service was sent to cellphones in Alaska: "Emergency Alert. Tsunami danger on the coast. Go to high ground or move inland."
Keeping monetary settings unchanged overnight, Japan's central bank said it would maintain its massive stimulus program, lagging behind global peers in normalizing policy. The BOJ also announced that "inflation expectations have moved sideways recently," versus a previous assessment that they were weakening, though risks to prices remain "skewed to the downside."
The Trump administration has entered into talks with Britain, France and Germany on ways to address its concerns with the Iranian nuclear deal, setting up a working group that will begin to meet next week. President Trump previously said he wouldn't renew U.S. sanctions relief to Iran in May, unless Europe agrees to restrict Iranian missile development, provide for expanded inspections and extend prohibitions on nuclear-weapons work.
Stocks again rose to new records yesterday, helped by the Senate vote to reopen the government and provide funding through Feb. 8. The next catalyst for equities could come from the slew of big earnings set to be unveiled this week. Of the 55 companies in the S&P 500 that have reported earnings through Monday morning, 80% have topped expectations.
Stocks
Netflix claimed 2M more subscribers than Wall Street expected in the final three months of 2017, ending the year with 117.58M streaming subs around the globe. The results drove shares up 9% AH, resulting in a market cap of more than $100B for the first time. "With greater than expected member growth, we now plan to spend $7.5B-$8B on content on a P&L basis in 2018," Netflix (NASDAQ:NFLX) said in a statement.
21st Century Fox's £11.7B takeover of Sky (OTCQX:SKYAY) is not in the public interest and should only proceed subject to remedies, according to a provisional statement by the U.K. Competition and Markets Authority. Concessions could include divesting Sky News or insulating the channel from Murdoch's influence. The initial ruling for Fox (NASDAQ:FOXA) also complicates a plan by Walt Disney (NYSE:DIS) to buy the majority of Murdoch's assets.
Hoping to become the second largest spirits company in the U.S., Bacardi has confirmed a deal to buy high-end tequila maker Patron for $5.1B. While the global market for alcoholic drinks shrunk by 1.3% in 2016, the tequila market grew 5.2%, according to alcoholic beverage research firm IWSR. Diageo (NYSE:DEO) last year bought George Clooney's premium tequila brand Casamigos for up to $1B.
Toshiba has completed the sale of its claims against bankrupt U.S. nuclear unit Westinghouse Electric, allowing the Japanese conglomerate to replenish its depleted capital base and remain listed. The $2.16B sale, to a group of hedge funds led by the Baupost Group, will also come with tax benefits and improve Toshiba's (OTCPK:TOSYY) balance sheet by about ¥410B ($3.7B).
Recommending its customers hold off on patch installations, Intel (NASDAQ:INTC) said it has identified the cause of the reboot issue with Broadwell and Haswell platforms. The company rolled out an early solution last weekend to industry partners, and a final version for its two high-profile security vulnerabilities will become available following testing.
Adobe rose more than 3% AH after the company said its effective tax rate should be lower in 2018 as a result of recently passed U.S. tax reform. That's in contrast to IBM's statement last week which is leading to a higher tax rate. Mark Garrett, the CFO who led Adobe's (NASDAQ:ADBE) transition to a subscription business model, is also retiring after more than a decade in the role.
A Tesla Model S reportedly on "Autopilot" smashed into the back of a fire truck attending a freeway accident on Monday. While the car was said to be traveling at 65 mph before the crash, it was unclear to what extent the car may have slowed before striking the emergency vehicle. The feature is "intended for use only with a fully attentive driver," according to Tesla (NASDAQ:TSLA) officials.
Bill Ackman is cutting almost a fifth of his staff and looking to lower his public profile as he seeks to turn around Pershing Square (OTCPK:PSHZF) after three straight years of losses, sources told Reuters. Previously one of Wall Street's most vocal investors, Ackman recently suffered big losses on Valeant Pharmaceuticals (NYSE:VRX) and Herbalife (NYSE:HLF) and lost a proxy fight with Automatic Data Processing (NASDAQ:ADP).
The crackdown on cryptos in South Korea is picking up. South Korea will ban the use of anonymous bank accounts in cryptocurrency trading from Jan. 30, bringing the country closer into line with financial rules in other markets. South Korea is believed to be the world's third-biggest market for crypto trades, meaning decisions made in Seoul can result in large, sudden price swings.
The federal judge hearing the government's case against AT&T (NYSE:T) and Time Warner (NYSE:TWX) has ordered the Justice Department to seek permission from rival companies - DIS, FOXA, VIA, DISCA, SNI, CMCSA, CHTR, ATUS - before handing pricing data over to the merger partners' legal team. AT&T, pursuing an $85B takeover of Time Warner, would like to use the data to show that previous mergers didn't lead to increases in content prices.
Amid the latest newsfeed changes, Rupert Murdoch is aiming some public pressure at the coffers of Facebook (NASDAQ:FB), saying if the social-networking giant is serious about trusted content, it should open its wallet. That means paying publishers fees like those cable distributors pay for TV channels, declared the chairman of Fox (FOXA), a company which receives those payments from distributors.