Tuesday Morning Reads
Reads
News
Charts:
Premium:
Fridays Unusual Option Action
Earnings This Week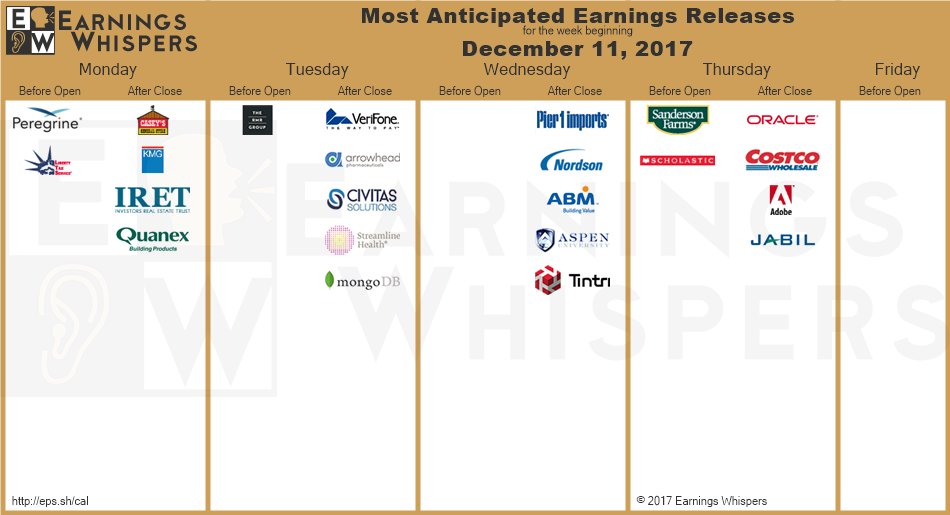 Seekingalpha:
The FOMC will gather today for its last policy meeting of 2017, which many expect will result in interest rates getting bumped up by a quarter point on Wednesday. The wild card for the markets, however, is what the Fed says and does with regard to tax legislation. While many expect the central bank to retain its three-rate-hike forecast for next year, some feel the Fed could add a fourth rate hike based on the improving economy and stimulus from tax cuts.
Economy
Brent oil prices jumped overnight to their highest since mid-2015 after the shutdown of the Forties North Sea pipeline knocked out significant supply from a market already tightening due to OPEC-led production cuts. Brent futures rose 1.5% to top $65 a barrel, while WTI crude futures were up 43 cents to $58.42/bbl, or 0.7%, from their last settlement.
The EU Withdrawal Bill will return to the House of Commons today and Wednesday, continuing its slow journey through the U.K. Parliament. The measure facilitates moving EU-derived rules and regulations into British law. Meanwhile, the U.K. inflation rate increased 3.1% in November, breaching its target and marking the highest level since March 2012
In a statement due to be issued on the sidelines of the WTO's ministerial conference, the EU, Japan and U.S. will announce a new alliance to take on China. The three economies will target "severe excess capacity" in important sectors like steel and commodities, the role of illegal subsidies and abusing intellectual property rules to acquire strategic technologies.
Beijing is also preparing for more immediate threats from Washington, including President Trump's tax overhaul and Fed rate increases. The double whammy could sap money out of the country by making the U.S. a more attractive place to invest, WSJ reports. The PBOC is now ready to respond with higher interest rates, tighter capital controls and more frequent currency interventions.
President Trump has asked Congress to enact "urgent" immigration reforms, a day after a blast triggered by an ISIS-inspired man left four people injured in NYC. "Congress must end chain migration," he said, following the attack near the Port Authority Bus Terminal. The suspect, Akayed Ullah, came to the U.S. from Bangladesh in 2011 on a visa for children of U.S. siblings.
Voters in Alabama are heading to the polls in a hard-fought U.S. Senate race between Republican Roy Moore, whose campaign has been clouded by sexual misconduct allegations, and Democrat Doug Jones, who is hoping for an upset victory. Polls open at 7 a.m. in the state special election for the seat vacated by Jeff Sessions, who became U.S. attorney general in the Trump administration.
Stocks
The SEC has issued a warning to investors on the dangers of putting their money into cryptocurrencies. "There are tales of fortunes made and dreamed to be made," said Chairman Jay Clayton. "We are hearing the familiar refrain, 'this time is different.'" The enforcement action also suggests the agency will step in to address ICOs for registration violations even if there are no claims of fraud.
Amazon Web Services is expanding its cloud business in China with a new local partner, Ningxia Western Cloud Data Technology, aiming to win share in an increasingly crowded and highly regulated market. The move comes a month after AWS (NASDAQ:AMZN) said it will sell the hardware assets of its Beijing-registered cloud unit for up to 2B yuan ($302M) to comply with new regulations.
A formal announcement is expected in the next 24 hours, but Western Digital (NYSE:WDC) and Toshiba (OTCPK:TOSYY) have agreed to settle a dispute over the latter's planned $18B sale of its memory chip unit. As part of the deal, Western Digital will be able to invest alongside Toshiba in a cutting-edge chip plant in Japan and receive a guaranteed supply of next-generation memory chips.
Comcast has abandoned its bid for most of the assets of Twenty-First Century Fox (NASDAQ:FOXA), leaving Walt Disney (NYSE:DIS) as the sole suitor in pursuit of the $40B+ deal. "When a set of assets like Fox's becomes available, it's our responsibility to evaluate if there is a strategic fit," Comcast (NASDAQ:CMCSA) declared, but said it "never got the level of engagement needed to make a definitive offer."
In an unprecedented deal with the NFL, Verizon (NYSE:VZ) has sealed an agreement to live-stream all in-market and national games on Yahoo Sports and AOL. It will pay $2.25B for the five-year pact, Reuters reports. Verizon has also awarded Ericsson (NASDAQ:ERIC) a contract to provide networking equipment for its commercial 5G launch.
Boeing is raising its quarterly dividend by 20% to $1.71/share and will replace its existing share buyback program with a new $18B authorization. The decisions were not in response to the GOP tax overhaul, according to the company. BA shares, the best-performing Dow component this year with an 84% surge, rose 1.2% in AH trading on the news.
President Trump has signed "Space Policy Directive 1" aimed at returning Americans to the surface of the moon and onward to Mars. "Space has so much to do with so many other applications, including a military application," he said without elaboration. The event coincided with the 45th anniversary of the last crewed mission - Apollo 17 - to land on the moon. Related tickers: RTN, LLL, LMT, BA, OA, AJRD
European property company Unibail-Rodamco (OTCPK:UNBLF) has agreed to buy shopping mall owner Westfield (OTCPK:WFGPY) for $15.7B, in what would be the biggest takeover of an Australian company on record. It comes on the heels of GGP's rejection of a $14.8B offer from Brookfield Property (NYSE:BPY) for two-thirds of the world's No. 2 retail real estate investment trust it did not already own.
Exxon Mobil will provide more disclosure related to the potential impact of climate change on its business starting "in the near future," according to a new SEC filing. The company's board originally opposed providing shareholders with a report outlining the potential impact of global warming on Exxon's (NYSE:XOM) long-term outlook.
An unofficial committee of Seadrill's (NYSE:SDRL) unsecured bondholders has submitted a binding alternative proposal for the company's restructuring, sources told Reuters. Under the official plan, holders of Seadrill's $2.3B of unsecured bonds would receive 14.3% of stock in the reorganized firm, which was once the largest drilling rig operator by market value.
Saudi Aramco plans to raise its spending to $414B over the next 10 years, including on infrastructure and drilling, as the oil producer expands into new businesses. "We are into so many sectors now," CEO Amin Nasser told reporters. The spending plan is higher than Aramco's (Private:ARMCO) projection last year of around $334B by 2025.