Top reads, news, and charts for Tuesday July 25th 2017
Reads
News
Earnings:
Charts:
Tweets: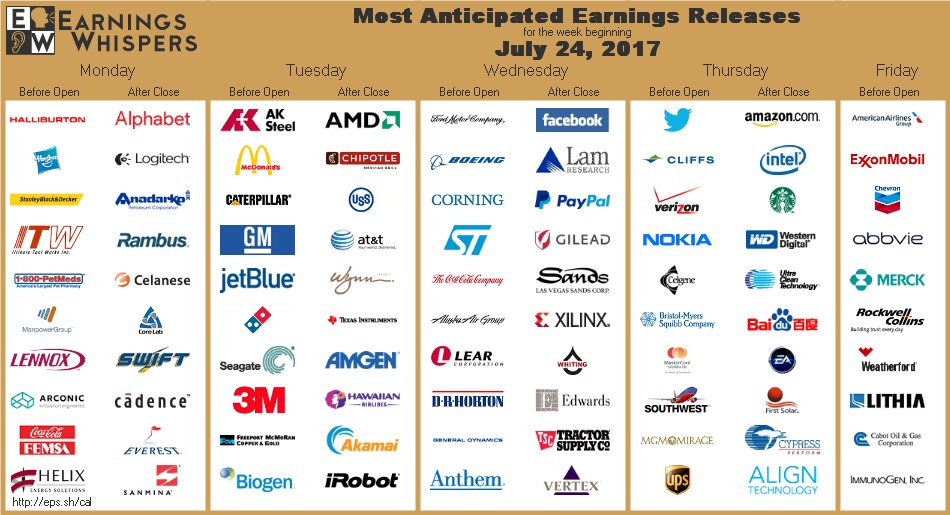 Seekingalpha
Earnings reports will continue to pour in today to give investors plenty to chew on. Heavy hitters due to spill numbers include Advanced Micro Devices (NASDAQ:AMD), McDonald's (NYSE:MCD), Wynn Resorts (NASDAQ:WYNN), Caterpillar (NYSE:CAT), AT&T (NYSE:T) and General Motors (NYSE:GM). There's also Chipotle (NYSE:CMG) to keep a watch on. The restaurant operator's conference call could include questions from analysts on comparable sales, commodity prices and the impact of falling ceiling rats.
Economy
European bourses are broadly higher off strength in the financial sector, with the Stoxx Europe 600 Index up 0.5%. U.K.'s FTSE +0.9%, Germany's DAX +0.7 and France's CAC +1.1% are all in positive territory. In Asia, Japan's Nikkei turned 0.1% lower, while South Korea's Kospi peeled off 0.5%. Stocks also retreated in China and India. U.S. stock futures are flat in early trading.
Oil patch news: The Trump administration is reported to be considering slapping sanctions on Venezuela that will include a ban on importing crude oil from the nation. The move is seen as benefiting Canadian oil producers. The U.S. imported 673K barrels of oil per day from Venezuela last month. Traders are also factoring in indications from yesterday's OPEC meeting of oil production cuts from Saudi Arabia and Nigeria. Meanwhile, the cartel's blame for why prices have remained so low is slowly shifting from U.S. shale production toward its own members, and whether they're holding the line on agreed-to production limits. WTI crude oil futures +0.43% to $46.54/bbl at last check. Brent crude +0.43% to $48.81/bbl.
The White House said it supports a package of House security spending Bills. "If H.R. 3219 were presented to the president in its current form, his advisors would recommend that he sign the bill into law," reads the WH statement. The package of bills includes $1.6B for President Trump's border wall proposal, along with military appropriations and civilian infrastructure funding. Though the House is expected to clear the bill, it's unclear if it will reach a vote in the Senate before the August recess.
The Federal Reserve's Open Market Committee begins its two-day meeting on interest rate policy today, but unlike last time, expectations are that a new short-term rate hike isn't on the agenda. Instead investors are looking for language that could clue them into future increases, as well as any inkling to when the Fed will start paring its bond holdings. The dollar, meanwhile, is hovering a bit over a 13-month low.
A mysterious renewable energy development project in Durand, Michigan is beginning to draw notice due to its immense size. Documents filed by the city indicate that the 24M square-foot facility called Project Tim would be "the greenest facility of its kind anywhere in the world." Building costs are estimated at $4.5B to $5.5B. A meeting last week in Durand was light on detail other than the project is classified as renewable energy and will involve the radical reduction of carbon emissions.
A survey of German business confidence rose unexpectedly in July to set a record high. The Ifo Business Climate Index blazed in at 116.0 to top the 114.9 mark anticipated by economists. "Sentiment among German businesses is euphoric," according to Ifo chief Clemens Fuest.
Stocks
Michael Kors agrees to acquire Jimmy Choo (OTCPK:JYMHF) for $1.2B. The company expects to grow Jimmy Choo sales to $1B a year and create long-term operational synergies with the MK business. The deal follows a move earlier this year by luxury rival Coach (NYSE:COH) to snap up Kate Spade. Shares of Michael Kors (NYSE:KORS) are down 19% YTD.
Reports out of Japan indicate that Toyota (NYSE:TM) is working on an electric car with improved driving range and a fast-charging battery. The Japanese automaker is expected to build the new EV on a new platform and use solid-state batteries that can be recharged in minutes. The new model could arrive as early as 2022.
Facing a low-margin business of scraping for pennies while dealing with big-bank capital requirements, Goldman Sachs (NYSE:GS) is reportedly backing out of a role as a top lead market maker for exchange-traded funds. That likely clears the way for market-share taking by smaller, electronic-focused firms that may find the ETF effort more worthwhile.
For the first time since 2008 and the global financial crisis that brought it three government bailouts, Citigroup (NYSE:C) is holding an investor day, and a select audience of analysts and stakeholders will look to CEO Mike Corbat and his update of a promise that profits would reach 10% of tangible common equity by 2019. The bank has $1.82T in assets, down from $2.2T at its last investor day.
Sandell Asset Management is buying up a stake in Barnes & Noble (NYSE:BKS) in an activist push to persuade the bookseller to sell itself again. Like many retailers, B&N has struggled in competition against Amazon.com, but Sandell believes its prominence in national retail is an asset, and that it could draw $12/share, vs. current pricing of $7.10.
With solid advertising growth leading the way, Alphabet (GOOG, GOOGL) topped estimates with its Q2 earnings, but it was dinged by a $2.7B antitrust fine from Europe and lower cost-per-click as the mix shifted toward mobile and YouTube links that earn less than traditional desktop search. Paid clicks were up 52% Y/Y (and 12% sequentially), but cost per click fell 23% Y/Y.
Model 3 watching: Shares of Tesla (NASDAQ:TSLA) finished up 4.30% as investors show confidence in front of the first batch of deliveries to Model 3 customers scheduled for this Friday. Amid the intense focus on Tesla's pace of production, the company aims to ramp up without sacrificing quality or safety. Musk and gang have pointed to the simpler platform of the Model 3 in comparison to the Model X. By next week, there should be more insight into the features, road performance, Autopilot capabilities and charging costs of the Model 3.
Monday's Key Earnings
Anadarko Petroleum (NYSE:
APC
) 
-4%
 AH after missing expectations, capex cut.
Celanese (NYSE:
CE
) 
+0.5%
 on earnings beat.
Core Laboratories (NYSE:
CLB
) 
-6.1%
 AH on disappointing Q3 outlook.
CryoLife (NYSE:
CRY
) 
-4.6%
 AH on Q3 outlook.
Alphabet (NASDAQ:
GOOG
) 
-2.6%
 AH on EU fine impact.