Tuesday  Reads
Morning Reads
Futures:
OPTIONS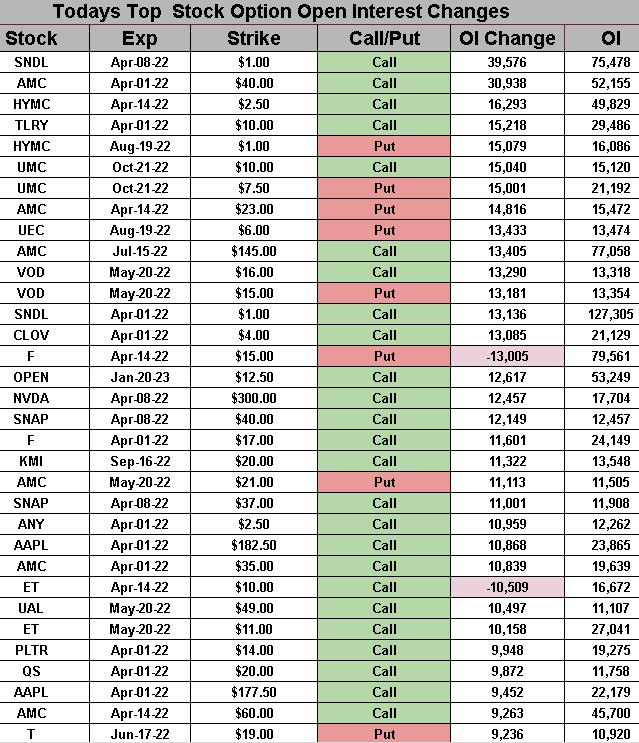 premium:
PREPPER
President Biden has laid out a $5.79T budget plan for the fiscal year starting Oct. 1, including a 20% minimum tax rate on U.S. households worth more than $100M, or the top 0.01% of Americans. Company executives would also be required to hold on to shares they receive for several years after a stock buyback, while the corporate tax rate would be raised from the current 21% to 28%. In 2020, there were fifty Fortune 500 companies that made profits of over $50B, but they didn't pay anything in federal taxes.
Quote: "For most Americans, the last few years have been very hard, stretching them to the breaking point, while billionaires and large corporations got richer than ever," Biden said in a statement. "Right now, billionaires pay an average of 8% on their total income, while a firefighter and a teacher pay double that tax rate. That's not right, that's not fair."
Billionaires make most of their money from capital gains, which are taxed at a lower rate than the paychecks that the majority of American workers bring home. The ultra-wealthy also rack up huge fortunes without ever selling their assets - or what is called unrealized capital gains - which aren't presently subject to income taxes. The new proposal would expand the tax code's definition of "income" by taxing unrealized capital gains, which could mean hefty tax bills for some of America's most prominent billionaires.
Examples: The ten richest people in the U.S., including Tesla's (TSLA) Elon Musk and Amazon's (AMZN) Jeff Bezos, would pay up to $215B in taxes on unrealized stock gains (they currently pay next to nothing). Last year, Musk slammed a similar proposal from Senate Finance Committee Chair Ron Wyden, tweeting, "eventually they run out of other people's money and then they come for you." The Biden administration also hopes Congress will enact a Global Minimum Tax, which was agreed to by 130 countries last year to "combat multinational companies from shipping jobs and recording profits overseas to avoid paying taxes at home." (46 comments)
Apple (AAPL), Alphabet (GOOGL) and Amazon (AMZN) did it... Now, Tesla (TSLA) is doing it (again). Just two years after the electric vehicle maker divided its stock in a 5-for-1 split, it's seeking board and shareholder approval for a similar resolution. This time around, it hopes to increase the number of authorized shares in order to enable a stock split, though it didn't disclose the ratio or potential timing.
Bigger picture: Splitting a stock does not affect underlying fundamentals, but it could attract more investors by making shares more affordable for retail investors or those that don't want such a holding to be a large portion of their portfolios. In fact, BofA Global Research notes that splits are "historically bullish" for companies, with their shares marking average returns of 25% one year later versus 9% for the overall market. Tesla surged 8% on Monday, adding over $100B to its market cap, and climbed another 3% in premarket trading to $1,124/share. It's also up 128% since the split in 2020 - which boosted its valuation above the $1T level - though shares are still off 9% YTD.
Tesla picked up general momentum recently with the opening of plants in Berlin and Austin, which are expected to put it on a path for an annualized production run rate of 2M vehicles by the end of the year. The company has also not seen the same level of supply chain disruption as some peers as it navigates its journey in the post-pandemic world. Meanwhile, Hertz (HTZ) has added Tesla's Model Y SUV to its electric vehicle rental fleet last week, according to a posting on the car rental firm's website.
For the haters: News of the split came as the company temporarily suspended production at Giga Shanghai due to COVID lockdown measures, while Elon Musk tweeted he "supposedly" tested positive for the virus but with almost no symptoms. Moreover, Tesla AI Chief Andrej Karpathy just embarked on a fourth-month sabbatical as the company attempts to achieve full self-driving capability and produce a humanoid robot prototype. "This [stock split] could further fuel the bubble in Tesla's stock that has been brewing over the past two years," said David Trainer, CEO of investment research firm New Constructs. (205 comments)
The meme craze is making somewhat of a comeback as traders continue to pile into riskier pockets of the market. Stocks have been picking up overall since March 9 - despite volatility over the war in Ukraine and yield curve inversions - and some are now looking to drop cash into surprises in memeland. GameStop (NYSE:GME) even rose for a tenth consecutive session on Monday, notching its longest winning streak since April 2010 and recording a 143% return over the past two weeks.
Catalysts? Billionaire Ryan Cohen, chairman of GameStop's board, bought another 100K shares of the meme stock last week, bringing his ownership stake in the videogame retailer to 11.9%. AMC (NYSE:AMC) CEO Adam Aron separately announced that the theater chain would shoot for more "transformational" deals where it can "reach for the stars and intriguing investments that have potentially attractive returns."
While it is difficult to predict if a meme session will end in a rocket ride or a crash, the core sector usually trades as a group. Yesterday saw AMC surge 45%, GameStop rally 25% and Bed Bath & Beyond (NASDAQ:BBBY) climb 17%. Things are trending down this morning, though newly minted meme-stock Hycroft Mining (NASDAQ:HYMC) is still on fire, soaring 31% premarket after an 80% gain on Monday (AMC previously took a position in the precious metals producer).
Go deeper: The sentiment is quickly spreading to other riskier areas, like the crypto market. Bitcoin (BTC-USD) continued to make gains over the weekend and just turned positive for 2022 after climbing above the $48,000 level.
Talking publicly about retirement for the last few years, longtime FedEx (FDX) founder and CEO, Fred Smith, is finally stepping down. He'll become Executive Chairman on June 1, while Chief Operating Officer Raj Subramaniam will be promoted to the top spot. Subramaniam has worked in various roles at FedEx since 1991, and most recently steered the company to embrace e-commerce while navigating a complicated divorce with Amazon (AMZN).
Quote: "FedEx has changed the world by connecting people and possibilities for the last 50 years," Smith said in a statement. "As we look toward what's next, I have a great sense of satisfaction that a leader of the caliber of Raj Subramaniam will take FedEx into a very successful future." FDX +2.6% premarket.
Smith invented the concept of express delivery when he founded FedEx in 1971 by putting together an airline fleet that flew time-critical packages overnight. The company went on to become the first U.S. firm to hit $1B in revenues in its first decade without mergers or acquisitions, then expanded into trucking (Ground) and international markets shortly thereafter. The business now employs more than 600K people across the globe and notched $92B of revenue in 2021.
Market movement: Profits at FedEx have been squeezed in recent quarters as the pandemic boom in package volumes drops off. Higher labor and fuel costs have also weighed on margins, while its delivery network expansion and less profitable customers hit its bottom line. Over the past year, FedEx shares have slipped 18%, compared to the 15% advance of the S&P 500 and the 31% jump of rival UPS (UPS). (9 comments)