Tuesday Morning Reads
Reads
Options:
Futures:
Premium:
Prepper:
Tesla (NASDAQ:TSLA) shares were the weakest among the Big Six megacaps in Monday's trading, declining more than 2% and falling back below their 200-day simple moving average. Other highly-valued stocks have seen weakness lately. Fellow megacap Apple, for example, has also been testing its 200-day SMA, although it has survived that test so far. But Tesla shares are feeling the pressure coming from a few directions, related to and unrelated to its core business of selling cars.
Stock numbers: In Monday's session, Tesla fell back below the 200-day SMA, which sits at about $584. Last week Tesla fell below that level for the first time since March 2020, at the depth of the COVID-related selling and momentum has been a concern for a month. Shares are now down 35% from their closing high in late January and 24% lower from the recent high on April 13. Just two trading sessions earlier, on April 9, the 50-day SMA crossed below the 100-day in a bearish sign. The price has been consistently below the 100-day since April 27 and the 50-day since May 6.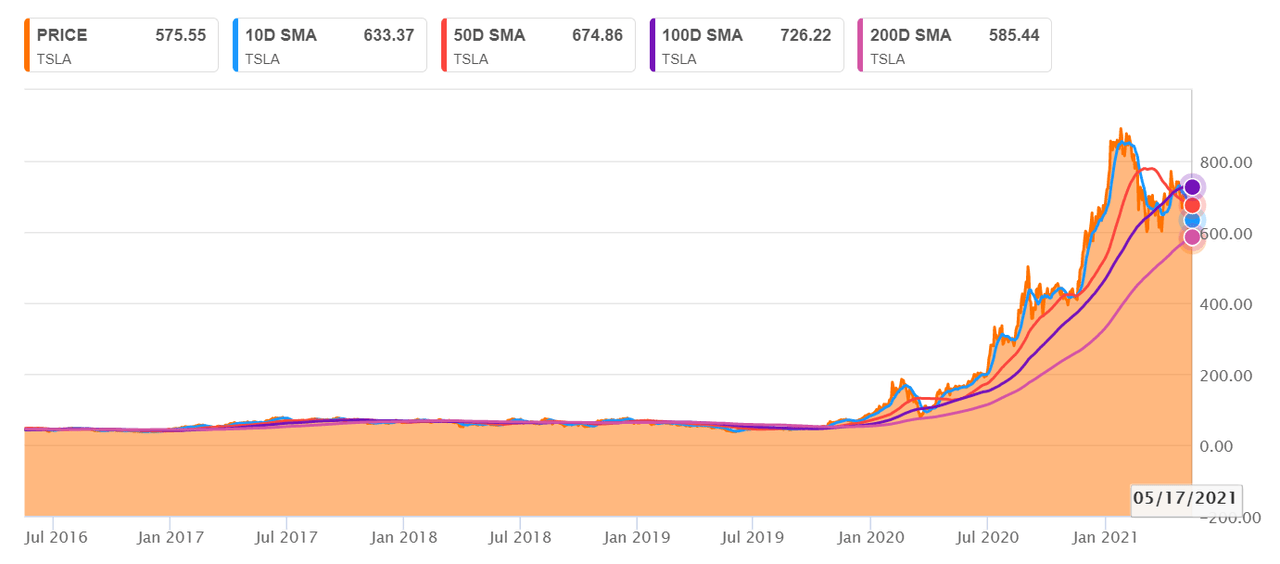 The relative strength index sits just above oversold territory at 33. The last time it was there was early March, but in a more bullish sign shares sat below 30 for only two sessions before mounting a rally. Also bullish is the chart picture using the less known Ichimoku Cloud, which is used to gauge support and resistance. "For Tesla, the trend is higher based on that cloud," Katie Stockton, founder of Fairlead Strategies, told Yahoo Finance.
Burry short: Tesla shares got hit with additional pressure yesterday afternoon when Michael Burry of The Big Short fame, disclosed a large short position in the stock. Burry's Scion Asset Management holds 8,001 put contracts, bearish options on 800,100 Tesla shares, although there were no details on strike price or expiry in the regulatory filing. Burry had disclosed a Tesla short in December in a since-deleted tweet and has expressed his concern about the valuation. Burry was one of the catalysts for the retail investor interest in GameStop, although he closed out his long position before the big squeeze. The disclosure adds some more credence to the theory that Tesla shares have come too far too fast after a year of cash from fiscal and monetary stimulus chasing returns in Big Tech and momentum names.
"Tesla is currently trading at an enterprise value multiple of about 11x based on its expected 2021 revenues, hardly a bargain, but Tesla will continue to report impressive growth figures for the next 3-4 years and possibly beyond," Seeking Alpha contributor The Outsider wrote yesterday, warning about buying on the current pullback. "This justifies to some extent its premium valuation, but even when compared to technology companies this valuation seems to already incorporate much of the future growth."
Self-driving headlines: A fatal crash in California involved a Tesla Model 3 driver who had, in the past, recorded TikTok videos lauding the "full self-driving" feature and driving with his hands off the wheel, according to Reuters. Yesterday, the California Department of Motor Vehicles confirmed that Tesla is under review to see if the company misleads customers by advertising its full self-driving capability option.
Crypto controversy: Tesla shares have also seen volatility as CEO Elon Musk battles with supporters arguably as passionate as his own devoted customers and investors: the crypto crowd. Musk, who had been praised for accepting bitcoin (BTC-USD) for transactions and seen Tesla stock rally on the announcement, found himself in the crosshairs after reversing that decision and suspending bitcoin purchases on concerns about the amount of energy used in mining. After then saying he believes in crypto, he ended up in a weekend Twitter war with cryptocurrency fans that led to speculation Tesla may shed its bitcoin holdings. He then had to clarify that Tesla wouldn't sell.
Cathie Wood's ARK Investment Management, big Tesla bulls, even came out to disagree with Musk's contentions, saying that bitcoin mining would benefit the environment in the end. "In reality, we believe very few vehicle purchases took place using bitcoin given the significant capital gains tax liability such transactions could incur," CFRA analyst Garrett Nelson wrote. "We think TSLA's foray into cryptocurrency has both weighed on the stock's valuation and muddled the story, raising a plethora of questions regarding its capital allocation strategy, such as why the return on investment on bitcoin might outweigh that of a new vehicle factory." With $1.5B in bitcoin on Tesla's balance sheet crypto questions will keep coming for the company.
And it remains to be seen if Musk will step back from the Twitter battles after anointing himself the "Dogefather." (13 comments)